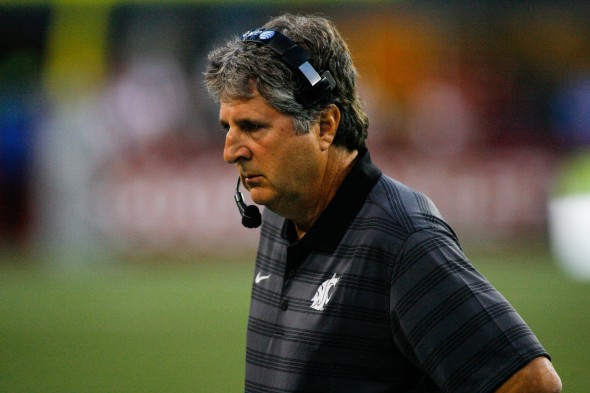 PULLMAN – Cold, dreary days like Monday are common this time of year in the Palouse. If Monday seemed a tad colder and drearier than usual, it may be due to the fact that a young man who gave his heart and soul to Washington State football remains laid up in the local hospital, his college career having reached a premature conclusion.
Another season of disappointment for WSU football players and fans reached a new low when Connor Halliday was left in writhing agony on the soggy artificial turf of Martin Stadium Saturday.  Coach Mike Leach said Monday that Halliday, injured when he took a hit in the first quarter of a loss to USC, will miss the remaining three games following ankle surgery.
Halliday tweeted early Sunday morning: "22 years of hard work I was 3 god damn games away from my dream 3 freakin games away from being drafted and living my dream."
Halliday may still live out his lifelong dream of playing in the NFL, but the ankle operation certainly won't help his chances of being drafted next year. The senior from Spokane leads the nation in passing by a gazillion yards, but Leach's pass-happy offense has never produced a successful NFL quarterback. Halliday's lean physique also may scare off NFL teams, who seem lukewarm about his pro potential.
Lukewarm might best describe the confidence level an increasing number of WSU supporters are demonstrating in Leach's ability to rebuild the football program. The Cougars (2-7, 1-5 Pac-12) have lost four consecutive games, and 12 of 16 since last year's 4-2 start. Leach's three-year record at WSU is 11-23 (6-18 Pac-12), which would have to heat up to qualify as lukewarm. He's yet to produce a winning team, which seems like a reasonable expectation when you're hauling in $2.75 million a year.
Leach and his players have said all the right things about playing the next three games for pride, but it is difficult to muster pride in a season that came up well short of the expectations of so many in Pullman. Injuries and youth have factored into WSU's struggles, but injury replacements and youthful players on opposing teams have inflicted plenty of damage on the Cougars.
On Monday, Leach yet again bemoaned what he describes as a historically unhealthy football culture at Washington State, one that he says has infused players with a certain lack of mental toughness. Halliday, hailed by teammates and coaches for his gutsy play and fiery leadership, recently made similar comments about this year's team. Combine lack of grit with lack of talent and – voila! – the Cougars have clinched their 11th consecutive season without a winning record.
Halliday's replacement, redshirt freshman Luke Falk, performed admirably Saturday. Falk is more mobile than Halliday, but he lacks Halliday's powerful arm, and his inexperience was apparent at times. Leach, Halliday and other players have praised Falk at length for his work ethic and potential.
Luke had thrown just two passes prior to Saturday, but that's two more than anyone else besides Halliday. Leach said true freshman Peyton Bender – the only other scholarship quarterback on the roster – is the No. 2 QB. Asked if Bender's redshirt status might end if Falk was injured, Leach said, "We'll cross that bridge when we get to it."
In other words, don't rule it out. After all, Leach activated true freshman cornerback Kevin Griffin two games ago. Griffin seems to have been chasing receivers into the end zone ever since.
The loss of Halliday is just one of numerous challenges facing the Cougars not only this season, but next year and beyond.
Many young players are gaining experience this season, but few have given any indication they will develop into impact performers. Considering that WSU's defense and special teams rank among the nation's worst, one could argue that the return of so many players could hurt the Cougars more than it helps.
The Cougars lead the nation in passing offense by a wide margin, but that matters little when you're  119th in passing defense. Not to mention dead last among 125 teams in punt return coverage, 118th in turnover margin, 116th in points allowed, 110th in fewest penalties, 101st in total defense and 99th in kickoff return coverage. In the past five games, the Cougars have given up six touchdowns on returns – three on kickoffs, three on punts. Most of those return men have yet to be touched by a Cougar.
Even Washington State's prolific offense shoulders some of the blame for a 2-7 record that is tied for eighth worst in the nation. The Cougars rank sixth nationally in total offense with 525.6 yards per game, but they're only 41st in scoring (33.2). That is partly because WSU ranks 124th in rushing (44.6), 89th in red-zone scoring (79.6) and 77th in fourth-down conversions (44.8).
Coaching must be called into question when a team is utterly abysmal on kick coverage. The same can be said for poor execution in the red zone and on fourth down. WSU leads the nation in fourth-down attempts (29) and failed conversions (16). Obviously, when you don't run the ball or employ a tight end, your options are limited in the red zone and on fourth down. Not to mention first down, second down and third down.
That said, WSU's coaching acumen, or lack thereof, may have bottomed out in the season opener against Rutgers. Fifth-year senior cornerback Tracy Clark, virtually invisible throughout his college career, instantly became way too invisible when he made his first (and last) start and got smoked on a 78-yard touchdown bomb on the very first play from scrimmage. Talk about an omen . . .
Coming into the season, Leach and his players universally proclaimed this to be the best of Leach's three Washington State teams. Now the Cougars are staring at a 2-10 season, since they'll be underdogs in their three remaining games, starting Saturday at Oregon State. The Cougars have lost three of the past four games by 17 or more points, and they lost 60-59 – 60-59, for cryin' out loud – in the other game.
The impact of next year's recruits figures to be marginal in 2015. Scout.com ranks WSU's incoming class 48th in the nation, based on non-binding, verbal commitments. Six Pac-12 teams (including Washington at No. 31) rank ahead of the Cougars. All of those teams have more commitments than WSU's 12, two of whom Scout lists as "soft."
Leach has yet to lure a 5-star (the top rating) recruit to WSU, but three of the incoming commits are 4's, matching the total number of 4's brought in during Leach's first three years. Among Leach's 4-star recruits, only wide receiver Gabe Marks has made a significant impact.
Marks redshirted this season due to WSU's stockpile of receivers. Injuries have reduced the depth and talent available at wide receiver, but there might be even less depth and talent at every other position. For the third year in a row, WSU will likely start next season with only one quarterback who has ever taken a college snap.
Ah, but not to worry. What's the worst thing that could happen?
Oh. Right. It happened last Saturday, when a dreary season became even drearier.