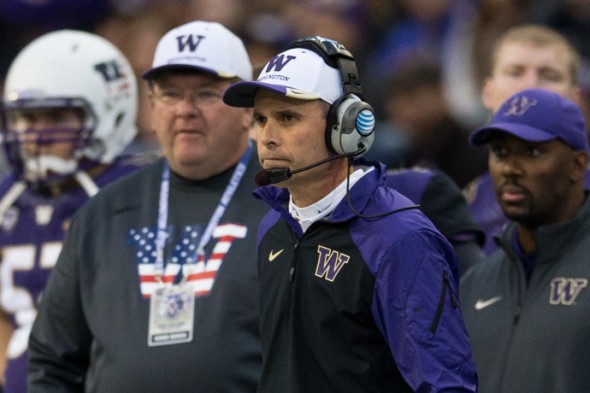 In the College Football Playoff rankings released Tuesday, four Pac-12 Conference schools were in the top 14 of the table from which the sport's first four playoff teams will be selected: 2, Oregon, 9-1; 6, Arizona State, 8-1; 11, UCLA 8-2; 14, Arizona 7-2.
The 6-4 Huskies lost to the first three teams, and probably will lose to the Wildcats Saturday in Tucson. The other loss was to Stanford (5-4), which was ranked at the time.
Against Oregon and UCLA, Washington was over-matched; the Huskies were close with Stanford and Arizona State. Not a great season so far; not terrible either.
Yet coach Chris Petersen said an odd thing after the 44-30 defeat at the hands of the Bruins Saturday at Husky Stadium.
"I want to apologize to our fans," he said.
For what? Losing a game to the No. 11 team in the country? C'mon.
A big-time college coach does not apologize for losing a football game — unless, somehow, it ignited a shooting war between, say, India and Pakistan. In that event, yes, please grovel.
But losing a game? The only time an apology is issued around a football game is when the lights fail to come on and the game is postponed. No other reason — not for overpriced beer, upchucking students, an inability to execute a play for the fastest man on the team, not even for the pernicious demon that is the Pac-12 Networks.
The only other exception might be if the NCAA wanted, at each of 60-some games one Saturday, to simultaneously announce, for perpetrating the mythology of the student-athlete primarily for the purpose of growing the wealth of all affiliated coaches, administrators, apparel companies and networks (and for the bribing of the entire University of North Carolina faculty): "We're really sorry. Our bad."
But apologize for losing a game? No. Never. One of the two teams is going to lose in every game. It's in the rules.
I'm reminded of the scene in Monty Python and the Holy Grail where God in the clouds accosts King Arthur and his coconut-clicking knights:
God: (angel chorus plays): Arthur. Arthur, King of the Britons! (Arthur and the Knights grovel) Oh, don't grovel! (chorus stops) If there's one thing I can't stand, it's people groveling.
King Arthur: Sorry.
God: And don't apologize! Every time I try to talk to someone, it's "I'm sorry" this, and "forgive me" that, and "I'm not worthy" . . .
God has a point here: You're not going to find the Holy Grail or the Pac-12 North title if you're on your knees sniveling.
Monday, I asked Petersen why he felt compelled to apologize.
"I know how passionate (fans) are and I know how much they care about this program," he said. "We all do. We're trying to do our best and trying to win games and playing a lot of good football teams. We've got to continue to make progress.
"I know how fans are. I know how much they care about it, and I just want them to know we care about them. We're trying to do the best we can."
I'm not sure I've heard any fans claim that Petersen, his coaches and players don't care. Some bellyache about playcalling and personnel choices, but that's standard fan stuff.
This fan base does know the gamut of emotions — it's the only one in the country that knows 12-0 (1991) and 0-12 (2008). But at 6-4, with a reasonable prospect to finish 8-5, and then go to a bowl?  That's a little better than decent. Certainly, it requires no apology.
What's happening here is Petersen, if UW loses Saturday, will have lost more games in a season than he did in any of his eight years at Boise State, where he was 92-12. He doesn't quite know how to deal with losing in bunches, and by bunches of points.
Asked if his first year in Montlake is harder than he thought, he said, "It's been hard. It's been hard. I think anytime you go somewhere new, and you're figuring everything out as you go, I think that's always challenging.
"But I didn't come in here thinking, 'How hard is this going to be?' I just take it one day and one week at a time and keep grinding."
What's getting to him is the high level of play in the Pac-12. Far from the dirt tracks of the Western Athletic / Mountain West conferences, the Pac-12 is Formula One. Petersen  just about owned up to it Monday.
 "I think (Pac-12 play) is pretty much what I thought," he said. "The parity is legitimately as good — or the really good teams are as legit as I thought they were going to be. It's good football every week. There's no breaks."
It's every bit as good as the SEC; to reference the rankings again, there's four SEC teams in the top 14 too. At Boise State, Petersen beat Oregon (twice) and Oklahoma. But he didn't have to play that caliber of team every week. He could rest players, he could hide gadget plays, and his players could indulge in peaking for top-flight opponents.
Moving up the coaching ranks is a little like players advancing from college to the pros: Everyone is bigger, faster, better. Listen to Petersen talk about Arizona:
"It might be the fastest team. They run a lot plays. They go, they go, they go."
He almost sounded morose. But again, the Huskies have beaten the teams they should, and lost to the teams that were favored. A breakthrough win would be nice, but not mandatory in the first year.
Is this first-year shock indicative of some sort of fatal flaw with Petersen? Hardly.
In Don James' first season at Washington in 1975, he lost at Alabama 52-0. Two years later, the Huskies won the Rose Bowl. At the 1986 Sun Bowl, he again lost to Alabama, this time 28-6. Five years later, UW went undefeated and shared a national championship.
Good coaches, like good players, adapt, learn and improve. One thing worth learning is there's no need for apology unless criminal negligence or equipment failure is involved.
But he's right about one thing: The Pac-12 is hard. Grail or gridiron, there's no time for groveling.