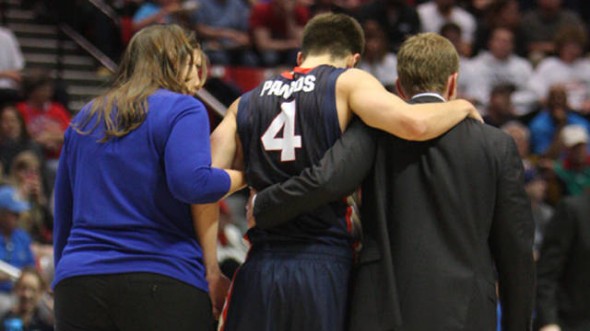 SPOKANE – Two decades have passed since Gonzaga basketball burst onto the national scene by playing in their first NCAA tournament. Yet, for many outsiders, the enduring image of the Bulldogs remains that of "the little engine that could."
This, of course, is utter nonsense for a program that has gone to the Big Dance 16 consecutive years while winning 25 or more games in all but two of those seasons. It has long been easier to coax an honest answer out of Alex Rodriguez than to gain entrance to a basketball game at Gonzaga's 6,000-seat arena.
If there is an ink smudge on Gonzaga's dazzling basketball resume, it is the Bulldogs' failure to reach the Final Four. Only once, in 1999, have the Zags advanced to the Elite Eight. When Gonzaga was ranked No. 1 for the first time in school history in 2012-13, the Bulldogs barely survived their NCAA opener with lightly regarded Southern (LA.), then were eliminated by Wichita State in the following round.
Two years later, the terms "Gonzaga basketball" and "national championship" are again being bandied about for something other than sandbagging. (GU players and coaches are famously adept at making every opponent sound like the second coming of Michael Jordan and the Chicago Bulls.) The title talk is led by Kentucky transfer Kyle Wiltjer, who played on the Wildcats' national champions in 2011-12.
"He actually mentioned to me he could be the first to win a national championship at two schools," point guard Kevin Pangos said casually this week. "That would be kinda cool."
Yeah, kinda. Just like it's "kinda cool" that the Bulldogs have Pangos and two other starters back from a 29-7 team. And added Wiltjer, a 6-foot-10 forward who was the Southeastern Conference Sixth Man of the Year in 2012-13. And added Byron Wesley, a 6-4 wing who led USC with 17.8 points and 6.4 rebounds last season. And added Eric McClellan, a 6-3 wing who averaged 14.3 points at Vanderbilt the first half of last season before academic and theft issues preceded his dismissal from the team. And added 6-10 forward Domantas Sabonis, an athletic big man who played for free (to protect his college eligibility) in a Spanish pro league the past two seasons.
The most important addition to the Bulldogs might be a healthy Pangos. The talented senior led Gonzaga with 14.4 points per game last season, but he was limited most of the season by turf toe.
"It was super painful," said Pangos, who played down the injury during the season. "It was just hard to run, hard to cut, drive."
"He's literally right there with the toughest kid I've ever coached over all these years," coach Mark Few said. "He couldn't walk after games."
"It wasn't even just the pain," Pangos said. "It was also the strength. I didn't have the strength to do those things."
Pangos, a devoted gym rat, was forced to cut way back on practices and other workouts.
"He couldn't go (drive) by anybody, really," Few said. "How frustrating that was. Not just physically, but mentally."
Obviously, the arrival of McClellan (who becomes eligible after first semester) raises some red flags. The Bulldogs forever emphasize the importance of good team chemistry, and everyone in Zagville says nothing has changed in that regard. So far, anyway.
"This group of guys is really easy," Pangos said.
"The chemistry's been good," Few said. "We spent some time working on it, talking about it.
"You're only going to check on chemistry when you hit adversity. That's when you need to see where it's really at. Right now, it's great, and this team seems as close as any. But we haven't had any adversity."
The Bulldogs also haven't played anyone, unless an exhibition game counts against a Canadian school called Thompson Rivers. Gonzaga somehow scratched out a 95-69 victory while playing everyone in the building who didn't buy a ticket.
It will take time for all the new Bulldogs to mix in with proven veterans like 7-1 junior center Przemek Karnowski and senior guard Gary Bell Jr., a quality 3-point shooter and defensive whiz out of Kentridge High School. Pangos says he doesn't foresee a problem with everyone getting enough shots.
"I think everyone knows if they share the ball, they'll get theirs as well," Pangos said. "It'll come back, because they (opponents) can't guard everybody."
West Coast Conference coaches have declared the Bulldogs to be overwhelming favorites to win the league for the billionth time. As usual, Gonzaga has put together a challenging nonconference schedule that includes No. 2 Arizona, No. 22 Southern Methodist, UCLA and Memphis.
The 13th-ranked Bulldogs open the season Friday at home (6 p.m., ROOT) against Sacramento State, a perennial also-ran in the perennially weak Big Sky Conference.
"They have five starters back," Few said in a tone that implied he is truly, honestly, genuinely concerned about the mighty Hornets.
Do not be fooled. Few owns a 403-100 record in 15 years at Gonzaga – his .801 career winning percentage is the highest among active NCAA Division I men's basketball coaches – and Few did not compile such a remarkable record by losing to the likes of Sac State.