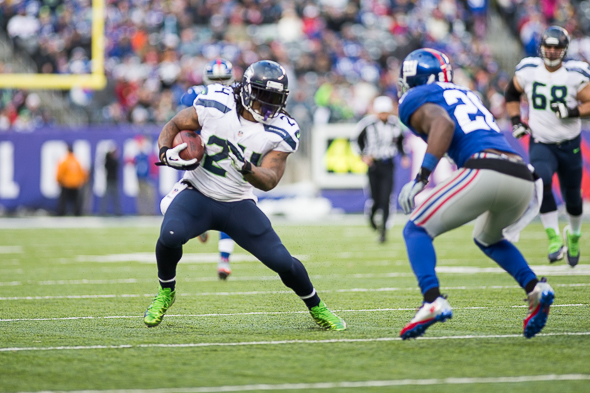 A day after returning a lost wallet to a Marysville resident, Marshawn Lynch found out he was fined $50,000 for violating the NFL's media policy. Lynch failed to speak to reporters after Sunday's 24-20 loss to the Kansas City Chiefs. The NFL will collect an additional $50,000 from Lynch from the 2013 season that it postponed after Lynch appealed on the assurance of his future compliance.
The media policy, agreed upon in collective bargaining with the players union, mandates that players must be made available during the week and following all games. It states: "Star players, or other players with unusually heavy media demands, must be available to the media that regularly cover their teams at least once during the practice week in addition to their required post-game media availability."
Lynch, who gained 124 yards against the Chiefs, walked away when reporters approached him in the Arrowhead Stadium locker room. After leaving the locker room, Lynch did telephone interviews from the team bus with NFL.com's Michael Silver and former Seattle teammate Michael Robinson, now working for the NFL Network.
According to the NFL, Lynch was warned by league officials early last week that he faced a fine if he did not speak to reporters Sunday. He ignored the warning.
This marks the third time since Lynch has been a Seahawk that he has been fined for refusing his media obligations. The NFL docked him $20,000 in 2012.
During the interview with Silver, Lynch was asked if he thought he would be with the Seahawks in 2015.
"I don't know, man," Lynch replied. "The Seahawks, their front office gets in the media. They talk a lot. I don't talk too much. I just play the game."
After a Tuesday appearance with other Seahawks at an assembly at Marysville-Pilchuck High School, site of an Oct. 24 shooting that left five students dead, Lynch, teammate Ricardo Lockette and a driver stopped for gas at a station in Marysville. They found a wallet that belonged to Marysville resident Jason Lynch (no relation) and drove to Jason Lynch's home.
He was not home, but after the players checked among neighbors, they found a woman who knew Jason Lynch and gave the wallet to her. When Lynch returned home, he posted his thanks to Facebook, and the story quickly went viral.