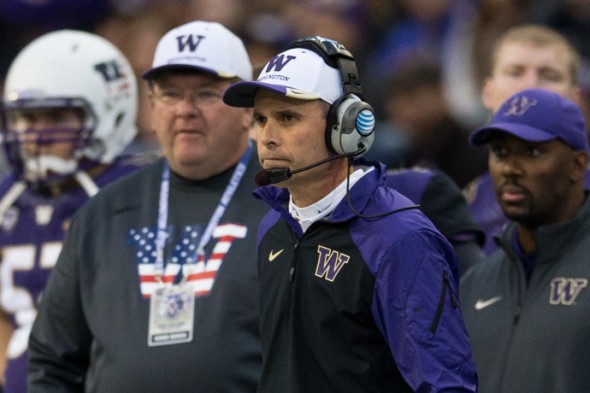 Chris Petersen, meet the Air Raid offense.
Perhaps the only scheme in the country that passes to set up more passing, Mike Leach's quirky system will be on full display in a frigid Martin Stadium Saturday night when Petersen's Huskies face Washington State in the 107th Apple Cup (7:30 p.m. FOX Sports 1).
"They are going to be tested like they haven't been tested all year," Petersen said of his secondary. "Big challenge."
Almost unfathomably, the Cougars average 488.8 passing yards per game, best in the country, but are 3-8 (2-6) and have no postseason aspirations in Leach's third season in Pullman. Of course, that has little to do with the offense (39th in the country with 33.5 points per game) and everything to do with a porous defense (122nd nationally with 39.3 points per game allowed).
To be fair to defensive coordinator Mike Breske, WSU went through a comedy of special teams gaffes early in the season that cost the Cougars wins against Rutgers (muffed punt led to game-winning score) and Cal (missed a potential game-winning, 19-yard field goal after allowing two kickoffs returned for touchdowns).
UW, meanwhile, enters 7-5 (3-5 Pac-12) and with what amounts to a remade secondary with two starting freshman (S Budda Baker, CB Sidney Jones) and two starting sophomores (CB John Ross III and S Kevin King). Petersen made the controversial decision in early November to boot senior CB Marcus Peters, a potential first round pick in the NFL draft, then another one to move Ross, arguably the team's most explosive wide receiver, to cornerback.
That wouldn't seem to bode well for the Huskies against a WSU team that had QB Connor Halliday throw for an NCAA-record 734 yards earlier this year against Cal.
But UW has actually defended the pass with some relative success the past two games, holding Oregon State QB Sean Mannion to a 46.6 QBR (out of 100) a week after holding Arizona QB Anu Solomon to 17 of 39 for 242 yards, no touchdowns and two interceptions (20.8 QBR).
Petersen spoke highly of the gains made by the secondary Wednesday.
"I don't know if there's a harder position to play maybe out there . . . not only learning schemes and how we do them, but then there's what other offenses do," he said. "And the offenses in the Pac-12 are so unique – none more so than this weekend. I do think the (secondary players) have gained a lot of knowledge. I think they are playing faster."
They'll need to to keep up with a group of talented WSU wide receivers — a unit that goes 10-deep. That's not including the backfield. Redshirt freshman Jamal Morrow set a single-season, WSU-record for catches by a running back (61) last week in a loss to the Sun Devils, breaking Steve Broussard's mark of 59 in 1987.
Morrow is one of four WSU players to rack up more than 60 catches this season.
None have put up gaudier numbers than WR Vince Mayle. A Biletnikoff Award finalist, Mayle had a school-record 15 catches for 252 yards against the Sun Devils. In 2014, he has a school-record 101 catches (tied for first in FBS) for, well, you guessed it, a school-record 1,404 receiving yards (second).
The redshirt senior was absent from Tuesday's practice, then a limited participant Wednesday, according to The Spokesman-Review. But Leach, who doesn't discuss injuries, said earlier this week Mayle will play Saturday.
The Huskies' best chance to slow down the Air Raid might be to pressure redshirt freshman QB Luke Falk. Against ASU, Falk committed five turnovers (four interceptions, one fumble) and at times looked overwhelmed against a blitz-heavy ASU defense.
Yet, he threw for 601 yards and three touchdowns. The Cougars lost by 21.
It's never simple with WSU.
"I don't think you can do any one thing (to stop the offense), but again – this is hard," Petersen said. "Because you've got to pressure them, but they're good at pass protecting, and the quarterback's good at getting the ball out. They know that. The ball's gonna come out quick.
"Our guys are just going to have to play a really, really good, hard-fought game for us to be able to slow them down."