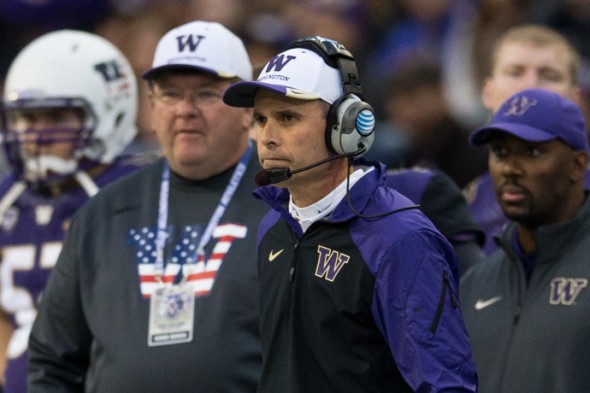 As with most college bowl games but three, there was no tangible meaning to the Cactus Bowl game Friday night in Tempe, AZ., that matched middling teams from the Pac-12 and Big 12 conferences. But for the infant stewardship of Huskies coach Chris Petersen, a good outcome would have helped bury the player suspensions, dubious playcalling and ineffective play against serious opposition that pickled his first year.
Instead, bad outcome.
Against a six-point underdog starting a freshman quarterback, the Huskies defense, offense and coaching staff utterly failed to show up against a 6-6 Oklahoma State team that had lost five of its final six games and suspended one of its best players after an ugly assault charge against his pregnant girlfriend.
The second-half rally was nice for Huskies fans in an announced crowd of 35,409 searching for a little dignity on a 45-degree night — the coldest Cactus Bowl in the event's 26-year history — but was inspired only by the imminence of regional/national shame. The 30-22 result, even with a shot to tie in final minute, doesn't paper over the fact that the Huskies began as if they didn't take themselves or their opponents seriously, and found themselves down 24-0 at the half.
That's a disturbing mark against Petersen, his staff and the senior leadership because it cast doubt on the apparent uptick in the final third of the season that finished 8-5 — now 8-6 with an anvil.
"We were just getting our teeth kicked in on offense from the very start," said a chagrined Petersen. "I'm honestly very disappointed in the first half. I'm disappointed in myself.  Thought the guys practiced hard. I thought we had a good week here.
"The thing I was so excited about: Our guys, the last month of football, they kind of figured out how to flip that switch, the mental focus and energy. For whatever reason, we didn't have it the first half.  The second half, they did. But it was too little, too late.
"I feel really bad for our seniors to have to go out this way. But we will learn from it. I won't let this happen again."
A day earlier, Petersen had talked about how meaningful a bowl game win would be for the program. Now?
"Yeah, we're going to have to use that as a chip on our shoulder, without question," he said. "We got a lot of work to do. The guys know that. You know, it will be a tough, hard process going through that.
"But we're going to use it as a positive in terms of how we need to play, what we need to do to be able to compete."
By the end of the season, the presumption was that message already had been imparted. Instead, Washington's vaunted defense, with three All-America selections, gave up 177 yards in the first quarter. The offense didn't get a first down until three minutes were gone in the second quarter.
The Huskies forced the Cowboys into two turnovers in the first half, including a spectacular, one-handed leaping interception by freshman safety Budda Baker and a 40-yard return, but could do nothing with the good field position. Meanwhile, OSU had twin 84-yard drives pickled with explosive plays that shredded a supposedly formidable Washington defense.
As well as the Huskies rebounded in the second half, including a well-executed end-around play by WR Jaydon Mickens for a 31-yard touchdown to break the drought, a 24-point deficit was way too deep a hole.
On OSU's final possession, the fading defense was caught unaware by the insertion of 300-pound DL James Castleman in the offensive backfield. He already scored a touchdown on a one-yard run, but this time caught a short pass — a career first — on third down in the flat that the big man turned into bring-down-the-house, 48-yard plunge deep into Washington territory. A potential three-and-out was converted into the game's decisive play.
Even though the drive was thwarted by a miss on a 27-yard field goal by PK Ben Grogan, less than a minute was left on the clock and the Huskies were out of timeouts. The final desperation pass of QB Cyler Miles, who finished with 25 completions in 38 attempts for 268 yards, was picked off, and the embarrassment was complete.
Miles seemed to regress to the erratic decision-maker of the early season, although in the second-half comeback nailed 12 consecutive passes. The final game of his redshirt sophomore year, which began with a suspension following a Feb. 2 campus altercation, didn't do much to clear up his fate for next season with heralded prep sensation Jake Browning in the mix.
Petersen offered less than a glowing endorsement for Miles' senior year.
"I think Cyler did progress as the season went on," he said. "Took a lot of snaps, a lot of reps, learned a lot of things. But I think every position in this program, we've got to have competition. We got to get better there.
"We got to improve there, and I think we will."
Petersen needs also to improve. He was asked whether he will review how he prepared the team emotionally during the bowl week.
"That's a good question," he said. "That's something we're going to really look at and analyze.  I think probably the most important thing I need to do is, those last two days leading up to the game . . . really, you know, somehow stress that energy, that focus, that toughness factor, how this game needs to start.
"It wouldn't be something they don't know, but it's got to start with me. I have to bring that to the table so they can grasp that."
The Pac-12, with the Oregon Ducks' national championship game remaining Jan. 12, has a 6-2 bowl record to lead all conferences. But on a cold night in the desert, the Huskies did nothing big leave a big scratch on the conference image.
Not to mention a big question mark over the head of Petersen.