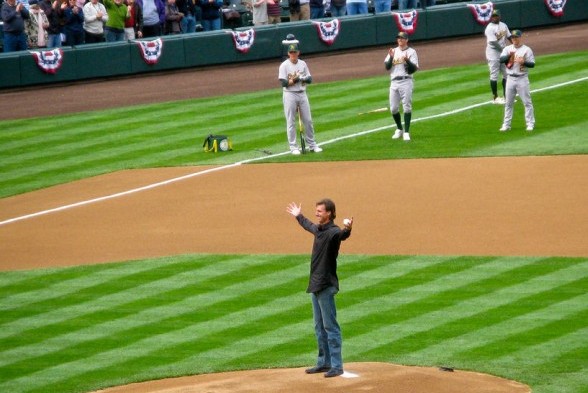 Raking in a near-record 97.3 percent of the vote, Randy Johnson (1989-09) overwhelmingly won election to the Baseball Hall of Fame Tuesday in his first time on the ballot, topping a 2015 class that also includes Pedro Martinez, John Smoltz and Craig Biggio. Another former Mariner, Edgar Martinez, again came up short, but experienced a slight uptick in support.
Johnson, who pitched for Seattle from 1989-98, attracted the third-highest percentage of votes in history among pitchers, trailing only Tom Seaver's 98.8 and Nolan Ryan's 98.7, and the eighth-highest percentage among all players. He was selected on 534 of 549 ballots.
Martinez drew 91.1 percent, Smoltz 82.9 and Biggio 82.7 as four players, three of them pitchers, entered the Hall of Fame in one class for the first time since 1955. They will be formally inducted July 26 in Cooperstown, NY.
Johnson won the 1995 American League Cy Young award while pitching for the Mariners and went on to four more for the Arizona Diamondbacks following his July 31, 1998 trade to the National League.
In 22 seasons, Johnson won 303 games, fanned 4,875 batters (second most in history), made 10 All-Star teams, and, with Curt Schilling, shared the Most Valuable Player award in the 2001 World Series.
"On behalf of the Mariners franchise and ownership, we wish to add our congratulations to Randy Johnson on his well-deserved election to the Baseball Hall of Fame," said Mariners CEO Howard Lincoln. "Randy began his career in Montreal, but began his ascent to the Hall of Fame here in Seattle.
"During his 10 seasons in Seattle, Randy was a key member of the group of players that cemented the Mariners place in the region. We are equally proud of the work Randy did off the field in Seattle, and note that even after his retirement, he continues to give his time in support of important causes, including his many visits to troops overseas."
Johnson won 130 games for the Mariners after they acquired him early in 1989 from the Expos in exchange for Mark Langston. In addition to winning the 1995 Cy Young and leading the Mariners to their first postseason appearance that year, he became Seattle's first 20-game winner in 1997 (20-4).
With Johnson seeking a long-term contract in 1998 and the Mariners reluctant to invest in a 35-year-old power pitcher with a surgically repaired back, Seattle traded the Big Unit to the Houston Astros, the deal serving as a launching pad to the greatest half of Johnson's career.
Starting in 1999 after he signed as a free agent with Arizona, Johnson won four consecutive Cy Young awards, captured the Triple Crown of pitching (2002), tied a major league record by striking out 20 batters in a game (May 8, 2001) and threw the 17th perfect game in major league history (May 18, 2004).
He had his best season in 2002, when he went 24-5, led the National League in ERA (2.32), strikeouts (334) and innings (260). This is how Johnson's career looks with Seattle and his MLB totals:
| Category | Mariners | MLB Total | Skinny |
| --- | --- | --- | --- |
| Seasons | 10 | 22 | 1989-09 with Mont, Sea, Hou, AZ, NYY, SF |
| Wins | 130 | 303 | Career-high 24 in 2002 with Diamondbacks |
| ERA | 3.42 | 3.29 | Won 4 ERA titles, including 1 in AL, 3 in NL |
| Innings | 1838.1 | 4135.1 | Career-high 271.2 with Diamondbacks in 1999 |
| Cmp.Gms | 51 | 100 | Led NL with 12 in '99; 10 for Mariners twice |
| Shutouts | 19 | 37 | No-hitter June 2, 1990; perfecto May 18, 2004 |
| Strikeouts | 2162 | 4875 | Led AL or NL 9 times; K'd 20 Reds May 8, 2001 |
| S0/9 | 10.6 | 10.6 | All-time MLB leader; career-high 13.4 in 2001 |
| WAR | 39.3 | 104.3 | 5th in Mariners history, 2nd among pitchers |
| WHIP | 1.25 | 1.171 | Led majors 3 times, best of 0.90 in 2004 |
| Salary | $30.8m | $175.5m | Best contract: 4 years, $52.4 million in 1999 |
Martinez, after whom the Designated Hitter Award is named, received 27 percent (148 votes), a slight uptick over last year's 25.5. Martinez drew 36.2 percent in 2010, his first year on the ballot, and 32.9 in 2011. In 2012, Martinez received his best percentage, 36.5, and then fell to 35.9 in 2013.
While Martinez needs much more support from the 549 voting members of the Baseball Writers Association of America to reach the required 75 percent necessary for induction, he got a boost from Pedro Martinez Tuesday.
"The one guy I hated to face was Edgar Martinez," the three-time Cy Young winner said during a post-election interview on MLB.com. "It used to piss me off that I had to throw 13 pitches just to get the guy out."
The 2016 ballot will include, for the first time, Ken Griffey Jr., who had two tours with the Mariners between 1989-10. Like Johnson, Griffey is expected to be an acclamation choice.