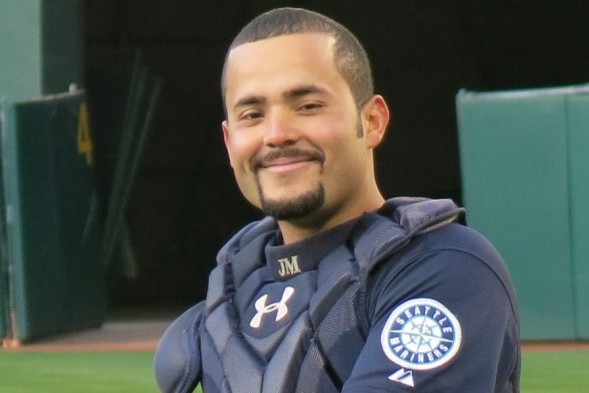 The Mariners aren't ready to give up on Jesus Montero. Not after he spent most his offseason working out every day at the club's spring training complex in Peoria, AZ.
Speaking Thursday at the club's annual pre-spring training luncheon, general manager Jack Zduriencik said Montero already dropped "40-plus pounds" down to 235 after the club put him on a conditioning program following his second consecutive tumultuous year with the organization.
With expectations for the former top catching prospect at an all-time low, Montero will be given a chance to make the Mariners as a first baseman when the full roster reports to spring training for physicals Feb. 24 (pitchers and catchers report Feb. 20).
"I've never given up on Jesus," Zduriencik said. "Have I been disappointed? Yes. I think we all have . . . He's made some very poor decisions. But, he's a good kid."
Two months ago Montero, 25, met face-to-face with manager Lloyd McClendon in Arizona. McClendon laid out for Montero a set of expectations.
"I think in the short term, he's accomplished things that I set out for him to do," McClendon said. "He's exceeded those expectations. When I talk about the expectations, they had nothing to do with the game of baseball. They had everything to do with the game of life."
Montero had numerous issues since the New York Yankees traded him and RHP Hector Noesi to Seattle in 2012 for pitchers Jose Campos and Michael Pineda.
In 2014, he reported to camp 40 pounds over his targeted weight and spent the bulk of his season in the minor leagues. While on a rehab assignment with Class A Everett in late August, he confronted a Mariners scout who taunted him by having an ice cream sandwich delivered to the dugout. Montero then reportedly took a bat into the stands to fight the scout before being restrained by a pitching coach.
The scout was subsequently fired, while the club suspended Montero for the rest of the season.
In 2013, Montero was suspended 50 games by Major League Baseball for his involvement in the Biogenesis scandal.
"Now, he's stubbed his toe, his second toe, his third toe," Zduriencik said. "But the bottom line is he's still part of this organization, we've got a lot invested in him and we certainly want him to be successful. He's going to be given that opportunity."
When Mariners second baseman Robinson Cano, a former Yankee, saw Montero hit as a 20-year-old fresh out of the minor leagues, he thought New York had a catcher with enough raw power to hit 30 to 40 home runs in a season, according to Zduriencik.
During his three-year stint with the Mariners, Montero fell well short of that, posting a .251/.291/.378 slash line with 19 home runs, 73 RBIs and a .669 OPS in 170 games.
In 2014, he played six games with the Mariners, but hit .286 with 16 home runs and 74 RBIs in 97 games with Triple-A Tacoma in the hitter-friendly Pacific Coast League.
With Logan Morrison expected to start the season at first base and newly acquired slugger Nelson Cruz slated for designated hitter, it's unclear how Montero would fit on the big-league roster.
"I'm interested to see how well he does," said Chris Gwynn, the organization's director of player development. "There are times when he was definitely our best hitter in Triple-A last year."
It's that potential Zduriencik sees as reason to give Montero another chance.
"He appears to be a guy, who, maybe, the lights have gone on for him," Zduriencik said. "He's going to get a chance in spring training. We'll see."
Notes
The Mariners will televise 16 Cactus League games on Root Sports . . . Trainer Rick Griffin said Willie Bloomquist (microfracture knee surgery) will be healthy by spring training . . . LF Dustin Ackley visited a foot specialist in Charlotte, NC., this off-season. He determined Ackley didn't need surgery for the bone spurs and impingement that hindered him in 2014 . . . LHP Danny Hultzen, the Mariners No. 2 pick in the 2011 amateur draft, won't be restricted after shoulder surgery wiped out his 2014 season. Zduriencik said he's likely to start the year in the minor leagues . . . Chris Taylor and Brad Miller will compete for the starting shortstop job in spring training . . .  Richland, WA., native Shawn O'Malley signed a minor league contract Thursday that includes a spring training invite. O'Malley, a utility player, appeared in 11 games last season with the Angels and made the PCL All-Star team . . . McClendon said he considers only one starting rotation spot up for grabs, but declined to specify who will fill the other four spots. An educated guess: Felix Hernandez, Hisashi Iwakuma, James Paxton and newcomer J.A. Happ. McClendon said Happ won't be a candidate for the bullpen, as some speculated . . . Zduriencik said free-agent LHP Joe Beimel, who had a 2.20 ERA last season with Seattle, is still on the club's radar as a bullpen option . . . Will the Mariners add to the roster, perhaps another outfielder? "We may do a few little tinkerings before we head into spring training," Zduriencik said.