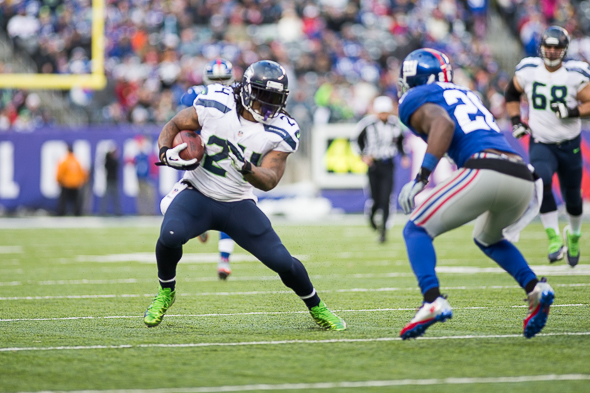 The NFL has placed the Seahawks and running back Marshawn Lynch on notice that if Lynch makes another vulgar gesture after scoring a touchdown, or any other time during Super Bowl XLIX Sunday, the team will be penalized 15 yards for unsportsmanlike conduct.
Lynch has been fined twice this season for grabbing his crotch following touchdowns, but no penalties were assessed because game officials did not see them.
The league hit Lynch with a $20,000 fine following the NFC Championship game against Green Bay for grabbing his crotch following a 24-yard TD run in the fourth quarter. Lynch received a $11,050 fine after a similar incident against Arizona in Week 16.
"If he does it after scoring a touchdown, that means they (Seahawks) will kick off from the 20-yard line," Dean Blandino, the league's head of officiating, told ESPN.
The NFL has also placed Lynch on notice that he faces steep fines if he avoids his media obligations this week. Lynch has already been docked $50,000 for missing media sessions in each of the past two seasons, and faces another fine for declining to talk after the NFC Championship game.
The NFL said it will fine Lynch more than $50,000 for his next violation and increase the amount for any subsequent violations. Lynch and the Seahawks are scheduled to meet the media Tuesday, Wednesday and Thursday.
The Seahawks departed Seattle Sunday with a scheduled arrival in Phoenix at approximately 1 p.m. PT