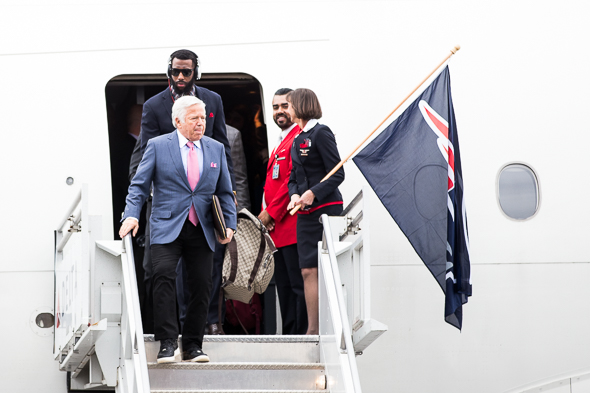 CHANDLER, AZ. — If Seahawks fans and others around the country weren't taking Deflate-gate seriously, they will now.
In an unscheduled appearance before reporters Monday night after arrival at the team hotel for the Super Bowl Sunday, Patriots owner Robert Kraft angrily denounced the controversy over tampered footballs and said if no fault is found with his franchise, he will demand an apology from the NFL.
Which means his good friend, commissioner Roger Goodell, would have to be on figurative bended knee, cementing the widespread notion of who is in charge of the NFL.
"If the Wells investigation is not able to definitively determine that our organization tampered with the air pressure in the footballs," said Kraft, reading from a statement he said he wrote on the flight from Boston, "I would expect and hope the league would apologize to our entire team, and in particular to Coach (Bill) Belichick and Tom Brady, for what they've had to endure this week.
"I'm disappointed in the way this entire matter has been handled and reported upon. We expect hard facts rather than circumstantial, leaked evidence to drive the conclusion of this investigation."
Kraft, who took no questions after reading the statement, was unequivocal in support of his coach and quarterback.
"I want to make it clear, I believe unconditionally that the New England Patriots have done nothing inappropriate in this process or are in violation of NFL rules," Kraft said. "Tom, Bill and I have been together for 15 years. They are my guys. They are part of my family. Bill, Tom and I have had many difficult discussions over the years. I've never known them to lie to me. That's why I'm confident in saying what I just said.
"It bothers me greatly their reputations and integrity – and by association that of our team – has been called into question this week."
Kraft, who hired and fired Seahawks coach Pete Carroll as coach ahead of hiring Belichick in 1998, apparently sought to close the matter before the annual Media Day frenzy Tuesday, but instead seemed to inflame the controversy.
Belichick, who took the hotel ballroom stage after Kraft exited, turned away several questions about Kraft's surprise rebuttal, talking only football and praising effusively the Seahawks.
"I appreciate the question, but I've spent quite a bit of time and had two lengthy press conferences about that," Belichick said to the first question of his news conference.
Also mum on the topic was Brady, who earlier in the day said on his weekly radio show that he had "hurt feelings" about the doubts surrounding his public statement.
Along with that news came a report that the league's investigation had turned up a Pats locker room attendant who is a "strong person of interest" because he had possession of the footballs in question before the game. Fox Sports cited anonymous sources, and the NFL did not confirm the report, which said the person had been interviewed and a video existed of some part of his activities.
It's clear that the controversy won't go away by game time. Ted Wells, the investigator hired by the NFL, said Monday that he expects his investigation to last at least several more weeks.
"We are following customary investigative procedures and no one should draw any conclusions about the sequence of interviews or any other steps, all of which are part of the process of doing a thorough and fair investigation," Wells said in a statement.
Kraft's decision to break the NFL's highly scripted Super Bowl-week protocol for a scolding of both league and media was unprecedented, and a sign of the depth of resentment within the franchise
Belichick said Saturday in another unplanned presser, this one at team headquarters, that he was "embarrassed" at the amount of time he spent on the issue since the Pats won the AFC title nine suddenly long days ago over Indianapolis.