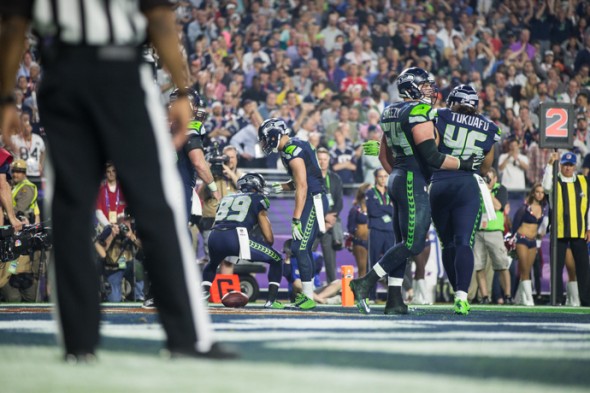 Not sure there is another NFL coach who would agree to record a nationally broadcast interview shortly after the most mortifying flop of his coaching career. Even if the answers weren't satisfying to those of us who believe that pass to that receiver were two bad ideas, Pete Carroll has begun the long campaign to pull up the stick on the Seahawks' nose-diving airliner after the most critical play in Super Bowl history.
Granted, NBC's Matt Lauer isn't Mike Wallace, but losing a Super Bowl isn't a threat to national security either. At least Lauer, as the Today Show's official taste-tester, didn't ask Carroll for a favorite recipe.
Carroll knows the nature of this defeat sent a huge shock wave through the most intense fan base in the NFL. Explaining, "I feel a responsibility to a lot of people," Carroll put himself on the line, as he likely will do numerous times for the longest short off-season the NFL has seen.
But we will get many chances to parse and debate Carroll's words and deeds. Before the Glendale wound scabs over, there is one sidebar matter worthy of address.
Doug Baldwin: Shut the hell up.
I mean that in a constructive way. After your childish touchdown celebration in Super Bowl that cost the Seahawks 15 yards and you $11,000 in a fine from the NFL, many people would like to hear either an apology from you, or nothing more.
You brought discredit on yourself and your team at a time when many are questioning the Carroll operation. Of course that's a silly perspective over a single blown play, but that is how cruel life is at the top. You gave skeptics another reason.
You can say it doesn't matter what outsiders think. But you're wrong — what outsiders think is your lifeblood. It's what makes you Angry Doug. So in addition to being wrong, you're hypocritical.
The imitation dump you took in the end zone after catching your only pass of the game — a three-yarder that required use of the back judge (the 13th Man?) to delay your cover man, CB Darrelle Revis — followed two other recent episodes that showed you care way too much about what others think.
After the NFC Championship, you stopped in a Clink hallway waiting area and blasted the assembled reporters, some of whom you knew and others who were seeing you for the first time.
"Are you ready for this? Are you? How many of you m—–f—— doubted us? How many of you doubted us when we were 3-3? Y'all, I want you to write this down. Write this down, OK?
"When we were 3-3, everyone counted us out. Y'all didn't believe in us. A whole bunch of people thought we weren't going to make it. At 6-4, it was, 'Ah, that's OK. They have a winning record, but they aren't going to make the playoffs.'
"At 16-0 at the half (Sunday), how many of you counted us out? How many of y'all doubted us?"
He dropped a couple more em-effs on us before stomping off to the locker room. I doubt many reporters were offended, and it was good copy, but everyone made a mental note that this guy has no filter on his supply of rude.
Two weeks later at the Super Bowl, he did it again. This time the target was one guy, Peter King of Sports Illustrated, the designated Seahawks-practice pool reporter allowed to watch and report to the thousands of other credentialed media gathered in town.
King wrote Tuesday that after a play in practice, Baldwin broke off and came up to him along the sidelines.
"You're into this mediocre receiver s—, right? I read your s—."
What? Huh? I truly didn't know what he was talking about.
Baldwin had anger in his eyes. "You're one of them!" he said. "I read your s—."
Then Baldwin turned and went back to practice. King reviewed his recent work and guessed Baldwin's anger was directed at this description after the harrowing win over Green Bay:
"Stop, just stop, Seahawks, with the we-don't-get-no-respect rants. It's unbecoming. Doug Baldwin, you're a good player. But that stuff gets old. Very old, particularly when you and Jermaine Kearse miss balls early, make some plays late, then somehow get motivated against the doubters. Whatever all that means.
Then came the crudeness in the Super Bowl end zone. For a bright, articulate guy, that's embarrassing. It's three strikes deserving of a call-out.
In locker clean-out day Monday at team headquarters, Baldwin was given a chance to admit the mistake and apologize for costing the team yards and cred. He talked around it.
Do you regret anything, Doug?
"Nah,  just out there having fun — there's no explanation," he said. "I can get criticized. That's fine; everyone has an opinion. In the moment, just having fun.
"The only people I have to apologize to are my teammates and coaches. But they know. They didn't say anything. Not even an issue or a worry. We lost the game . . . there's so many other things to be concerned with . . (than) something stupid like that."
Asked how he wanted to be perceived, he said, "It doesn't really matter to me outside of this locker room. I continue to be me, real and honest about everything."
Whoa. Real and honest? How can you on one hand claim you don't care about outside perceptions, then by word and deed convey such profane public contempt to the outside world?
If indeed Baldwin is right that his coaches and teammates didn't say anything, this team is over the threshold when it comes to reckless self-destruction.
He was asked if he was a team leader. His response was surprising.
"I didn't really understand it until guys started coming to me with questions," he said. "I still feel like I'm a rookie from 2011. It's kinda weird. I can't really put it together quite yet."
At least that suggests a partial awareness may be dawning. Baldwin needs to figure out quickly that he is a leader, and leaders don't "have fun" at the expense of the team.  And he and the rest of the team need to understand this undrafted-free-agent, no-respect imagery has run its tired course.
The Seahawks have earned league-wide respect as a talented, tough, well-prepared team second to none. But the sideshow circus, sometimes amusing in the moment, is starting to add up to an image of an outfit too undisciplined for its own good.
Carroll takes pride in his willingness to give rope to the disparate personalities on this team. But if Baldwin doesn't see himself as a leader and instead as a rookie, and acts like it, that immaturity will help strangle Carroll with his own rope.