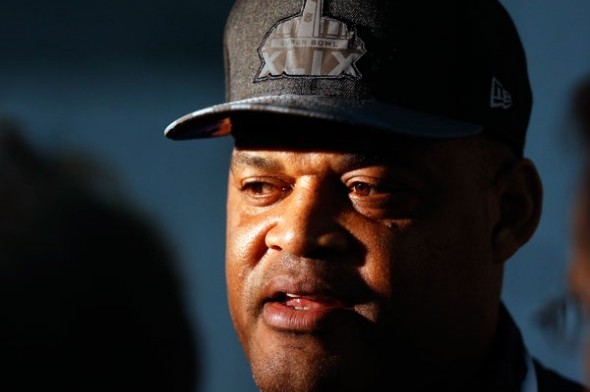 The Oakland Raiders Friday named Ken Norton Jr., who has coached Seattle's linebackers since 2010, as their defensive coordinator. Norton, who came to the Seahawks from USC with Pete Carroll, helped the club win three NFC West titles, two conference championships and Super Bowl XLVIII.
Oakland's signing of Norton almost certainly means that Kris Richard, who has coached defensive backs under Carroll, will be elevated to defensive coordinator, replacing Dan Quinn, named earlier this week as the head coach of the Atlanta Falcons.
Norton has a long history with new Raiders coach Jack Del Rio, who moved to the Bay Area from the Denver Broncos. They played linebacker alongside each other with the Dallas Cowboys from 1989-91.
Norton had considerable success with Seattle's linebackers. In his first two seasons (2010-11), he helped David Hawthorne to back-to-back, 100-tackle seasons. He also oversaw the development of K.J. Wright when he emerged as a starter in 2011.
Norton Jr. helped second-round pick Bobby Wagner finish second in The Associated Press Defensive Player of the Year voting in 2012 and become a Pro Bowler this past season. The son of the former heavyweight champion also aided in the development of Malcolm Smith, Most Valuable Player in last year's Super Bowl.
Prior to joining the Seahawks, Norton spent six seasons at USC. He served as linebackers coach from 2005-08 and was elevated to assistant head coach of the linebackers/defense in 2009. During his time with the Trojans, Norton coached such linebackers as Brian Cushing of the Texans, Clay Matthews of the Packers, Keith Rivers of the Bills and former Seahawk Lofa Tatupu, all of whom became Pro Bowl players.
Norton played 13 seasons in the NFL, including his first six with the Cowboys and final seven with the San Francisco 49ers. Norton is the only player in NFL history to play on three consecutive Super Bowl winners, Dallas in 1992-93 and San Francisco in 1994.