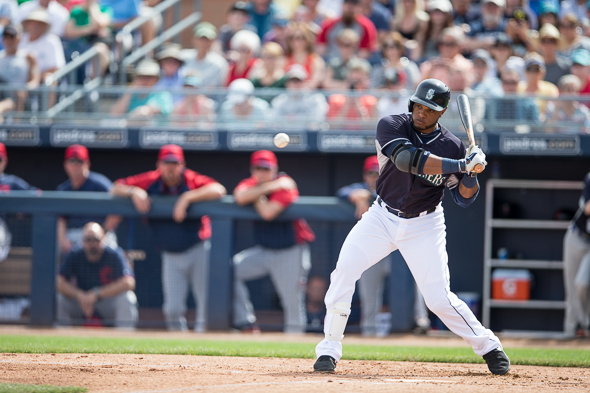 Although the Mariners have logged only two exhibition games, the new-and-improved middle of the order is already asserting itself. In Thursday's 9-4 win over San Diego in Peoria, No. 3 Robinson Cano, No. 4 Nelson Cruz and No. 5 Kyle Seager combined to go 8-for-12 with a double, home run and three RBIs in support of starter Roenis Elias, who scattered three hits in two scoreless innings.
Cruz, making his spring debut, finished with two hits, including a two-run homer. Seattle's highest-profile pickup during the offseason after leading the majors with 40 long balls in Baltimore, Cruz curled an Ian Kennedy pitch near the left-field foul pole in the third to give the Mariners a 4-1 lead.
"Not bad. Not bad," Mariners manager Lloyd McClendon told Mariners.com. "Makes me look real smart."
"It was exciting to see the whole lineup and what we can do together," Cruz added. "It was nice to see everybody contribute today."
According to the chronic list makers at Bleacher Report, the Mariners will enter the 2015 season with a 3-4-5 combination ranked fourth in the majors, trailing No. 1 Detroit (Miguel Cabrera, Victor Martinez, Yoenis Cespedes), No. 2 Toronto (Jose Bautista, Edwin Encarnacion, Josh Donaldson) and No. 3 Boston (David Ortiz, Hanley Ramirez, Pablo Sandoval).
The only other AL West team ranked among the top 10: No. 6 L.A. Angels (Mike Trout, Albert Pujols, David Freese).
Last season, Cano, Cruz and Seager combined to hit 79 home runs and drive in 286 with an .827 OPS. All made the American League All-Star team. In the decade before that (2004-13), none of Seattle's 3-4-5 hitters merited an All-Star appearance — not even Raul Ibanez in 2006 when he hit 33 home runs and drove in 123.
While Cano, Cruz and Seager represent a vast improvement over the last decade's worth of 3-4-5 hitters, this is how their 2014 seasons compare to the 3-4-5 hitters on Seattle's exceedingly meager total of four playoff teams:
| Year | #3, RBIs | #4, RBIs | #5, RBIs | Combined |
| --- | --- | --- | --- | --- |
| 1995 | K. Griffey, 42 | J. Buhner, 121 | E. Martinez, 113 | 86 HRs, .958 OPS |
| 1997 | K. Griffey, 147 | E. Martinez, 108 | J. Buhner, 109 | 124 HRs, .975 OPS |
| 2000 | A. Rodriguez, 132 | E. Martinez, 145 | J. Olerud, 103 | 92 HRs, .953 OPS |
| 2001 | E. Martinez, 116 | J. Olerud, 95 | B. Boone, 141 | 81 HRs, .929 OPS |
| 2014 | R. Cano, 82 | N. Cruz, 108 | K. Seager, 96 | 79 HRs, .827 OPS |
The middle-of-the-order hitters from 1995 would have produced far higher numbers if Griffey hadn't missed 70 games with a broken wrist.
Dodgers 7, Mariners 4
Shortstop Chris Taylor had a triple, a two-run home run and three RBIS,  but the Mariners dropped their first Cactus League game, a 7-4 setback Friday to the Los Angeles Dodgers at Camelback Ranch.
Trailing 2-0, the Mariners scored in the third when Taylor tripled to score Willie Bloomquist. Taylor struck again in the fifth inning, crushing a home run deep over the left field fence to give the Mariners a 4-2 lead.
The Dodgers pulled ahead with three unearned runs in the bottom of the sixth inning.
Mariners starting pitcher Erasmo Ramirez allowed four hits and two runs (both unearned) in two innings. Relief pitcher Mike Kickham lost after allowing three unearned runs. (box score)
Notes
LHP Edgar Olmos has been returned to the Mariners roster after Major League Baseball voided the Texas Rangers waiver claim following a dispute over the health of Olmos' left (throwing) shoulder. To make room for Olmos, the Mariners designated 1B Ji-Man Choi for assignment. Choi suffered a fractured right fibula in Wednesday's Cactus League opener . . .  The Mariners play four of their next five Cactus games away from Peoria Stadium.