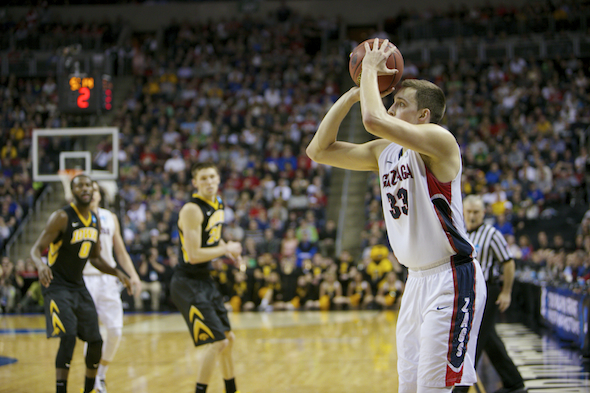 Whether he was ever a skeptic wasn't clear, but Iowa coach Fran McCaffrey is now a believer in the Gonzaga Bulldogs. He did all but call for an amen from his post-game pulpit Sunday night at KeyArena.
"They have weapons any way you look at it," he said, a bit of awe in his voice. "You can trap the ball screen, they got shooters. They can throw it inside. They can drive the ball. They share the ball — 20 assists on 32 field goals.
"It's difficult, because they're swinging the ball side to side. They're moving it. It's not like there's one guy with the ball and you can pressure him. There's continuous screening action with space. And they got seven-footers."
He was about to explain how the Zags got here from the planet Krypton, but the questions moved on.
For sure, the marvels witnessed by McCaffery and a sellout crowd slathered with GU loyalists add up to a round of 16 team in the NCAA tournament —  first time for the Zags since 2009 — after an 87-68 pummeling of a quality Hawkeyes team from the Big 10 Conference.
The Zags look fit to graduate to a Final Four team. But before that is another certainty: Dinner at Benihana when the team gets to the Houston regional this weekend.
Kyle Wiltjer, who led the game with 24 points by making 10 of 12 shots with a Larry Bird-like casual deadliness, disclosed post-game that on Saturday night on the way to a team dinner featuring burgers, they passed a Benihana restaurant on Fifth Avenue in downtown Seattle. Benihana is Wiltjer's favorite.
Imploring the coaches to change reservations, the players were denied, but extracted a promise from an assistant: Win Sunday, and it's Benihana in Houston.
"I was extra motivated because now we get to go to Benihana," Wiltjer said, grinning. "I'm hyped."
If Wiltjer is now hyped, woe be to UCLA, the 11th-seeded opponent in the South Region. Woe be to all.
Diners who have see the flashing knives of the Benihana chefs will recognize the analogy to Gonzaga basketball: Slice-and-dice.
The first half was a breathtaking clinic on ball movement, floor spacing and pressure defense. They went up 29-19, then 46-29 at the break by shooting 62 percent, including 7 of 10 behind the arc against a seventh-seeded Iowa team that was in no way playing poorly.
"Well, that was a lot of fun — I mean, we played great," said a beaming coach Mark Few, whose typically cautious use of praise stood hopeless against the onslaught of precision and effort. "This team is so much fun to be associated with when we're in attack mode and sharing the basketball — making what we call the one-more-plus-one-more pass."
Evidence for that was 13 assists on 18 first-half buckets. More impressively, the Zags had a 17-5 advantage in points off turnovers. The defense forced seven Iowa turnovers, and the backpedaling Hawkeyes could not figure out where to position themselves in transition.
"We were scrambling a little bit," McCaffrey said. "We were back, but we didn't have it put together. We didn't get matched up. We didn't locate shooters. And that's where the various weapons that they have makes it difficult. That's why they run."
The simple fact is that the five starters plus sixth Domantas Sabonis are all well-balanced players with limited weaknesses. Now that they have cleared the first weekend of the tourney had been their burden for years, it is easier to see how there is a clear path to the Final Four in Indianapolis.
They figure to be strong favorites over UCLA, the much-derided fourth team from the Pac-12 — speaking of feats, how about the Pac-12 record of 7-1 so far? — and would likely face the South's No. 1 seed, Duke, for the tickets to Naptown. That would be, after 17 consecutive NCAA tourney entries, a Gonzaga first.
Asked about the sweep of the school's consistent hoops success, Few was reflective.
"We went from being an assistant that slept in cars, or slept on buddies' floors in the hotels, to a little tiny gym, to dreaming about being involved in the NCAA Tournament," he said. "Then dreaming about actually winning a post-season game. Just building it step by step. And we have got a lot of help with the administration, allowing us to grow, and the community and our donors and everything. It takes a village to make this happen. And then through it all, it just comes down to having great players.
"It's always, always been about the players and being able to attract the best players. That's what we got."
In Kevin Pangos, Gary Bell Jr., Byron Wesley and Przemek Karnowski, along with Wiltjer and Sabonis, they not only have great players, they have players who show the rare willingness to defer to one another.
"I just love the fact that as great as these guys are, they make the extra pass," Few said.  They share it. That's what makes this group so special."
The first 15 minutes Sunday night was a glittering example of great talents well-blended. Sustaining it is always the trick in a do-or-die tournament that requires six wins for a championship. But now it is possible for Gonzaga to think the thought.
But first, sushi for everyone.
Great food, great drink, high humor and actual facts! Please join Art Thiel and Mike Gastineau for a happy-hour Sports Salon on hoops at World Trade Center Seattle on the Seattle waterfront across from Pier 66. 5-7 p.m. Tuesday. Bring your questions, rumors, joy and anguish to discuss Gonzaga, the NCAA tournament, Huskies' and Redhawks' futures, as well as the latest on the arena project and the possibilities for NBA/NHL.  http://www.brownpapertickets.com/event/1316399