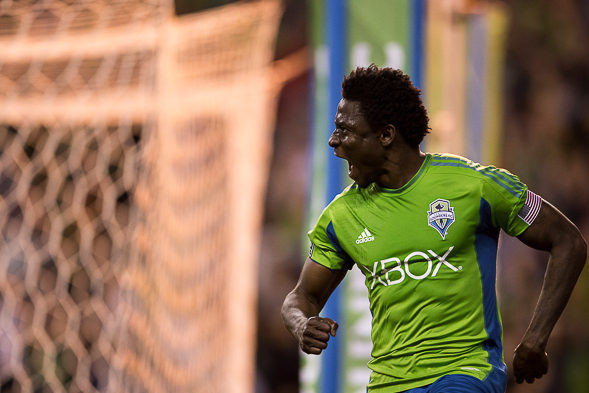 Sounders forward Obafemi Martins has been voted Player of the Week. In Seattle's 3-1 victory over expansion New York City FC at Yankee Stadium Sunday, Martins was involved in all three Sounders goals. He scored twice and assisted on Clint Dempsey's game-winning tally in the 58th minute.
Martins put on a dribbling clinic against NYCFC defender Chris Wingert before delivering a cross that found Marco Pappa, who delivered the final touch to Dempsey.
Martins opened the scoring in the 23rd minute, following a barrage of chances for New York, with a left-footed shot past goalkeeper Josh Saunders.
In the 66th minute, Seattle exchanged 18 passes before Dempsey sent a back-heel flick to Martins, who split NYCFC's backline and finished to the far post to seal the match.
Martins has an MLS-leading six goals and 31 in his MLS career. He is the second player in club history to cross the 30-goal plateau, trailing only Fredy Montero (47).
The Sounders play at Columbus at 4:30 p.m. PT Saturday.