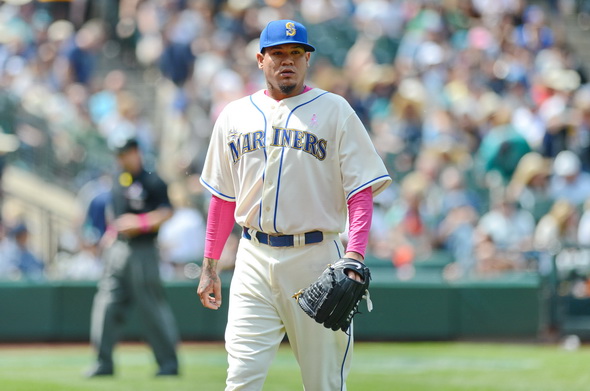 Before getting to the subject of a three-game sweep of the Oakland A's, indulge me, please, in the presentation of a list: 1, Bert Blyleven; 2, Sam McDowell; 3, Walter Johnson; 4, Felix Hernandez; 5, Nolan Ryan; 6, Sandy Koufax.
Just typing the names is a privilege. And to watch one at work Sunday was a delight.
It can be easy to take Hernandez for granted — hey, he's 6-0 this season, first to six in the American League. Ho. Hum.
But then he hits another milestone — at 29 years, 32 days, he's the fourth-youngest pitcher in MLB history to 2,000 strikeouts — and invokes the ballyard deities. Fercripesakes . . . Johnson, Ryan and Koufax. Let's put it this way:
!
"I'm not sure if everybody realizes what he's actually doing," said manager Lloyd McClendon after the Mariners' 4-3 win for the sweep (box score). "When I was on the other side, I knew he was good, but I didn't know he was this great of a competitor. And even a better teammate.
"The accolades just keep coming. He's a delight to watch every fifth day."
Sitting on a 3-1 lead and 1,999 strikeouts to open the fifth inning, Hernandez paced around the mound, well aware of the milestone.
"I knew it. I knew I had four, and I needed five," Hernandez said. "It was a pretty special moment."
When strike three blew past LF Sam Fuld, the party-mood Mother's Day crowd of 42,831 at Safeco erupted, offering a standing ovation as a stone-faced Hernandez tossed the ball out of play to his place in his home office where he keeps such benchmarks.
His teammates dug it too.
"Anytime you can get a lead like that with (Hernandez) on the mound, he can settle in and do his thing — he did," said Dustin Ackley, who contributed a two-run double in the fourth. "It seems like every time he pitches, he's setting a milestone. It's pretty cool to watch.
"I've been here with him for the perfect game and all these things, and it just keeps getting better and better."
Amid the gloom of a five-game losing streak, the opponents had no choice but to salute The King too.
"It's Felix Hernandez — he's going to do that to a lot of teams," said Oakland catcher Stephen Vogt, whose solo homer off closer Fernando Rodney in the ninth inning tightened things up. "He's a competitor too. Both times right after he gave up home runs to (SS Marcus) Semien, you could see his demeanor change, bear down and get nastier. That's what good, competitive pitchers do.
"When they get mad they get better."
Semien's solo shots in the second and sixth innings were Hernandez's only real errors. He went seven innings (103 pitches) and gave up five hits and a walk, finishing with six strikeouts.
Besides Hernandez's encounter with history, another positive storyline for the Mariners was Ackley's double. It was the first time in 16 at-bats this season that he drove in a runner in scoring position.
The Mariners have been involved in a passel of close games this year, mostly because they can't get runners on ahead of their 3-4-5 hitters.
They have a large group I'm calling the  Area Code Boys: They aspire to hit .253 (about the major-league-average batting average) but have too many closer to .206.
Consider these batting averages:
Willie Bloomquist (.208), Rickie Weeks (.200), Ackley (.192), Justin Ruggiano (.179) , Chris Taylor (.167), Mike Zunino (.159) and last and least, backup C Jesus Sucre (.077), who joined battery mate Hernandez in a milestone moment Sunday  — he had his first hit, a single, of the season.
Every team has some sub-.200 hitters but three of these guys start (Ackley, Taylor and Zunino) and seven is way too many.
The key guy in the group is Ackley, because he has delivered so little on the expectations. Sunday he said he's working on getting better balance and push from his legs.
"Anytime I'm off, it's my lower half," he said. Much criticism has focused on his top half, particularly his head. But if the double was the shot heard 'round Safeco, the arrival of his lower half will be welcomed by McClendon.
To bounce back after tough losses in LA (two walk-off defeats) was critical," he said. "I think it shows the resilience of this  club. There's a lot of baseball to be played. Talent will win out. I believe we have enough talent."
Before anyone gets too excited, consider that with this sweep, the Mariners are 5-1 each against the A's and Rangers. Subtract that 10-2 record from their 14-17 season record and they are 4-15 against the rest of baseball, including 1-6 against AL West leader Houston.
But at least the Mariners can say they have solved for Rule 1 in the Theory of Holes: When you're in one, stop digging.
Noteworthy
SS Chris Taylor has a bruised, but not broken, right hand and will return to the lineup after the swelling subsides, McClendon said. In Saturday's game, A's first baseman Mark Canha stepped on Taylor's hand, the one that was broken in spring training, as he dove back to the base. Taylor stayed in the game after a visit from a trainer . . .The sweep was the first against the A's since Aug. 1-3, 2011 . . . Hernandez (131) passed Randy Johnson for second on the Mariners all-time wins list. Jamie Moyer has 145 . . .Hernandez is 20-7 lifetime vs. Oakland with a .263 ERA . . .  The A's (12-21) are nine games under .500 for the first time since June 2012  . . .Oakland leads the majors with 33 errors.
Next
After a day off Monday, the Padres are in town for two interleague games. LHP James Paxton (0-2, 5.08 ERA) goes against San Diego's Ian Kennedy (2-1, 5.03).