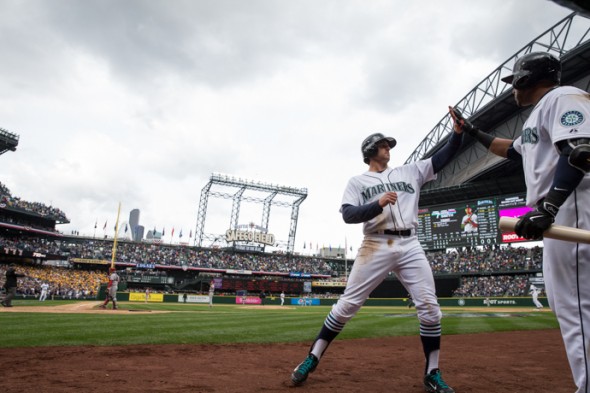 A hitter of five home runs in the past four games, including one Sunday, SS Brad Miller draws immediate Seattle comparison to a young Alex Rodriguez.
"Uh, I think he's got a 640-something lead on me in home runs," Miller said, smiling. "I'm not there yet."
Yet in the desert of the Mariners offense, Miller is an oasis. So forgive anyone who might be tempted by mirages.
Hey, Miller isn't even a full-time shortstop. He was Sunday, but in a nine-game homestand that ended 6-3 after a 5-0 win over the Red Sox (box score), he's also been a left fielder and a DH.
He was supposed to have been supplanted at short by Chris Taylor, and the leadoff spot belongs to CF Austin Jackson. But Taylor can't hit, Jackson is hurt and the Mariners were 16-20 entering the series finale with Boston and facing knuckleballing newcomer Steven Wright.
So what the hell — hit Miller leadoff and play him at short.
Made for a ta-dah noment.
For the homestand, he was 10-for-32, with seven runs scored and six RBIs. He's hitting .264 for the season, which towers over much of the Mariners landscape.
Consider the batting averages in the starting outfield Sunday: LF Rickie Weeks at .182, CF Dustin Ackley at .196 and Justin Ruggiano at .182. The All-Mendoza outfield isn't a platoon, it's a submarine, built for a long run under water.
But it worked Sunday, aided by another pitching gem from James Paxton, who gave up five hits in eight shutout innings against a potent lineup. After five runs in the first three games against Boston, what transpired Sunday was more like what the season was imagined to be in spring.
In a disappointing start wherein the Mariners rarely have had consecutive games that included solid pitching (starters and relievers), hitting, fielding and baserunning, everything worked.
Miller has quickly come on as an every day major leaguer — that rare Mariner position player who isn't much of a worry.
"He was behind at spring training, and he's finally started to catch up," said manager Lloyd McClendon, who is in charge of managing expectations as well as people. Asked if Miller will hit leadoff regularly, McClendon smiled and said, "Against a knuckleballer? Yes."
After the chuckles subsided, he said the sample size was too small for a judgment: "Last year, we're talking about a guy that everyone was complaining was leading the league in strikeouts."
It's possible to consider that Miller might be the first of several players who need only to hit to their career averages to put the Mariners in the AL West chase.
Ten runs in four games against a previously shaky Red Sox rotation was not impressive, but McClendon's "spidey sense" about the offense apparently is starting to tingle. A year ago, when the Mariners were 19-18, he starting talking this way too.
"My guys still haven't hit their groove," he said Sunday. "There's a lot of guys who can hit, but they haven't starting doing it yet. I think we're real, real close. And when they start doing it, these (other teams) are in for trouble."
Miller, who was initially irked at being bumped from the starting shortstop job by Taylor to a position, left field, he never played, seems to have diluted his dismay.
"I try not to read too much into where I am in the order, or where I'm playing," he said. "Just go after it. The biggest thing is being consistent over a long period of time.
"Anytime you worry about things you can't control, it can take away from your performance. Just keep your head down and work. I'm not good at thinking and playing. Worrying is not good for performance."
That advice may well work for fans too. The Mariners have played some bad baseball, but it does not appear to be a bad baseball team.
Noteworthy
Over the past 12 games, Mariners starting pitchers are 5-2 with a 2.33 ERA. Opponents have hit .218, while walking 25 times and whiffing 60 . . . Paxton has 20 consecutive scoreless innings . . . Miller in the past six games has hit .429 . . . Felix Hernandez won't miss his next start, McClendon said before the game. Hernandez aggravated an earlier ankle injury in the sixth inning Saturday night, and his loss of pitch control contributed to three walks in the inning and his first loss of the season. "I think he's going to be just fine," McClendon said. "He's (twisted it) before, but he assured me that was not the reason. He just didn't pitch good . . . He's only human. We think he's Superman sometimes, but he's only human." . . . Jackson, rehabbing his sprained ankle in AAA Tacoma, is eligible to come off the disabled list Tuesday, but McClendon was indefinite on the center fielder's return.
Next
After a day off Monday, the Mariners begin a nine-game trip in Baltimore with three games, then three in Toronto and three in Tampa.