By David Eskenazi and Steve Rudman
From Thursday through Sunday, Chambers Bay will host the U.S. Open as it comes to the Pacific Northwest for the first time in the event's 115-year history. Although certainly the most prestigious golf event contested in the region, there was a period (1936-48) when touring professionals made semi-regular visits to Puget Sound, and another era (1961-66) when the PGA made an annual tour stop in the greater Seattle area.
The first major professional golf event in these precincts occurred in 1936 when MacDonald Smith topped Byron Nelson for the $1,200 first prize in the Seattle Open at Inglewood Country Club. In 1945, Jimmy Hines won the Tacoma Open at Fircrest, and in 1948 Porky Oliver took the same event on the same course.
The PGA didn't return to the region until 1961, when Dave Marr won the first in a series of Seattle Opens, at Broadmoor, a victory worth $3,500. The Seattle Open continued as a regular PGA encampment through 1966.
In 1962, a year after leading the United States to an 11-1 thumping of Great Britain in the Walker Cup at the Seattle Golf Club, Jack Nicklaus beat Tony Lema, Gary Player and Arnold Palmer and collected first prize of $4,300 at the Seattle World's Fair Open, also at Broadmoor.
Bobby Nichols won in 1963 at Inglewood ($5,300), Billy Casper in 1964 at Broadmoor ($5,800), Gay Brewer in 1965 at Inglewood (6,500) and Homero Blancas in 1966 at the Everett Country Club ($6,600). After that, local sponsors disappeared and the regular tour never came back.
The LPGA arrived for an 18-year run beginning in 1982 with the Safeco Classic at Meridian Valley Country Club in Kent. But after Safeco Insurance entered into a 20-year naming-rights agreement for Seattle's new baseball stadium in 1999, Safeco ended its association with the LPGA. When no new sponsor or sponsors could be found, the tournament ended.
The Boeing Classic, currently held at TPC Snoqualmie Ridge, has served as a Champions Tour stop since 2005.
The 2015 U.S. Open will become the 10th major championship (pro and amateur) contested in Washington under the supervision of the PGA or USGA. These preceded it:
PGA CHAMPIONSHIP / Manito Golf and Country Club
Spokane, Aug. 14-20, 1944
In what was considered the greatest upset in the 28-year history of the championship, 28-year-old Bob Hamilton, an Evansville, IN., native, defeated 10-to-1 favorite Byron Nelson 1-up over 36 holes in the match-play final. Nelson entered the last day of the tournament having romped through the first 196 holes of medal play in 30-under par, meaning that if the final day's format had been medal play, Nelson would have out-run the field.
But Nelson three-putted the ninth, 16th and 29th holes in his head-to-head contest against Hamilton, who took first prize of $3,500 (Nelson earned $1,500). At the time of his win, Hamilton was the head pro at the military golf course at Fort Lewis, and was able to compete only because he didn't have a long distance to travel.
Sponsored by Spokane's Athletic Round Table, an organization headed by civic leader and attorney Joe Albi, the week-long event drew 154,893 fans, breaking the previous PGA record of 125,345 set in Los Angeles in 1929.
Following the tournament, Albi's Athletic Round Table sponsored the Esmeralda Open, a PGA Tour event in 1945 and 1947, and the first U.S. Women's Open in 1946, all held in Spokane.
Due to World War II, the PGA Championship was the sole major played in 1944 (and 1945); the three others returned in 1946.
U.S. WOMEN'S OPEN / Spokane Country Club
Aug. 26-Sept. 1, 1946
This served as first edition of the U.S. Women's Open, and the only one ever contested with a match play format. After the field of 39 was reduced to 32 by a 36-hole qualifier on Monday and Tuesday of tournament week, six pros and 26 amateurs advanced to match play. The format called 18-hole head-to-heads through the quarterfinals, and 36 holes for the semifinals and finals.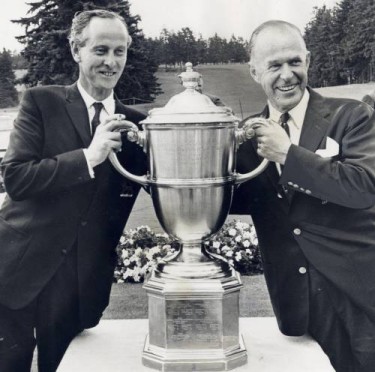 Pros Patty Berg and Betty Jameson reached the Sunday final. Jameson led by three after seven holes, but Berg evened the match and the pair finished the first 18 tied. After lunch, Berg needed only 14 holes to close out the match at 5 and 4.
Berg won $5,600 and Jameson $3,100, all in war bonds.
This win was later recognized as Berg's sixth major championship. The winner's share at the U.S. Women's Open was substantially less in succeeding years and was not exceeded until 1972, 26 years later.
Berg went on to win 15 major championships, most by a woman. She earned induction into the World Golf Hall of Fame in 1951, was the LPGA's leading money winner three times, and the Associated Press Female Athlete of the Year in 1938, 1943 and 1956.
U.S. WOMEN'S AMATEUR / Tacoma Country Club
Aug. 21-26, 1961
Anne Quast-Decker, a Mercer Island school teacher, recorded the most lopsided win in the 61-year history of the tournament, overwhelming Florida's 22-year-old Phyllis Preuss 14 and 13. So thorough was the rout that Quast-Decker said she felt badly for her opponent.
"The match was agony for me," Quast-Decker told The Seattle Post-Intelligencer. "I have never seen such a silent gallery. I found myself pulling as much for her as for myself. It was almost impossible not to let up."
Quast-Decker finished 9-under par with 20 birdies and 11 bogeys and lost only six of 112 holes. The previous largest rout in a U.S. Women's Amateur: Glenna Collette's 13 and 12 romp over Virginia Van Wie in 1928. Pruess was 15 over par when the 36-hole final mercifully ended after 23 holes.
Quast-Decker enjoyed a remarkable career. She won the U.S. Amateur three times – 1958, 1961, 1963 – and finished runner-up in 1965, 1968 and 1973.
An Everett native and a Stanford graduate, Quast-Decker (who played under the names Anne Decker, Anne Welts and Anne Sander), preceded her U.S. Amateur performances by winning the Washington State Girls Amateur in 1952 and again in 1954-55. She won the Washington State Amateur in 1955-56.
Deciding against a professional career, Decker had her biggest moment when she finished second to LPGA Tour star Patty Berg in the 1957 Titleholders Championship, then a major. She also finished fourth in the 1973 U.S. Women's Open and represented the United States on Curtis Cup teams in 1958, 1960, 1962, 1966, 1968, 1974, 1984 and 1990.
WALKER CUP / Seattle Golf Club
Sept. 1-2, 1961
Led by 21-year-old Ohio State senior Jack Nicklaus, the United States made a mockery out of the biennial competition, thumping Great Britain 11-1. Nicklaus' booming drives typified American power golf as he routed Joe Carr 6 and 4 in a match between the two best amateur players in the world. The USA won seven of eight matches on the final day.
"Record searchers had to dig hack to 1928 and the Chicago Golf club to find such an overwhelming margin in this series, which the United States has now won 17 times in 18 playings," summarized The Associated Press.
More than 4,000 fans crowded the Seattle Golf Club, drawing this opinion from Jack Wood of the London Daily Mail, one of a dozen British writers who flew to Seattle to cover the matches:
"With the overwhelming hospitality of the Seattle people, and a standard of organization undreamed of in Britain, it has been a great week of golf everywhere but on the golf course."
"The reception the British party was given was one that could never be forgotten," wrote Leonard Crawley of The London Telegraph.
"I believe the only regret on the part of our hosts was that our side was unable to give a little more excitement on the golf course."
In addition to Nicklaus, the U.S. team included two-time U.S. Amateur champion Charles Coe and future PGA Commissioner Deane Beman.
Everett's Jack Westland, a U.S. Congressman and veteran of three Walker Cup teams (1932, 1934, 1953), and the 1952 U.S. Amateur champion, served as the Americans' non-playing captain.
U.S. WOMEN'S AMATEUR / Broadmoor Golf Club
Aug. 12-17, 1974
Runner-up in 1970 and 1972, Cynthia Hill made one incredible recovery shot after another to dethrone defending champion Carol Semple 5 and 4. After a sloppily played first 18, Hill settled down to play 14 in the afternoon two under par without a bogey. The 26-year-old Colorado Springs native three-putted Broadmoor's undulating greens only once in the 33-hole final.
Three-up at the lunch break, Hill virtually clinched the match on the first eight holes of the afternoon round.
Hill stood as the front-runner throughout tournament week. She trailed only on the first hole of her first-round match against Carol Gillen, then led all the way to defeat Debby Stewart, Nancy Hager, Millie Stanley and the tournament medalist, Debbie Massey.
The Broadmoor event attracted a final-day gallery of 2,000.
U.S. WOMEN'S AMATEUR / Broadmoor Golf Club
Aug. 13-18, 1984
After six days, nine rounds and 780 strokes each, it came down to one putt. Kim Williams failed to convert and Deb Richard, a 21-year-old University of Florida senior from Manhattan, KN., became Women's Amateur champion. Richard's victory marked the first time since 1966, when Kirkland's JoAnne Gunderson defeated Marlene Stewart in 41 holes, that the final went to sudden death.
A three-time Southeastern Conference champion, Richard hit only 34 of 37 greens in regulation. But Williams hit 21. Richard had a two-hole lead twice while Williams never led by more than one.
The 5-foot-6 Richard almost did not enter the tournament.
"I hated match play," she said. "I've always been on the losing end. And I hate to spend $800 a week doing something I don't want to do. But I don't hate anything right now."
PGA CHAMPIONSHIP / Sahalee Country Club
Aug. 13-16, 1998
Absent a regular tour stop since the 1960s, Seattle finally made the pro golf radar with a Grand Slam event at the heavily treed course in suburban Redmond. Vijay Singh fired rounds of 70-66-67-68 for a 271 to defeat Steve Stricker by two strokes. Local luminary Fred Couples finished nine strokes off the pace (280) while reigning PGA Tour star Tiger Woods was a non-factor, shooting 279.
The field included 12 past PGA champions, eight of whom who made the cut: Steve Elkington (1995), Nick Price (1992, 1994), Davis Love III (1997), Bob Tway (1986), Paul Azinger (1993), Jeff Sluman (1988), Hal Sutton (1983) and Mark Brooks (1996).
Woods and Azinger were among four with 66s in the first round, but Singh and Scott Gump shared the second-round lead at 136 as Woods checked in with a 72.
Singh and Steve Stricker both had 203s — seven under par — at the end of three rounds, Singh finally winning by a two-stroke margin over Stricker at 271, -9. Singh earned $540,000.
Singh boosted his chances with birdies on the par-5 11th after his second shot ricocheted off a tree and came to rest 50 feet from the hole. Singh also birdied the par-4 15th before Stricker made his birdie, and then parred out from there for victory. Stricker's chances went awry when he missed a birdie at the 16th and bogeyed the 17th.
Singh became the 10th player in 11years to earn his first major at the PGA Championship and the 10th international player to win the event.
For Sahalee, the big takeaway was the manner in which the players embraced the course.
"They should make this a permanent place for the PGA," said Price, who shot a course-record-tying 65 in the third round.
"The course is wonderful," said Ernie Els, a two-time U.S. Open champion.
"A tremendous course," said Mark  O'Meara.
"A perfect course," added Elkington.
"It's definitely a fair test," Woods said. "It was set up perfectly. The course can be had if you hit the ball to the right spots."
The tournament drew 29,400 for Saturday's third round and nearly that many for Sunday's final round.
U.S. SENIOR OPEN / Sahalee Country Club
July 29-Aug. 1, 2010
The tournament attracted more than 150,000 spectators, 500 worldwide media and 3,000 volunteers resulting in a $30 million local economic impact. The tournament was broadcast to more than 50 countries, including 15 hours of live coverage on ESPN and NBC Sports.
Staked to a three-shot lead when Fred Couples made triple bogey at No. 2, Bernhard Langer cruised to a three-stroke victory. The German had a bogey-free 67 over the final 18 and never wavered, even after Couples made two late birdies to close the gap to two and ignite the crowd of 31,444.
The only player to shoot in the 60s all four days, Langer posted rounds of 69-68-68-67 — 272 to 70-70-65-70 — 275 for Couples.
Langer earned $470,000 and Couples $280,000 in a battle between two former Masters champions.
After Couples triple bogeyed, the partisan crowd stayed behind him, but Langer answered every challenge.
"It was a lot of fun to be here, I can tell you that much," Couples said, lobbying for the tournament to return to the Northwest.
"The fans were great. I'm kind of an emotional guy. I'm not really an emotional player. But I can hear them (the fans), and it was fun."
2010 U.S. MEN'S AMATEUR / Chambers Bay
Aug. 23-29, 2010
Peter Uihlein, a junior at Oklahoma State, delivered a commanding performance on the final day at Chambers Bay, beating David Chung, 4 and 2, to capture the 110th U.S. Amateur Championship – on his 21st birthday, no less. The tourney was the debut for Chambers Bay, opened in 2007, as a national championship test.
Uihlein never trailed in the 36-hole final, grabbing the lead with a birdie on the second hole, in what became a dazzling display of power off the tee and creativity from the baked-out fairways.
He chipped in for eagle from just off the 18th green to take a 2-up lead into lunch, then extended the advantage to as much as 4 up as he made the turn for the final nine holes. He punctuated his performance with a 25-foot birdie on the 33rd hole and closed out the match on the drivable 16th, where Chung was unable to reach the green in four shots.
"It's pretty sweet," Uihlein said. "Definitely great to add my name to the list of champions. The list is pretty special."
————————————-
 Many of the historic images published on Sportspress Northwest are provided by resident Northwest sports history aficionado David Eskenazi. Check out David''s "Wayback Machine Archive." David can be reached at (206) 441-1900, or at seattlesportshistory@gmail.com