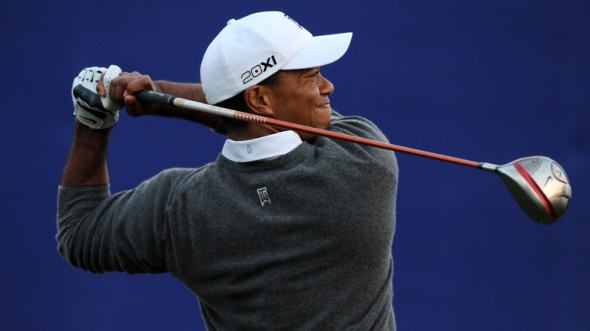 UNIVERSITY PLACE — Tiger Woods continued his roll around rock bottom Friday at the U.S. Open at Chambers Bay, trudging to a second-round 76 (+6), missing the cut at a major championship for the second time in his last three tries.
A day after a calamitous performance that saw him cold-top an approach shot into "Chambers Basement" — a 11-foot deep bunker — on 18, Woods improved upon an opening-round 80 with drama-free golf,  but still posted his worst 36-hole score (+16) at a major as a professional.
Woods teed off in the morning knowing he needed to shoot in the low 60s to have a chance of making the cut. That task was daunting, considering he shot only two rounds in the 60s this season.
He didn't come close. Woods left the course after his round finished mid-afternoon. He said his plan was to check on his friend, Jason Day, who was helped off ninth green after vertigo symptoms nearly prevented him from finishing his final hole.
Then he was headed home.
"I wanted to shoot 5 or 6 today," Woods said. "But I wanted to be on the other side of par. I hit a little bit better today. But, again, I made nothing today. I didn't make any putts the first two days; I hit it better today. Hitting some spots where I could hit some putts; I made nothing."
It was another reminder of how far Woods' game has fallen since his last major victory — the 2008 U.S. Open at Torrey Pines. It was another reminder of how far his game has fallen since he was ranked No. 1 player in the world in 2013.
Woods, 39, entered this week ranked 195th. Projections have him on pace to drop to 205th. He tied for 154th in the 156-player field.
He hit the ball better Friday, but that isn't saying much. Thursday's 80 happened during the easiest-scoring round at the U.S. Open since 2003.
"On a golf course like this you get exposed and you have to be precise and dialed in," Woods said of his two rounds. "And obviously I didn't have that."
His game must improve drastically if he wants to compete at the Open Championship at St. Andrews in July. Woods is a three-time Open winner, including the Old Course in 2000 and 2005.
He's also a three-time U.S. Open winner. That didn't help him this week.
It's hard to know what's going through his head.
Woods is on his fourth swing coach — Chris Como — after working with Butch Harmon, Hank Haney and Sean Foley. He is fresh off a break-up with professional skier Lindsey Vonn after his marriage with Elin Nordegren was undone by his infidelities.
But he insisted Thursday that he believes in the latest changes he's making, which include shortening his backswing. "Short-term pain for long-term pain," was how he described the process earlier this week.
His immediate goal?
"Just continue practicing, continue working on it," Woods said. "And hopefully it will be a little bit better."
Assuming he doesn't get re-injured, Woods will return to a semi-normal schedule in 2015 after missing considerable time following back surgery in March 2014. Sidenote: His assortment of injuries throughout his career is so lengthy  it has its own 18-page slideshow on golf.com.
Part of his issue(s), Woods said, is he hasn't played consistently while dealing with those constant health setbacks.
But he said he plans to play tournaments every other week this season. That should give him ample chances to refine his new swing.
But Jack Nicklaus's record of 18 major championships, four more than Woods, has never looked further away.
Pan, Kelly make cut; Moore, Putnam, Lee miss

Local favorite Ryan Moore of Puyallup finished his first nine one-under, then bogeyed four of the first five on the second nine Friday. The 74 went with his 75 Thursday to push him out of the tourney by five strokes.
Moore, who has a home a couple of miles from Chambers Bay, was 32nd in the world golf rankings, but never got going despite the urgings of a healthy hometown crowd.
"It's obviously great to have it here — I'm disappointed with how I played," he said. "I would be lying if I said I felt great coming into this week. I tried getting out there, getting a lot of time on the golf course, getting comfortable with it. This course does not set up all that well for me.
"I hit the ball really low and it is firm and fast, but with all the large slopes in front of the greens, it kind of makes you take it in a little more aerial than a lot of the links courses. That point I'm flying it to, it's bouncing and going way past the hole. If I fly it short, it kills it and runs off the green. It was tough for me. In the end just didn't hit good enough golf shots."
Michael Putnam, another PGA tour vet from University Place, blew up to a 77 after an opening-round 70.
"It sucks," he said. "I played well yesterday and expected to play well today, and get out there today and basically goose-egg it. When you do that at a U.S. Open, they are going to expose your weaknesses and what's going on."
Also missing was former University of Washington player Richard Lee, who finished 74-80 — 154.
But two other former Huskies, Troy Kelly (73-72 — 145) and Cheng-Tsung Pan (71-72 — 143) made the final weekend. Kelly learned after 9 p.m. that he and the rest of the group at five-over-par, including Ian Poulter, Sergio Garcia, Colin Montgomerie, Angel Cabrera  and Webb Simpson, made the cut.
Pan is a Taiwan native making his professional debut after finishing second in the NCAA Championship to climax a stellar four-year UW career.