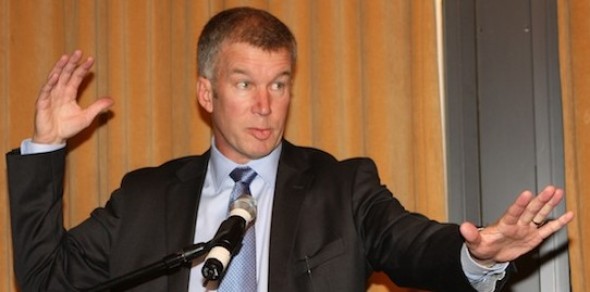 Give Kevin Mather credit for honesty.
"I'm not a baseball guy," said the president of the Seattle Mariners, a baseball team.
But he is going to be the decider on the successor to Jack Zduriencik, the general manager whom he fired Friday in Chicago after admitting, "I waited too long" to do so.
"I kept waiting for them to rattle off eight out of 10, 12 out of 15, to get on a roll," he said on a teleconference with Seattle-area reporters Friday. "I maybe dragged my feet . . . I waited too long to start asking myself tough questions about why we're not having more success."
Admirable as is his candor, it revealed an absence of knowledge about what he was seeing, despite having been a Mariners employee since 1996, albeit all on the business side.
The Mariners were a team built to win in 2015, with a club-record $130 million payroll as testimony. In the same spirit of candor, I thought the Mariners would win, too, as did many in local and national media.
When they didn't in April, May and June, for a variety of on-field reasons obvious to many, there were no repairs forthcoming from Zduriencik. There were no major-league ready prospects ready to help immediately, nor was there a surplus of prospects that could have been traded for veterans who could have been difference-makers.
The one move made, for OF/1B Mike Trumbo in June, cost them Welington Castillo,  recently acquired from the Cubs who lasted six games in Seattle.
He proved he was a major-league average catcher, something the Mariners haven't seen nearly since Dan Wilson. But Castillo turned out that way only for Arizona.
After hitting .160 with two home runs in six games in Seattle, in 56 games for the D-backs, he's hit .271 with a .917 OPS, thanks in part to 15 homers. Might have been an uptick over Mike Zunino, who was sent down to Tacoma Friday after hitting .174 with a .530 OPS. After a brief, mid-season improvement, Zunino has regressed to bad habits that make him just about the worst hitter among major league regulars.
Sure, the Trumbo trade is a small sample. It is, however, representative of Zduriencik's Seattle tenure — poor returns for assets surrendered. I outlined the sweep of the meager results in a recent column here on the Mariners' all-discard team, some of whom departed on the watch of his predecessor, Bill Bavasi.

The attrition was well underway over several years of weak trades and draft choices, leaving the season vulnerable apparently to a bad case of acid reflux by Robinson Cano. But the talent bleed wasn't obvious to Mather, 52, who succeeded the oft-criticized Chuck Armstrong as president in January 2014.
Mather liked what he saw sufficiently — the Mariners were 71-59 at the time — that he gave Zduriencik a two-year contract extension almost exactly a year ago (Aug. 26).
"Since Jack took over after the 2008 season, we have been building toward our ultimate goal, which is to win the World Series," Mather said in a club release. "We believe, with the efforts of Jack and his staff, we are now well-positioned as an organization to be a contender for many years to come."
Twelve months later,  Mather's action contradicted his words. The team is not well-positioned.
In terms of MLB talent, the roster is not bankrupt, but any executive in baseball would take the young players among the division rival Astros, Rangers and and Angels over the Mariners' young players, and the A's have regularly outsmarted the Mariners regarding talent.
In the call, Mather cited the need for Zduriencik's successor to get domestic and international scouting, minor and major league instructors and other baseball personnel "to work and grow together," implying that Zduriencik's operation was fractured.
That likely was true, and getting everyone on the the same page is nice. But that is the desire of a bureaucrat.
What the Mariners need are astute judges of baseball talent, which in baseball elsewhere in the past 10 years typically has required a deep integration of sabermetrics. Mather twice mentioned the need for sabermetrics, but he did so in the manner of a teenager trying to rationalize eating vegetables. The kid is told it's good for him, and it pleases the folks, so he nibbles a half-portion, never quite sure why.
He also said that he would recommend to the new GM keeping manager Lloyd McClendon and his coaches, whom he thought had done a great job. But he would not order it.
What option does that present to a GM candidate? Suck up to Mather by agreeing to accept McClendon when he's certain of a better choice, or insist on his own manager and blow the job opportunity?
Mather was asked, given his self-admitted lack of baseball pedigree (accounting major, University of Wisconsin, Class of '84), why he was qualified to make the GM call.
Calling it "a fair question," he said, "I'm going to use other people.  I will talk to other people who know more than I do. People whose judgement I trust."
Well, that's all he can do. The question then becomes: If he isn't a baseball guy, how will know what he's hearing is true, relevant or valuable?
So it has been for the Mariners. The magnum dither.
Howard Lincoln, CEO since 1999, hired Mather to replace Armstrong in part because Lincoln knows and trusts business people. Business has been Mather's charge in his time in Seattle, not baseball.
It doesn't mean Mather can't make a good decision. It just means that he is now replacing a guy he endorsed a year earlier, for reasons he can't explain.
"We have tremendous people," he said of the organization. "We have to get better. Our last playoff was 2001. It's not for lack of resources.
"There's no reason why this team is not competing year after year."
Well, there is. But if he says so, he's fired. Doubtful his candor extends that far.