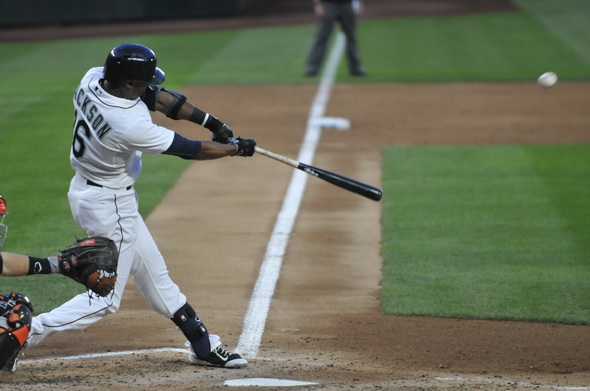 The Mariners Monday continued their dismantling by trading CF Austin Jackson to the Chicago Cubs for a player to be named later and international slot money. The move came just hours before MLB's 9 p.m. PT waiver deadline. Earlier this week, Jackson cleared revocable waivers, making him available for a trade.
Jackson, now a Cubs rental, will be a free agent at the end of the season, making him expendable now. The key element for the Mariners is shedding the $1.3 million remaining on his $7.7 million salary.
During parts of two seasons with Seattle, Jackson posted a .257 batting average and a .639 OPS in 161 contests.
With Jackson gone, the Mariners, one of the biggest disappointments in baseball, are expected to continue their transformation of Brad Miller from an infielder into a center fielder in an attempt to determine whether he can be a reliable option for the 2016 season. Over their remaining 31 games, the Mariners will also use rookie Ketel Marte and perhaps Franklin Gutierrez in center.
The Mariners, who begin a three-game series with AL West-leading Houston Monday night, acquired Jackson from the Detroit Tigers ahead of the non-waiver trade deadline in July 2014, giving up shortstop prospect Nick Franklin in a three-team deal that netted the Tigers former Tampa Bay Rays ace David Price.
That deal was consummated by Jack Zduriencik, fired as general manager late last week. Due to their pratfall, the Mariners already shed star relief pitcher Mark Lowe (to Toronto), starter J.A. Happ (to Pittsburgh, where he has a 1.98 ERA in five starts), and closer Fernando Rodney, also acquired by the Cubs after the Mariners designated him for assignment last week.
Entering Monday night's play, the Mariners (61-70) stood 11 games behind the Astros in the division race and eight games out of the second wild card.
Jackson departs the Mariners hitting .272/.312/.387 (98 OPS+) with eight home runs and 15 stolen bases in 448 plate appearances. He also leaves with a season-high nine-game hitting streak, tied for the ninth-longest of his career, and his longest since hitting in 11 consecutive games from Aug. 19-31, 2014.
Jackson hit safely in 16 of his past 18 games with 11 multi-hit contests. During the stretch, dating to Aug. 11, he hit .394 with 10 runs scored, five doubles, two home runs, nine RBIs, three walks and two stolen bases.
Jackson, who had been penciled into Monday night's starting lineup against the Astros, went 3-for-6 with a single, triple and home run in his final game as a Mariner, Sunday's 6-5 walk-off loss at Chicago.