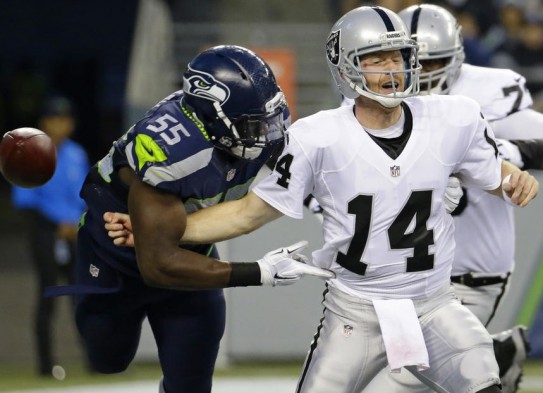 The play won't show up on a stat sheet, but it illuminated Frank Clark's nuisance factor in the extreme.
Late in second quarter in Thursday's fake football finale for the Seahawks at the Clink, the rookie defensive lineman bull-rushed past Raiders guard Mitch Bell so swiftly that all Bell could do to save QB Matt McGloin was to pivot around, wrap both arms around Clark from behind and tackle him to the ground.
Bell must have figured the 10 yards lost due to the holding penalty was better than having a quarterback broken on his watch.
"The ball was away, and my face was in the turf," Clark said, smiling at the recall. "I said, 'What is really going on right here?'
"What I said to him, I can't say on camera. Let's just say I tried my best to get the job done."
That he did, finishing the evening with four tackles, including one for a loss and another on a strip sack that produced a fumble that teammate Jordan Hill pounced on in the end zone. Clark was a big part of the party the Seahawks threw, a stark change from the trudges of the first three exhibition games.
Even though the Raiders played virtually no first-teamers, the Seahawks' 31-21 win  represented relief because of s display of some domination instead of frustration.
"This is a really good way to end up our preseason," coach Pete Carroll said. "A lot of fun things happened."
Even though Clark was playing against Oakland's second- and third-stringers, for much of the first half he looked like he was playing against traffic cones. With the Seahawks ahead 10-0 in the second quarter, the Raiders were backed up to their own 5-yard line when Clark, at right end, showed some veteran savvy.
"I was just trying to time the snap, get comfortable with how they call it," he said. "I saw the guard give a signal to the center. So I got off perfect — hoped I wasn't offsides, and go around the edge.
"I just used a little speed. Stay low, come around the corner. Penetrate."
Clark reached McGloin in the middle of the end zone and chopped his throwing arm, freeing the ball. Hill was in the right place to score his second touchdown of the preseason and suddenly it was 17-0.
Another worthy benchmark came in the first quarter, when the first unit scored a touchdown — its first in the preseason. The dynamite was WR Tyler Lockett, the rookie dazzler.
From the Seattle 37, he went on a straight fly route. By the time he reached the Raiders' 25, Lockett had a five-yard lead on CB Keith McGill.  QB Russell Wilson, behind a solid pocket, hit him in stride. Touchdown, 67 yards.
It was Lockett third TD of the preseason, following a kickoff return and a punt return, a collection quite unusual.
"Not too many people get the opportunity to do that," Lockett said. "Russell made a great throw. I had to do my part."
Hey @TDLockett12 remember they said you were too small?

— Frank Clark (@TheRealFrankC_) September 4, 2015
Among the other developments in the final showcase prior to the cut to 53, which can begin Friday and last until 1 p.m. Saturday:
The "new" Russell Wilson
B.J. Daniels had his breakthrough game as a Seahawk, opening the game at wide receiver, then switching to quarterback and also returning two punts. He did well at QB, especially in his emulation of Wilson's breakaways from the pocket. He rushed seven times for 75 yards and completed six of 15 passes for 45 yards.
"The slogan that goes around the NFL is you do what you can do," Daniels said. "I probably need to learn to kick a field goal."
The big rush
Against second-stringers, the Seahawks' newly assembled O-line did well, especially pounding the ground — 224 yards rushing on 31 carries. Rookie RB Thomas Rawls led with 87 yards in 11 carries, including a third-quarter touchdown. Christine Michael had 39 yards in eight carries with no major errors.
With RB Robert Turbin out with an ankle sprain, Michael figures to survive the cut but Rawls might be kept as a third back until Turbin is healthy.
Questions in the secondary
Richard Sherman, Earl Thomas and — of course — Kam Chancellor didn't play, leaving a whole bunch of mess in the Legion of Whom. The depth took some hits, including CB Mohammed Seisay, who was burned three times in the second quarter, once for a touchdown, then left the game late with a dislocated shoulder.
Wil Blackmon, Tharold Simon, DeShawn Shead and Eric Pinkins started. McGloin and Christian Ponder threw for a combined 285 yards passing on them and successors. The unit may prove the most difficult for Seahawks coaches to trim because performances were so uneven throughout the preseason.
Sherman and Thomas will start the regular season Sept. 13 at St. Louis. Any resolution to the Chancellor holdout is unknown, although missing game checks starting with week 1 figures to be a powerful disincentive to continue.
At the corner opposite Sherman, Cary Williams was the free agent hired to replace Byron Maxwell, but he has had a mostly unremarkable preseason, leading to speculation that Simon, who returned to action this week after injury, may be a candidate to start.