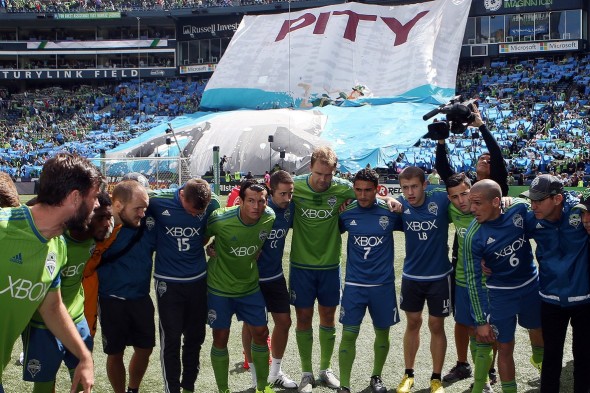 For the Seattle Sounders, the quest for a playoff berth will come down to the final match of the season. Having failed to secure a win against Houston after a sleepy performance Oct. 18, the Sounders can guarantee a spot in the postseason only by picking up three points at home against Real Salt Lake Sunday at 4 p.m. (JoeTV).
"It's been a big roller coaster ride," said coach Sigi Schmid as he reflected on the season. "We did well, we churned away, and we brought ourselves to the top of the hill, and then in the summer we went downhill, fast.
"Now we're coming up for that second climb. Now it's a matter of coming to the top of the hill and staying there again.
Unfortunately for Schmid's analogy, roller coasters don't usually end on a peak. Whether the Sounders will pull off the biggest drop of all — missing the playoffs for the first time since the franchise joined the league in 2009 — remains to be seen.
Schmid's "one game at a time" mentality can function no longer. He admitted that Sunday's contest couldn't be looked at as business as usual.
"The team should be excited about it because we want to be in the playoffs," said Schmid.
Tell that to Seattle's lethargic performers in Houston.
It's not all doom and gloom. Seattle guarantees itself of a berth by picking up three points, and can still make the playoffs with a loss or draw provided San Jose and Sporting Kansas City do not both win Sunday against FC Dallas and the LA Galaxy, respectively.
Despite stiff competition for the other teams in the mix, and the fact that Seattle has not lost a game since Aug. 22 (going 3-0-4 in that span), Seattle's under pressure at the Clink Sunday.
The Sounders' last loss was to RSL in Utah in August. Despite being eliminated from playoff contention, and having played a midweek fixture in the CONCACAF Champions League Tuesday, RSL may prove dangerous. Having been eliminated from playoff contention, RSL has nothing to hold back, meaning an up-tempo attacking game could be in the cards.
For Schmid's part, he's hoping to see more energy than was shown in Houston.
"The focus is to play well. To move the ball a little bit quicker, to be more aggressive defensively, to be more aggressive offensively as well," said Schmid.
A positive is that, finally, the roster is looking replenished. Nelson Valdez, Marco Pappa and Oniel Fisher, the latest notables in a season filled with injury issues, all participated in the full week of practice. Schmid sounded optimistic, but offered his usual caveats for players returning from injury.
"Everyone was in training, so it's the same old thing. They're in training today, so we'll see how they feel," Schmid said Wednesday.
There's a good chance they'll need all the help they can get.
Sounders to set new attendance record Sunday
Despite a dismal middle portion of the season, the Seattle Sounders are still on track to set a single-season attendance record Sunday. With more than  53,000 fans expected for the full-stadium match, average attendance this season will surpass the 44,038 benchmark by the club in 2013.
Seattle averages 43,457 fans per game, 10,000 more than any other team in the league. Orlando City SC, playing its first season in the league at the Citrus Bowl in Florida, is in second with an average home attendance of 32,847.