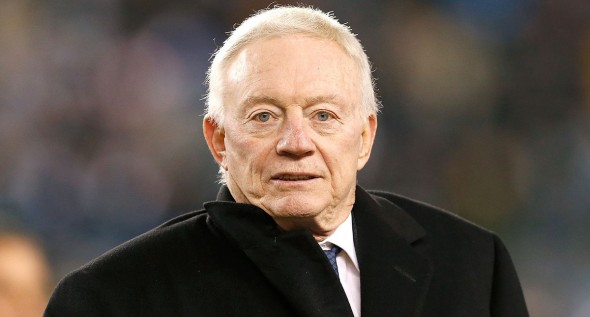 Under Jerry Jones, owner/general manager/narcissist-in-chief of the Dallas Cowboys since 1988, the franchise has always been the old Dodge City of the NFL, a place where renegades, desperadoes and varmints could be among one another without much interference from the law.
The latest dubious dude to join the Jones Gang is DE Greg Hardy, who high-tailed out of North Carolina after a trail of domestic abuse and firearms complaints had him  in the NFL hoosegow. But a little dirt never stopped Jones, so the Cowboys signed Hardy after his release by the Panthers.
After a judicial conviction, the NFL sentence was supposed to be for 10 games But since no witnesses to the abuse, including the alleged victim, a former girlfriend, came forward during Hardy's appeal, legal charges were dropped. The NFL, either out of ignorance or fear or both, reduced the sentence to four games.
That means he's in uniform when the Cowboys host the Seahawks at 1:25 p.m. Sunday. A formidable pass rusher, Hardy presumably will be after all of the Seahawks' horses, whiskey and saloon girls. But that's his job for a team that finished 28th in the league last year in sacks.
What has Hardy's name ablaze in the dime novels again was his conduct among his teammates during a 27-20 loss to the Giants, the fourth in a row for the Cowboys — as many defeats as they had all of last season.
Along the sidelines late in the game, Hardy's second as a Cowboy, he castigated teammates, swatted at the clipboard of an assistant coach, who shoved him back, and argued with WR Dez Bryant, who himself has, as they say in human resources, anger-management issues.
The video of the episode was found amusing by Seahawks DE Michael Bennett.
"I think it's kind of ironic that Dez Bryant was telling him not to have an outburst," he said Wednesday. "(Bryant is) one of the main guys in the NFL that has a lot of outbursts. I guess he's changing too."
Jones' reaction to all this outbursting? Sunday he called Hardy "one of the real leaders on this team and he earns it with respect from all of his teammates. That's the kind of thing that inspires a football team.
"He's just getting guys ready to play, in my view. I don't have any issue with him being involved in motivating or pushing in any part of the football team."
Not only was there no suspension, nor even a stern lecture, there was praise for Hardy's inspirational use of coach/teammate badgering on national TV. Presumably if he hired Hannibal Lecter and directed him to the Cowboys cafeteria, Jones would later tell police, "I swear I told him to eat with the fellas."
Hardy is neither the first nor last to have a sideline argument, but he is a player with a history of conflict — a high-maintenance personality. Which, when a team has a four-game losing streak and is down to a third-string quarterback for a game against the two-time-defending NFC champions, is not helpful.
During a teleconference call with Seattle-area reporters, Cowboys coach Jason Garrett was asked whether he was concerned about the team's image, or is that a problem for Jones. Garrett was oblique.
"There are things that will come up from time to time that we have to address as coaches, and our philosophy is a simple one: Address it, solve it, and move on," he said. "We try to do that as well as we can. So if he, or anybody else, needs to . . . you know, if we need to address any issues with those guys, we'll certainly do it."
Hmm. Not sure that meant things were solved. But the answer was a little better than Hardy's repeated response Sunday to reporters' queries: "Next question . . . no comment; next question, no comment . . . "
Somehow, Hardy does not bring nearly the panache to a non-answer answer that Seahawks RB Marshawn Lynch does. Which brings us to the point that Seahawks fans would be wise to not be too smug about the disarray in Dallas.
The Seahawks just had a week in which two players in separate incidents had car wrecks that narrowly averted tragedy. In April, the Seahawks hired with a second-round pick DE Frank Clark, who was thrown off his college team after a purported episode of domestic violence. Charges were subsequently dropped, and Clark has had no further reported conduct issues, but the Seahawks walked into controversy they didn't need, nor did they manage it particularly well.
No team is immune to the seduction of glorious football talent, no matter how much dubious behavior comes with it. But Tuesday on Showtime's  Inside The NFL show, New York Jets wide receiver Brandon Marshall had the guts to call out Hardy's act and Jones' role in its perpetuation by enabling him.
"When I look at Greg and how he's handled himself, on the field and in the locker room, I see a guy that is not aware," Marshall said, via ESPN. "He doesn't understand the magnitude of what happened last year, what he did and the atmosphere surrounding the NFL.
"I don't think that he gets it. I don't think that he learned his lesson. He really needs to look himself in the mirror and ask himself, 'What type of person do I want to be?'"
Marshall has some credibility on the subject, having gone through multiple emotional episodes in his time with the Chicago Bears, after which he sought counseling.
"Every game I know there's going to be two or three cameras in my face," he said. "Why? Because I'm a high-emotion guy and because of my history. I am aware."
Not only does Marshall say Hardy is unaware, it's the same for Jones.
"Right now Jerry's only focusing on the player," Marshall said. "It's time for us to start talking about the person.  If we want the product on the field to be great, if we want to protect the (NFL) shield, then we have to approach both the same."
Therein lies the problem for Jones. Nearly every NFL general manager/coach takes on high-risk, high-reward players because winning always comes first. If the team wins, all is forgiven, or at least forgotten or marginalized.
For all the aura surrounding the Cowboys, since their run of three Super Bowl championships in four years that ended in 1995, they haven't been back. In the subsequent 20 years, the Cowboys have had eight winning seasons, none of which has included as much as a conference final. They are a sports empire in decay, thanks mostly to Jones' player-personnel foolishness.
If a team strongman is going to be negligent when it comes to player character, winning big is the only cover, because fans then indulge all. Lose, and the ugliness is laid bare.