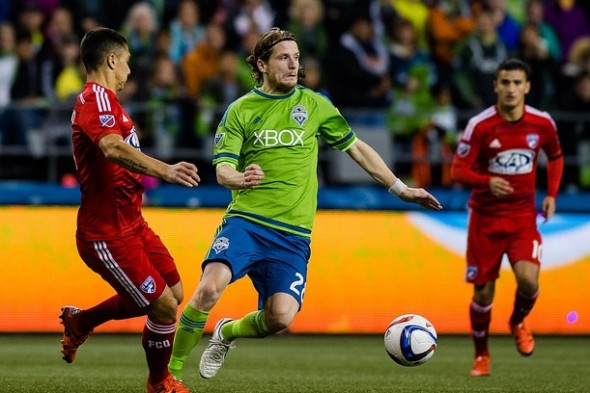 To hear Erik Friberg tell it, Sunday's second-leg match of the Western Conference semifinal against FC Dallas (kickoff 4:30 PT) will come down to a combination of momentum, rest, and familiarity. Seattle goes to Dallas with a 2-1 aggregate advantage after their Nov. 1 victory at home, but will be under pressure to find the back of the net to nullify Dallas' potential road-goal advantage.
"We need to show up and play a good game to get a result against a very good team," said Friberg Wednesday. "I think we have the confidence right now, we've been winning a lot of games, so we're ready to go."
Seattle is unbeaten in its last 11 contests, going 7-0-4 in a span in which they outscored opponents 22-10. Those are strong numbers to carry in the postseason, but the Dallas attack Sunday showed that Seattle's battered back line will have its hands full trying to maintain its lead.
Coach Sigi Schmid said that possession and patience would be paramount to success on the road.
"The most important thing for us is to make sure we take care of the ball in the offensive end of the field," said Schmid. "Sometimes that requires maybe an additional bit of patience, maybe an additional pass. That's where they're going to catch us off the counter is if we're too quick, lose the ball with people forward."
Dallas's goal in the first leg was sprung from a counterattack after a failed through-ball toward Clint Dempsey. Unless Seattle can play keep-away for 90 minutes, the odds are good that its back line will be tested. As for that back line, health concerns will almost certainly mean absences for regular first-teamers.
Likely to be without captain Brad Evans and Leo Gonzalez, and with Oniel Fisher dealing with hamstring trouble, the Sounders are likely to start Zach Scott and Dylan Remick at center back and left back, respectively, to plug the gaps. Scott, who has played all season on a broken foot, was caught out of position by Fabian Castillo on Dallas's goal in the first match.
With so much attention given to goal-scoring potential at either end of the field, it is possible to overlook the midfield, but that is where Sunday's contest will be won. Without all its defensive starters, Seattle will look to Friberg (and likely Andy Rose, who has two consecutive starts) to pick up the slack in the space in front of the back line, while pushing its wingers out wide to get the ball up to Dempsey and Obafemi Martins.
Friberg acknowledged that he would likely be outnumbered in the defensive midfield, but that he wasn't concerned.
"It's a lot of (Dallas) players in the midfield, they play with one more than we did last game," said the 29-year-old. "We just need to find the space outside their midfield, on the wings."
With a full week's rest, Friberg seemed to think that the Sounders would be capable of bringing fresher legs to Dallas, helping counter the Texas club's speed up front.
"At this point, it's great for us, because we played three games in eight days. It's perfect, we get a week, and that's all we need, so we're going to be ready on Sunday," said Friberg.
Friberg, who re-joined Seattle this summer after a year-long stint with the team in 2011, has already notched two goals since his return. Still, the Swede said that if he goes goalless during a win Sunday, that he'd be happy with that.
"It's fun to score but I don't really care about that. It's just about winning games, and that's what we do now. If I can help with a goal, then of course that's good, but for me it's about winning."
Sunday's heroes could turn out to be the men in the middle, rather than the goal scorers.