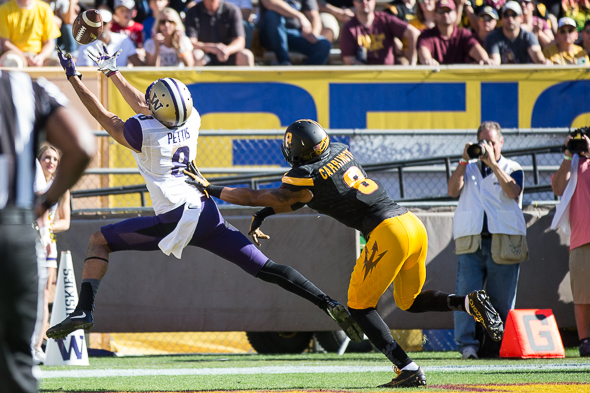 When the post-mortems for the 2015 Huskies season are written, the pivot point will be the second half against Arizona State Saturday on a gorgeous day at Sun Devil Stadium in Tempe, AZ.  The description will start and stop with two words.
No points.
In the era of the spread offense, it is hard to imagine a Pac-12 Conference team good enough to be 4-5 failing to score in a half they entered with a 17-3 lead off 341 yards of offense.
Seems nearly impossible. Actually, it's merely exceedingly rare. ASU's rally from 17-0 was only the fifth comeback win of 17 points or more in the conference's past 20 seasons. Last time it happened was 2010.
The Huskies scored 17 points in the game's first 22 minutes and nothing thereafter, collapsing into a 27-17 defeat that wasn't just a failure of players who failed to throw, catch, run or tackle. It was an embarrassment for Chris Petersen and his staff. They could not find a workaround to stop a team on a three-game losing skid that in the first half looked as if it had given up on the season.
But in the second half, ASU coach Todd Graham pantsed his UW counterparts.
No, it's not a fire-able offense for Petersen. If Washington fans haven't figured out that coaching churn is at the heart of the 15-year fall from eminence, they haven't paid attention.
But going away from a running game that was successful to rely on a passing game that wasn't working nearly as well figures to make the area around offensive coordinator Jonathan Smith a target-rich environment.
"We did nothing," Petersen said of the second half. "It's on me. We got to finish better."
They had the start down, at least Saturday. The game plan was to pick on a vulnerable ASU secondary. It worked well in the first quarter — 205 yards of offense and a 10-0 lead.
But even then, portents of defeat loomed. QB Jake Browning had at least four passes go off the hands of receivers who had beaten defenders and were in position to score. The Huskies easily could have been up 28-0 or more.
Freshman RB Myles Gaskin slashed ASU's defense for 91 yards in seven first-quarter carries, including a 53-yarder that set up his one-yard run for UW's first touchdown. But the fact that he finished with 108 on 18 carries was evidence that the Huskies went away from him.
"We're still trying to run it," Petersen said of a plan whose outcome showed 52 pass attempts and 34 runs. "You saw what we did in the second half. We don't want to get on our heels. We still need to run the ball effectively to be able to throw it.
"But yeah, I think we'll look at it."
The blown opportunities look more grievous considering ASU lost to injuries of two of its top defenders, SS Jordan Simone (of Sammamish's Skyline High), the nation's leader in solo tackles, and LB Laiu Moekiola.
As the game went on, Browning's throws became increasingly errant as ASU backed off its relentless blitzing to play coverage.
After TE Darnell Daniels scored on a wide-open, 29-yard reception for the 17-0 lead midway through the second quarter, here's how the remaining possessions ended (not counting two plays that ended the first half):
Punt, punt, punt, missed 46-yard field goal, failure on fourth down, punt, interception, interception, fumble, interception.
That's a remarkable string of incompetence against a wounded defense. Any one failure was painful but none more so than a decision in the third quarter to go for it on fourth and one at the ASU 35 instead of a 52-yard field goal attempt.  Instead of running, Browning threw incomplete to Pettis, who had one of a half-dozen receiver drops.
The Huskies were 3-for-13 on third down and one-for-three on fourth down. The point has been made often this season of the number of freshmen getting significant playing time on offense. But it's the 10th game of the season. Getting one yard on fourth down is not asking a lot, especially given the expansive Petersen playbook.
The upshot is the loss drops the Huskies to 4-6, which not only means they need to win at Oregon State Saturday and at home against Washington State Nov. 27 to qualify for a bottom-tier bowl, it means that Petersen has lost in two years at Montlake as many games as he did in eight years at Boise State (92-12).
Somewhere Saturday, Petersen and Smith needed to come up with a word or a play or an idea in the second half that would have not only created points but shifted momentum for young guys not yet adept at finishing.
"We gotta be so perfect at all the time," he said."We're not there yet with guys who can make up for (imperfection)."
That maturity likely will come for numerous players. Meantime, the gap needs to be closed by the coaches. Nobody likes to see a pantsing, especially by Todd Graham.