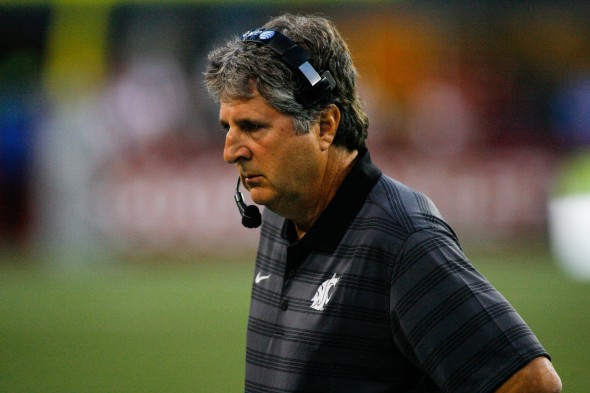 Takeaway
Despite leaving the game in the first half with apparent disorientation after his head was slammed into the turf after a sack, QB Luke Falk returned in the second half to lead the Washington State Cougars to a dramatic late touchdown to beat No. 22 UCLA 31-27 (box score) in front of 76,255 at the Rose Bowl in Pasadena Saturday night to improve to 7-3.
Essential moment
Having surrendered a touchdown and two-point conversion with 1:09 remaining following Falk's lone interception, things looked bleak for the Cougars, trailing 27-24. Falk, oft-abused by UCLA's pass rush, led a seven-play, 75-yard drive capped with a 21-yard flip to Gabe Marks for the TD with three seconds to play.
Offense
Falk was 38-for-53 for 331 yards and two touchdowns with an interception. He exited the field with 2:45 to play in the second quarter after being sacked and having his head  bounce off the ground.
Falk took an early walk to the halftime locker room, but backup QB Peyton Bender finished the half well, throwing a seven-yard TD pass to Dom Williams, the first of Bender's collegiate career.
Marks was Falk's favorite target. The junior hauled in 12 receptions for 92 yards and two scores. Williams finished with 100 receiving yards after seven catches and a touchdown.
Defense
WSU forced two fumbles, recovering both. The Cougars allowed UCLA QB Josh Rosen to throw for 340 yards, but kept him from recording a passing TD.
The Cougars blocked their first punt since 2013, courtesy of the outstretched hands of Dyland Hanser, but the ensuing drive resulted in a punt.
Words
"Luke's really tough and I've always admired that trait about him. What a comeback." – WSU coach Mike Leach on Falk's return from injury after he was sacked and thrown down down by UCLA's Jacob Tuioti-Mariner.
Noteworthy
The 7-3 mark is WSU's best start since an 8-2 start in 2003 . . . Falk's game-winning toss to Marks gave him 35 passing touchdowns, a school record, surpassing Ryan Leaf (1997) and Connor Holliday (2013), who each threw 34 . . . Falk's 331 yards gave him 4,067 yards so far, second-best in program history.
Next
The Cougars host the University of Colorado Buffaloes Saturday at 7:45 p.m. The Buffaloes are 4-7, including a 27-24 loss Friday to USC.