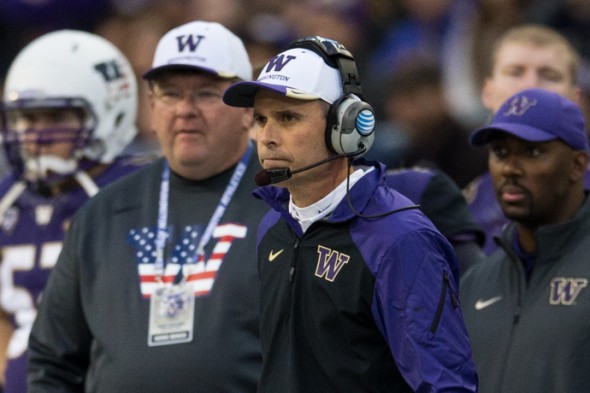 Takeaway
Washington matched a 47-year-old school record by scoring 28 points in the first quarter and obliterated Oregon State 52-7 Saturday night at Reser Stadium in Corvallis, OR (box). QB Jake Browning threw four touchdown passes for the Huskies (5-6, 3-5), who need a win over Washington State (8-3, 6-2) in Friday's Apple Cup to become bowl eligible for the sixth consecutive season.
Essential moment
The Huskies established the game's trend on the first play. After a bit of fakery that included a lateral pass on the kickoff return from WR Marvin Hall, RB Chico McClatcher took the ball 56 yards to the Oregon State 43. After RB Myles Gaskin picked up 29 yards on two runs, Browning tossed a 14-yard TD to WR Brayden Lenius. The drive took 1:05 and the rout was on. So dominant was Washington that Browning barely played in the second half. Washington ran the ball on its final 29 plays to bleed the clock.
Offense
Browning completed 18 of 20 for 211 yards and touchdowns of 14 and 10 yards to Lenius, 18 yards to Joshua Perkins and 19 yards to Jaydon Mickens. Browning matched his career high of four TD passes, set earlier this season in a 49-3 romp over Arizona.
Freshman Gaskin rushed for 108 yards in a 45-0 first half as the Huskies for the game amassed 271 yards on the ground to Oregon State's 148. Gaskin finished with 127.
Browning connected with five receivers, topped by seven receptions by Mickens, who finished with 59 yards. Perkins caught three for 57.
Scoring on its first six possessions, Washington racked up 482 yards while allowing 257. The Huskies, who led 38-0 before their first punt, controlled the clock for 41:22.
Defense
Washington, which had two takeaways, held Oregon State (2-9, 0-8) to eight first downs, including one in the first half.
LB Travis Feeney produced the defensive play of the game when he chased down RB Paul Lucas after a 76-yard run and prevented Lucas from scoring. The defense held on the first-and-goal situation and the Beavers missed a field goal attempt.
Of the Beavers' 13 drives, eight were three-and-out.
Words
"We played well as a team. Now we have a short week to get ready for Washington State. They are a heckuva team. Nobody is playing better in the conference than Washington State" — Chris Petersen, UW head coach
"We put together a good game plan, came out and executed like we were supposed to.  We put the ball in the end zone and our defense did a great job. Now we have to bounce back and get ready for Washington State." — Browning
 Noteworthy
Washington's 28 first-quarter points matched the school record in 1968 against Idaho . . . Dante Pettis's 89-yard punt return for a touchdown in the first quarter was the fourth-longest in UW history. The longest was a 100-yard return by Hugh McElhenny against USC in 1951, then Steve Bramwell's 92-yarder against Oregon State in 1963 and Joe Jarzynka's 91-yarder against California in 1998 . . . Washington, which won 69-27 two years ago in Corvallis, won four consecutive meetings against Oregon State and is 62-34-4 against the Beavers all-time . . . Washington topped 50 points for the first time since Sept. 6, 2014, when the Huskies beat Eastern Washington 59-52.
Next
Washington closes out the regular season in the 108th Apple Cup against Washington State, which beat Colorado 27-3 Saturday night,  at 12:30 p.m. Friday at Husky Stadium (FOX).