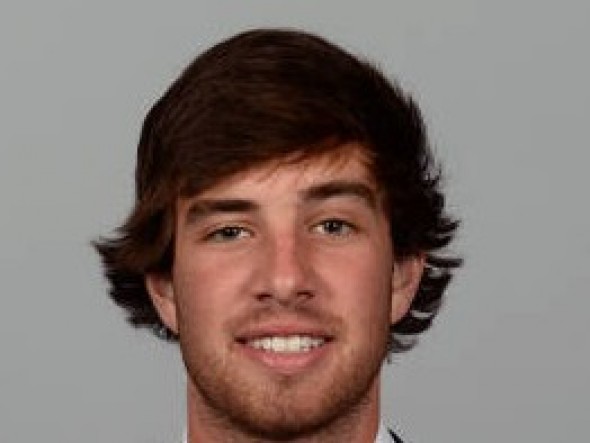 PULLMAN – When record-setting quarterback Luke Falk suffered a head injury in  Saturday's win over Colorado, the Washington State Cougars did not hit the panic button. For all intents and purposes, they hit the snooze button.
Reasons are threefold. For starters, Mike Leach has a long and impressive record of preparing new quarterbacks to run his pass-happy Air Raid offense. Secondly, backup Peyton Bender operated a similar offense in high school and has shown considerable promise as a redshirt freshman. Lastly, Bender is so laid back, he might need a wake-up call to make it to the Apple Cup on time.
"He's a little more laid back (than Falk)," Cougars wide receiver Gabe Marks explained. "He doesn't want us to get excited too much.
"If someone makes a big play or something, Luke will kind of get out of his mind for a little bit, then he'll settle back in. But Bender, it's almost like, you know, 'Are you READY?'
"I think that's good. Quarterbacks have to be like that, because everybody is looking at them."
All eyes will be on Bender if he makes his first college start Friday at Washington (12:30 p.m., FOX). Bender threw just 11 passes in three cameo appearances this season (including two weeks ago, when Falk briefly left the UCLA game with a head injury) before he replaced Falk midway through the third quarter Saturday.
Coming in cold – literally and figuratively, since temperatures were in the 20's – Pender went 13 for 22 for 133 yards, one touchdown and one interception. Not bad for a kid from sun-kissed Florida.
"He doesn't really look like a backup," Washington coach Chris Petersen said.
"He watches a lot of film," Cougars wide receiver Dom Williams said. "He studies the game a lot."
"He's a good quarterback," Washington State safety Taylor Taliulu said. "He has the arm to do it. With more experience, he's going to be a good one for us."
The 20th-ranked Cougars likely will need Bender to play somewhere between good and great to beat a Washington team that boasts the No. 1 defense in the Pac-12. If Falk isn't ready (he may have a concussion; the Cougars won't say), Bender must replace one of the national leaders in passing yards (4,266), touchdowns (36), completion percentage (70.1) and attempts (591).
Even before Falk was injured last week, Marks labeled the redshirt sophomore "a warrior," and Leach said Falk was "definitely" one of the toughest quarterbacks he's ever coached. Still, the Cougars seem perfectly content to go with Bender if Falk can't play.
"They're both great quarterbacks," offensive guard Gunnar Eklund said.
"Peyton does a good job of being calm," Leach said.
Bender certainly looked calm after Falk went down and stayed down Saturday.
"It looked like a hard hit," Bender said in a monotone, "and he wasn't coming up, so I just started warming up on the sidelines."
Not to mention, on the first play following a lengthy delay to treat Falk and cart him off the field, Bender launched a long bomb down the left sideline to Williams. The ball fell incomplete, but Williams drew a holding penalty.
"Peyton's calm and pretty much attack mode," Leach said. "Luke's calm but kind of analytical."
Leach and his players constantly preach "next man up" when injuries arise, so perhaps it should not come as a surprise when the Cougars seem so prepared to play with Bender if necessary.
"He's a great talent," Eklund said. "He's ready. He came in the past two weeks and flung the ball around and did a really good job.
"We believe in him."
Eklund and his teammates believe in one another more than at any time since Leach inherited a struggling program from Paul Wulff (9-40 in four years) after the 2011 season. Leach's first WSU squad needed an overtime win over Washington to finish 3-9, but the Cougars can reverse their record to 9-3 by snapping a two-game Apple Cup losing streak Friday against the Huskies.
"They have something of ours that we want," said Eklund, a Lake Stevens High School graduate who said he always liked the Cougars but thought he might end up at Washington for a time. "It belongs to us, so we're going to go get it."
Eklund added, "We're going to win the game. I don't even think about the word 'lose' right now."
What a difference from a year ago. The Cougars were bitterly disappointed with their season as a whole and their lackluster play in a season-ending, 31-13 loss to Washington in Pullman.
"The next morning," Eklund recalls, "we were lifting (weights) and we were moving on right then and there."
The Cougars made progress in spring, summer and fall workouts, when Bender competed closely with Falk for the starting job. Then . . . a face plant in the season opener, when WSU suffered a stunning home loss against Portland State. Memories of that game still make Eklund's blood pressure soar.
"We just put the foot down, especially the seniors," he said. "We got together and said, 'Hey, enough is enough. This is not how we want to go out.'"
An Apple Cup triumph, then a bowl victory to tie the school record of 10 wins: That's how the Cougars want to go out, no matter who lines up behind center.