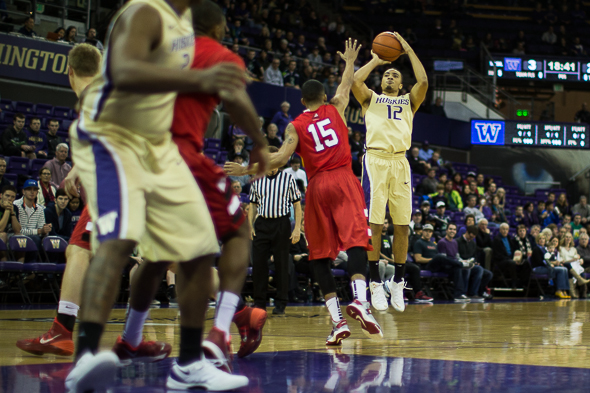 University of Washington senior Andrew Andrews ia the Pac-12 Player of the Week after averaging 23.7 points and 10 rebounds in three games at the Battle 4 Atlantis at Paradise Island, Bahamas. This is the second weekly honor for Andrews, who set records for scoring and scoring average during the tournament.
Andrews had 21 points and 10 rebounds against No. 10 Gonzaga. He followed up with 20 points in a rematch against Texas and added six rebounds and five assists.
Andrews, who earned his first Pac-12 weekly honor in February, concluded the tournament against Charlotte with 30 points, a career-high 13 rebounds and five assists, becoming the second player under coach Lorenzo Romar to record 30+ points, 10+ rebounds and 5+ assists in a single game.
Quincy Pondexter was the first Husky —  34 points with 10 rebounds and six assists against Oregon March 4, 2010.
Andrews ranks 27th all-time in scoring at UW with 1,230 points. He leads the Pac-12 at 21.7 points per game and is 10th in rebounding (7.7 rpg).
Washington returns to Alaska Airlines for eight consecutive games. starting  Sunday against Cal State Fullerton at 6 p.m. PT.