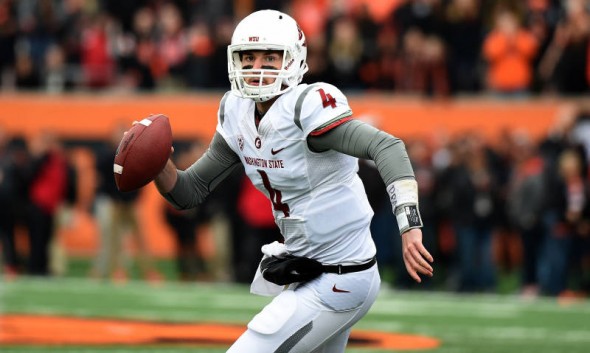 Three Washington State Cougars — QB Luke Falk, WR Gabe Marks and OL Joe Dahl — and two Washington Huskies — DBs Budda Baker and Sidney Jones — were selected Tuesday to the 2015 All-Pac-12 Conference football team. All were first-team choices.
The Cougars and Huskies also placed two players each on the All-Pac-12 second-team defense, DE Darryl Paulo and DT Destiny Vaeao from WSU and LB Travis Feeney and DT Taniela Tupou from UW.
A redshirt sophomore, Falk shared first-team quarterback honors with California's Jared Goff. Falk, who missed the Apple Cup with a concussion, set a school single-season record with 36 touchdown passes. Goff threw 37 and the pair became the eighth and ninth quarterbacks in conference history to throw for more than 4,000 yards in a season. Falk had 4,266, Goff 4,252.
Marks, a redshirt junior, led the conference in pass receptions with 99 and TD catches with 14, and finished second in receiving yards per game at 93.8.
Dahl, a redshirt senior from Spokane, picked up his second all-conference honor after garnering honorable mention honors last season. He anchored the left side of the Cougar offensive line.
Baker, a sophomore from Bellevue, led the conference's top defense from his free safety spot. The second-year starter finished with 42 tackles and a pair of interceptions.
Jones, a sophomore from Diamond Bar, CA., and a second-year, full-time starter, tied for the Pac-12 lead in passes defensed (13) and forced fumbles (3) while also finishing third in interceptions (4) and fourth in fumble recoveries (2). He scored a pair of defensive touchdowns.
Paulo led the Cougars in tackles for loss (12) and tied for the team lead in sacks (6). A native of Sacramento, he had a season-high two sacks in WSU's win over Oregon State in October.
Vaeao, a senior, totaled 11 tackles for loss and 3.5 sacks. The Pago Pago, American Samoa native recorded 6.5 TFLs and 1.5 sacks in WSU's final three games.
Tupou, a senior from Marysville, served as a team captain and started every game at defensive tackle. He totaled 35 takedowns, including four and a half for loss.
Feeney, a senior from Richmond, CA., was the UW leader in tackles for loss (15.5) and sacks (7) as the starting buck linebacker.
Six Huskies earned honorable mention: freshman DL Greg Gaines, freshman TB Myles Gaskin, junior DB Kevin King, senior LB Cory Littleton, senior TE Joshua Perkins and sophomore linebacker Azeem Victor.
Honorable mention from WSU: DB Shalom Luani, OL Cole Madison, DL Hercules Mata'afa, LB Peyton Pelluer, OL Riley Sorenson, and WR Dom Williams.