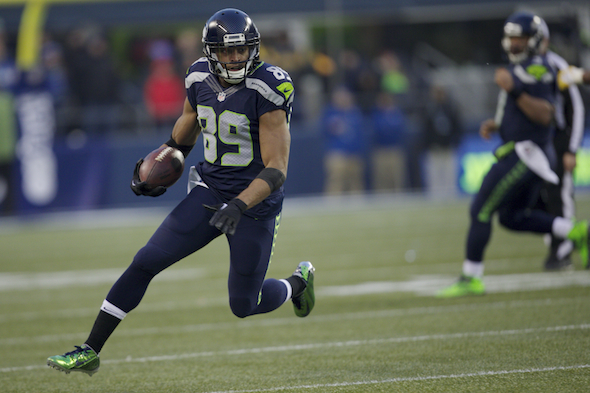 If the Seahawks make the playoffs —  that "if" is trembling under the weight of the word "when" — they almost certainly will start on the road, where they are 73-13 in past two games, including a 35-6 filleting of the battered Ravens in Baltimore Sunday.
At this point, given how well they are playing after consecutive long road trips — no touchdowns allowed in two games, and Russell Wilson operating over four games more efficiently than any quarterback in NFL history — they could play the game under water or on the international space station and would be two-touchdown favorites.
As with most teams, the Seahawks operate to the level of their quarterback. And as Wilson can testify, a QB is often only as good as his offensive line. When both are excellent, the Seahawks can overcome just about anything.
Which they must do.
Sunday they lost rookie sensation Thomas Rawls for the season with a broken ankle and torn ligaments, meaning they are down two premier running backs until Marshawn Lynch gets back after recovering from abdominal surgery three weeks ago.
Coach Pete Carroll, who rushed onto the field with trainers after Rawls' sixth carry on the opening drive, said the break wasn't the worst part of the injury.
"I think the ligaments are really the problem," he said. "I don't think he's going to have to have an operation, from what I understand.
"Thomas has had a fantastic rookie season. Just exemplifies what we are all about: toughness, and hard-nose, committed and grit and all that stuff. We love the guy, and we're really going to miss him."
Hello DuJuan Harris, all 5-foot-7 of you.
In five years of NFL backup duty after graduating from Troy in Alabama, Harris, picked up Nov. 23, had 62 career carries until Sunday. Then he had 18 for 42 yards — plus a fumble, when he ran into teammate J.R. Sweezy.
That's the sort of mistake that Carroll finds almost intolerable — ask Christine Michael, who despite being a second-round pick, was whacked earlier this year, largely because the Seahawks didn't trust his ability to protect the ball.
Harris has potential, but as a practice-squad refugee, he's had little game contact of the kind he experienced Sunday. That leaves Fred Jackson, who is a good pass receiver but at 34 clearly lacks the speed he once had. The Seahawks could advance FB Derrick Coleman, or they could search the street.
Carroll said he saw Rawls briefly in the locker room, where he turned tables by attempting to encourage Carroll.
"I just talked to him for a second. He's such a stud kid that he's trying to fire me up," Carroll said. "He did . . . I'm sure it's tearing him up inside because he would love to continue with his teammates."
Lynch came back to Seattle Wednesday after his abdominal surgery Nov. 25, but he seems unlikely to be ready soon.
"We have to see where he is," Carroll said. "He has a chance to get back. It's all about getting back in shape and getting right. I don't know what that timetable is at this point; our trainers can't tell yet.
"In the meantime, we'll figure it out."
The Seahawks have proven adept at figuring things out. After a 2-4 start, they switched to center Patrick Lewis and watched as their development plan with an inexperienced, heavily criticized O-line took off.
In addition to his stellar passing numbers — 23 for 32 (including at least three drops) for 292 yards, five touchdowns, no turnovers — Wilson was not sacked, and felt compelled to run the ball only once, for a six-yard first down.
Considering that the offense also is missing from injuries TE Jimmy Graham and WRs Ricardo Lockette and Paul Richardson, the efficiency is astonishing.
WR Doug Baldwin continued to be the primary beneficiary, with three touchdowns in his six catches for 82 yards. In the past five weeks, he has 30 catches for 515 yards and nine TDs. Rather than gloat about his sudden eminence, Baldwin demonstrated his new-found peace of mind that is putting to rest his old Angry Doug character that seems to have outlived its usefulness.
"We're not trying to show you guys anything," he said to reporters. "We're just trying to be successful. I've been saying it for a long time — we're getting opportunities now, and we're making the best of them.
"Our line is doing an outstanding job of forming a pocket, and it allows Russ to throw on time."
In a sentence, that summarizes the key in transforming the offense from early-season liability to late-season asset.
That, and Wilson reaching the apex of his four-year career.
"He'll tell you he ignores the noise, but he's human, and criticism is part of it," Baldwin said of the complaints that pointed out Wilson's deficiencies, including some from Carroll. "Whether he listened to it or not, he's rebounded and has been ballin' ever since."
Since the numbers spoke to the work of the receivers and quarterback, Carroll wanted the spotlight on his line.
Our receivers (Baldwin, Tyler Lockett and Jermaine Kearse) did great, and so did Russell," he said. "But I go back again to the pass protection that allowed them time to get open.
"I'm really proud of those guys. Really proud of what's happened the last couple of weeks."
Seems as if all the Seahawks need is another injury on offense to set a few more club and NFL records.
Noteworthy
SS Kam Chancellor left the game in the second quarter and did not return after injuring his tailbone. "He's really uncomfortable today," Carroll said. "We think he's got a chance to get back by the end of the week." Chancellor was on an exercise bike for much of the second half. Special-teamer Kelcie McCray replaced him . . . DE Michael Bennett came out briefly after aggravating an old toe injury, but returned. CB Marcus Burley turned an ankle, apparently not too seriously . . . The Ravens (4-9) had not lost a game by more than eight points until Sunday.