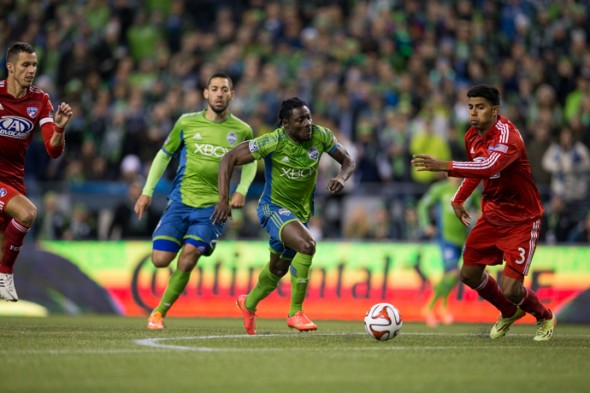 Major League Soccer announced its 2016 regular season schedule, a campaign that begins March 6, concludes Oct. 23 and includes 34 matches for each of the league's 20 franchises. The Sounders start with a Western Conference contest against Sporting Kansas City at CenturyLink Field (4 p.m. FS1).
Three of Seattle's six Cascadia Cup duels against Portland and Vancouver are at the Clink, and the three matches against the Timbers will be nationally televised. Seattle will face Western Conference rival LA Galaxy twice at the Clink in July with a final meeting at the StubHub Center Sept. 25. All three Seattle-LA matches will air on ESPN.
The club's final four matches, as well as 11 of the last 12, are against Western Conference opponents, culminating with a season-ending home clash against Real Salt Lake Oct. 23.
Other 2016 highlights include an early season showdown at CenturyLink Field against the Montreal Impact April 2, along with New York City FC's first visit to Seattle May 25.
The Sounders begin training for 2016 this month before the club takes part in a series of friendlies in Tucson against Vancouver, Portland and Mexican side Celaya FC in early February.
Seattle's eighth season begins in late February with a CONCACAF Champions League quarterfinal match against Club America before the MLS season opener (TV times listed below are Pacific time).
SOUNDERS REGULAR SEASON SCHEDULE
| | | | |
| --- | --- | --- | --- |
| Day | Date | Opponent | Time / TV |
| Sunday | March 6 | Sporting Kansas City | 4:00 p.m. / FS1 |
| Saturday | March 12 | at Real Salt Lake | 1 p.m. |
| Saturday | March 19 | Vancouver | 7 p.m. |
| Saturday | April 2 | Montreal | 7 p.m. |
| Sunday | April 10 | at Houston | 1 p.m. / ESPN |
| Saturday | April 16 | Philadelphia | 7 p.m. |
| Saturday | April 23 | at Colorado | 6 p.m. |
| Saturday | April 30 | Columbus | 1 p.m. |
| Saturday | May 7 | San Jose | 7 p.m. |
| Saturday | May 14 | at FC Dallas | 6 p.m. |
| Saturday | May 21 | Colorado | 7 p.m. |
| Saturday | May 28 | at New England | 4:30 p.m. |
| Wednesday | June 1 | at D.C. United | 5 p.m. |
| Sunday | June 19 | at New York Red Bulls | 4:30 p.m. / FS1 |
| Saturday | June 25 | New York City FC | 2 p.m. / ESPN |
| Saturday | July 2 | at Toronto | TBD |
| Saturday | July 9 | LA Galaxy | 12 p.m. / ESPN |
| Wednesday | July 13 | FC Dallas | 7:30 p.m. |
| Sunday | July 17 | Portland | 12 p.m. / FOX |
| Sunday | July 24 | at Sporting Kansas City | 12 p.m. / ESPN |
| Sunday | July 31 | LA Galaxy | 1 p.m. / ESPN |
| Sunday | Aug. 7 | at Orlando City | 4 p.m. / FS1 |
| Sunday | Aug. 14 | Real Salt Lake | 4 p.m. / FS1 |
| Sunday | Aug. 21 | Portland | 6:30 p.m. / FS1 |
| Wednesday | Aug. 24 | at Houston | TBD |
| Sunday | Aug. 28 | at Portland | 2 p.m. / ESPN |
| Saturday | Sept. 10 | at San Jose | 7:30 p.m. |
| Saturday | Sept. 17 | Vancouver | 1 p.m. |
| Sunday | Sept. 25 | at LA Galaxy | TBD / ESPN |
| Wednesday | Sept. 28 | Chicago | 7:30 p.m. |
| Sunday | Oct. 2 | at Vancouver | 5 p.m. / FS1 |
| Wednesday | Oct. 12 | Houston | 7:30 p.m. |
| Sunday | Oct. 16 | at FC Dallas | 4 p.m. |
| Sunday | Oct. 23 | Real Salt Lake | 1 p.m. |