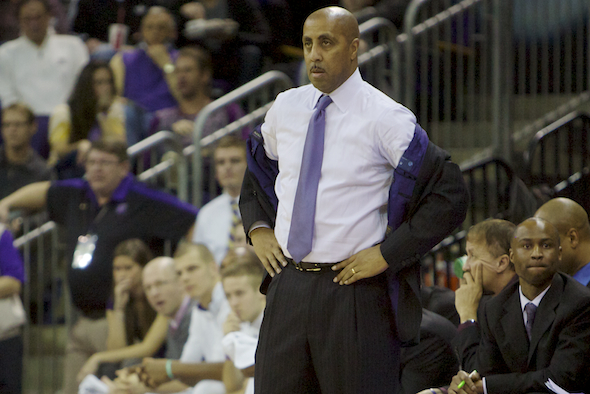 The Pac-12 Conference Friday formally reprimanded University of Washington basketball coach Lorenzo Romar for the comments he made Wednesday night about the officiating following the Huskies' 82-81 loss at Oregon State that, for all practical purposes, ended UW's chances of receiving at at-large bid to the NCAA Tournament.
"The Pac-12 has specific rules that prohibit our coaches from making public comments about officiating,"  Commissioner Larry Scott stated in a post on the conference's website. "We have an obligation to our membership to enforce the Conference rules which they have approved. As a part of our officiating program, there is a protocol in place for our coaches to provide feedback directly to the coordinator of officials."
With five seconds remaining Wednesday night, Washington's Andrew Andrews was fouled at the far end of the court. Andrews sank the first, missed the second and the ball went out of play to OSU.
The in-bounds pass at 3.3 seconds was given to freshman guard Stephen Thompson Jr., but the game clock didn't start until after he had begun dribbling. He sprinted down the floor under pressure from Dejounte Murray and heaved up a shot at 0:00.7, clearly traveling in the process, as replays showed.
But the referees missed the call and the delayed clock start, the ball went in and fans rushed the floor to celebrate re-taking a game in the final second the Beavers seemed to have given away.
Romar called the Pac-12 to complain, according to ESPN, but the conference has no formal protest policy. The conference in a statement found no problem with the clock and said that traveling is a non-reviewable judgment call.
Romar told the News Tribune, "The whole point is that you're talking about a potential NCAA tournament berth. You're talking about kids busting their tail, playing their tails off, giving it everything they have, like both teams did.
"But when something like that happens . . . it's not even about discussing if the clock started late, or if there was a travel. It's not even about that. That's a foregone conclusion. I'm sure those involved saw that, OK, yeah, there was a travel. OK, yeah, the clock . . . that was just pretty cut and dry.
"The point is that it's just difficult to see if it's that blatant, that that could have something to do with potentially ending our NCAA tournament chances."
The loss left the Huskies with a 16-12 record, including 8-8 in conference play. They play at Oregon Sunday, but even with a win the Huskies likely will have to win the conference tournament in order to make the 68-team NCAA field.