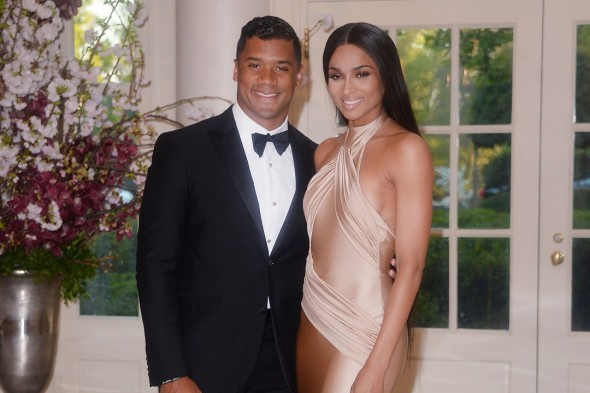 Somewhere at the bottom of a pile of NFL free-agency-related jokes lay Russell Wilson and Ciara, who Wednesday on Twitter and Instagram announced their much-anticipated engagement.
It launched endless speculations on social media about the imminent conclusion of their avowed chaste relationship, as well as whether the engagement ring is the size of Monaco or merely worth as much.
The Seahawks quarterback and the pop singer have been dating for more than a year, sharing snippets of their life together on social media. Wednesday was no exception:
She said Yes!!!

Since Day 1 I knew you were the one. No Greater feeling… #TrueLove @Ciara pic.twitter.com/qsufVC6snm

— Russell Wilson (@DangeRussWilson) March 11, 2016
No wedding date was forthcoming for Wilson and Ciara Princess Harris of Austin —  website here, in case you didn't know what most of her looked like — but it will likely be the social media event of the season.
Aside from word of nuptials for nationally known celebrities,  the announcement drew more attention because of Wilson's claim last summer in a video interview that the couple was abstaining from sex until marriage.
In a July interview at the Rock Church in San Diego with pastor Miles McPherson, a former NFL player  Wilson, unprompted, volunteered that he and God had spoken and was inspired to suggest that the couple abstain:
"She was on tour, she was traveling. I was looking at her in the mirror. She was in the dressing room getting ready to go before she went on stage, and she was sitting there, and God spoke to me and said, 'I need you to lead her.' And I was like, 'Really?' And he was like, 'No, I want you to lead her.' So I told her, 'What would you do if we took all of that extra stuff off the table and just did it Jesus' way?' And she was relieved.'"
He went on to claim it was not easy: "I ain't going to lie to you all now," he said, to laughter of the audience at the church. "I need you all to pray for us. I know you've seen her on the screen. If there's a 10, she's a 15."
The interview prompted some wonder by skeptics about whether Wilson's transcript of the God talk was accurate. But the couple survived Wilson's candor about their intimate life together, and considering it was more insight than Wilson provides about football games, most sports fans gave him a pass.
Congratulations to the happy couple, and in the bling contest between Ciara's engagement ring and Wilson's Super Bowl ring, take Ciara and give the points.