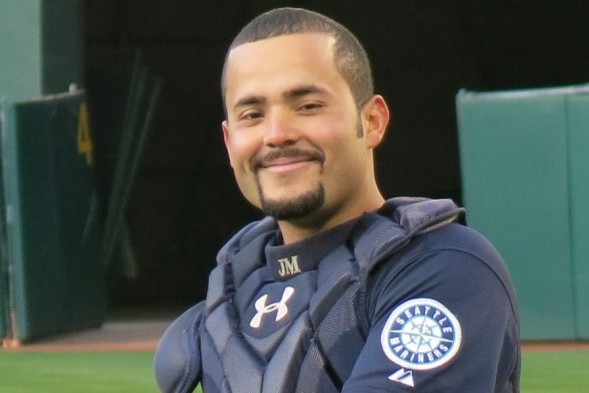 The Toronto Blue Jays Monday claimed 1B/DH Jesus Montero off waivers from the Mariners, closing the book on one of the worst trades made during former general manager Jack Zduriencik's tenure with the club. The Mariners put him on waivers over the weekend, making Montero available to all MLB teams.
Zduriencik sent RHP Michael Pineda, an American League All-Star as a rookie in 2011, and Jose Campos (minors) to the New York Yankees Jan. 23, 2012, for Montero and RHP Hector Noesi. Following the deal, Yankees GM Brian Cashman said, "Montero may well be the best player I've ever traded."
As it turned out, Zduriencik unwittingly acquired two of the worst players in franchise history.
Noesi pitched for Seattle in parts of 2012, 2013 and 2014, compiling a 2-14 record and 6.13 ERA. The Mariners pawned off Noesi on Texas in April 2014. His best year since was an 8-11, 4.39 mark for the Chicago White Sox in 2014. Noesi did not post a single win in 10 starts for the White Sox last year.
Montero had a hopeful start to his Seattle career, hitting .269 with 15 home runs and 62 RBIs in 135 games in 2012, when he also caught a combined no-hitter against the Los Angeles Dodgers June 8.
But Montero then suffered a series of setbacks, beginning with a knee injury, followed by a huge weight gain, which forced him to issue a public apology to the club. The nadir came when MLB popped Montero with a 50-game suspension in 2013 for violating its drug policy.
In 2014, while on a rehab assignment with A Everett, Montero got into a dispute during a game in Boise with roving minor league instructor Butch Baccala, then working as a first-base coach for the AquaSox. After asking Montero to leave the field in a timely fashion after an inning, Baccala sent Montero an ice cream sandwich in the dugout to remind him of his earlier weight gain.
A furious Montero picked up a bat, found Baccala and threw the ice cream sandwich at him while yelling obscenities. The Mariners barred Montero from playing for the organization for the remainder of the season and ultimately cut ties with Baccala. The incident forced Zduriencik to make a public apology on behalf of the franchise.
A catcher when he joined the club and expected to hit with some power, Montero was shifted largely to a DH role due to his defensive liabilities. But his bat never came around. Although he produced at the minor league level, he never could solve major league pitching, forcing Zduriencik to prematurely promote No. 1 draft pick Mike Zunino out of the minors to take Montero's place.
Zunino wasn't ready. Although he played well defensively behind the plate, he was overmatched offensively, his career going off the rails last year when he hit .174 in 112 games. Zunino is now with Tacoma trying to learn how to hit, a blowback victim of Montero's problems.
Montero appeared in 73 games over the past three seasons. In 38 games last year, he hit .223 with five home runs after spending most of the year with the AAA Tacoma Rainiers. The 26-year-old Montero also struggled this spring, batting .237/.256/.289 with only seven singles and two doubles in 38 at-bats.
In Toronto, Montero will be reunited with another huge Zduriencik trade gaffe, Justin Smoak, who hit .226 in five seasons (2010-14) with Seattle after his mid-2010 acquisition from Texas.
Montero's departure leaves the Mariners with 32 players in their major league camp, including 27 roster players, five non-roster invitees and two players on the 60-day DL.
Noteworthy
Robinson Cano hit an epic home run, over the massive fence in center field, and Nelson Cruz also homered to lead the Mariners to a 6-4 win over a Kansas City Royals split-squad  Monday in Peoria.
Cano connected three times in Seattle's win against the Cubs Sunday. Monday was his seventh of the spring. Cruz  had two hits to help the Mariners overcome a 3-0 deficit through three innings.
Nathan Karns, named to the starting rotation by manager Scott Servais before the game, gave up two earned runs and five hits in six innings.