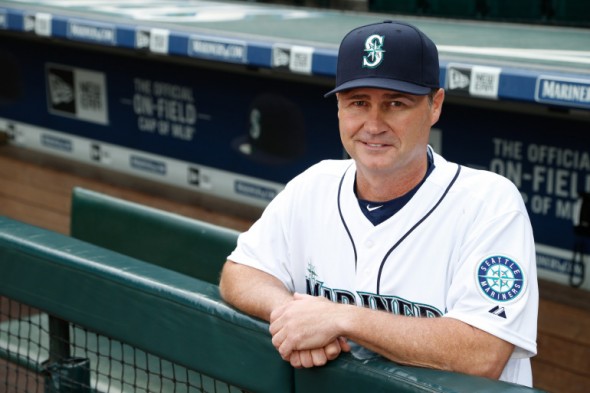 As every hardball filbert from Aberdeen to Walla Walla knows, the Mariners have not qualified for the postseason since 2001, the longest drought in the majors. But it's actually more embarrassing than that. The only team in any of the four major pro sports (MLB, NFL, NBA, NHL) with a longer playoff absence is the Buffalo Bills, who last reached in 1999.
To help get the club off its relentless hamster wheel, new GM Jerry Dipoto, soon after succeeding Jack Zduriencik last fall, fired manager Lloyd McClendon and replaced him with Scott Servais, who has zero experience managing at any level (Servais is the 10th full-time or interim manager since Seattle's last playoff appearance).
In the wake of the hiring, Ken Rosenthal, veteran baseball scribe/commentator for FOX and MLB Network, expressed misgivings, commenting that Servais is "more untested than unqualified. His front-office background holds considerable value. But is he more qualified than any number of other candidates? Or does he simply have better friends in high places?"
Rosenthal's point: If, and until, Servais proves otherwise, he was hired largely because he has a friend in a high place, Dipoto, a sabermetrics advocate who believes that Servais, unlike McClendon, understands the difference between OPS and UPS.
Teammates in Colorado (2000), Servais and Dipoto later spent time together in the Los Angeles Angels front office (2011-15). A former catcher with the Astros, Cubs, Giants and Rockies, Servais has also worked in his post-playing career as a roving catcher instructor with the Cubs (2003-04), a scout for the Rockies (2005), and director of player development (2006-11) for the Rangers (Servais is credited with aiding Nelson Cruz's development while the pair were in Texas).
Servais is unique in Mariners annals, the only man ever named manager who did not bring an iota of managerial experience with him — not even a game in the deep minors or in some far-flung winter league. But that tells us nothing of predictive value.
When the Mariners hired Bob Melvin to replace Lou Piniella in 2003, the extent of Melvin's managerial experience consisted of one brief autumn in the Arizona Fall League in 1999. Four years later, Melvin became the most successful first-year manager in Seattle franchise history with 93 wins. The caveat, of course, was that Melvin inherited a 93-win team from Piniella.
At least Melvin didn't screw up a good thing, although his encore record of 63-99 in 2004 got him fired (imagine if Ichiro hadn't hit .372 while collecting a record 262 hits that year).
Maury Wills (1980-81) brought only slightly more managerial experience to Seattle than Melvin. A former All-Star shortstop with the Dodgers and one of baseball's greatest base stealers, Wills managed in the Mexican League for a couple of summers and then worked as an NBC analyst before the Mariners brought him aboard as a replacement for Darrell Johnson late in the 1980 season.
Wills famously predicted he would be a "great manager," and would have the Mariners in the World Series "within four years."  Of course, he also said he had an affair with actress Doris Day, which he didn't, so his predictions weren't worth much, as he ineptly demonstrated.
The Mariners stumbled to a 20-38 record after Wills replaced Johnson, and then started 6-18 in 1981, prompting Wills' dismissal, an ouster abetted by his irrational attempt to alter the lines of the batter's box in a game against Oakland, presumably influenced by his use of cocaine, disclosed after his managerial career became a shambles.
While Melvin produced the best record of any manager in a first season in Seattle, Wills delivered the worst, meaning that the two least-experienced skippers were responsible for the most extreme outcomes. How all of Seattle's managers fared in their first year with the franchise, based on total wins:
| Year | Manager | Record | Skinny |
| --- | --- | --- | --- |
| 2003 | Bob Melvin | 93-69 | Mariners 63-99 a year later, Melvin fired |
| 2014 | Lloyd McClendon | 87-75 | Mariners 76-86 in 2015; McClendon fired |
| 2009 | Don Wakamatsu | 85-77 | Wakamatsu canned after starting 2010 42-70 |
| 1993 | Lou Piniella | 82-80 | Still the only manager of a Seattle playoff team |
| 1987 | Dick Williams | 78-84 | Replaced Chuck Cottier early in 1986 season |
| 1982 | Rene Lachemann | 76-86 | Replaced Maury Wills early in 1981 |
| 1985 | Chuck Cottier | 74-88 | Fired after a 9-19 start to 1986 season |
| 1989 | Jim Lefebvre | 73-89 | Fired after only winning year, 83-79 in 1991 |
| 2005 | Mike Hargrove | 69-93 | Resigned in 2007 with team in first (45-33) |
| 2011 | Eric Wedge | 67-95 | Lasted 3 seasons, never had a winning mark |
| 1977 | Darrell Johnson | 64-98 | Original manager fired after a 39-65 start in 1980 |
| 1992 | Bill Plummer | 64-98 | Lasted only the 1992 season, replaced by Piniella |
| 1984 | Del Crandall | 59-76 | Replaced Lachemann near end of 1983 |
| 2008 | John McLaren | 25-47 | Replaced Mike Hargrove midway through 2007 |
| 1981 | Maury Wills | 6-18 | One ump: "He didn't even know how to argue" |
Wills never managed after mucking up his shot with the Mariners. But Melvin, a former MLB catcher like Servais, has won manager of the year awards in both leagues since leaving Seattle, with Arizona in 2007 and Oakland in 2012. He's also won three division titles with three 90+-win teams (the Mariners haven't won 90 in a season since Melvin departed).
Of the managers listed, only three besides Piniella (82-80) posted a winning mark in their first year. But none of the three – Melvin, McClendon and Wakamatsu – lasted beyond a second year. Wakamatsu didn't even make it through his second. Servais should at least survive as long as these three because, well, he has a friend in a high place.
Six managers apart from Piniella came to the Mariners with prior big league experience. Not that it did them much good. Johnson (226-362), Crandall (93-131), Williams (159-192), Hargrove (192-210), Wedge (213-273) and McClendon (163-161) combined to go 1,046-1,329 with only one winning season and no playoff appearances.
McClendon's 87-75 record in 2014 was good enough for Dipoto mostly because he didn't care about advanced metrics. McClendon's path in managerial rehabilitation is with the AAA Toledo Mud Hens this spring.
If Dipoto is lucky, he has in Servais another Melvin, who has a remarkably similar background. Or perhaps another Mike Matheny, hired by the St. Louis Cardinals in 2012 with no experience. Matheny has won three division titles and a National League pennant.
The Seattle Times opined last week that the Mariners in 2016 should be "measured in progress, not playoffs." Absolute nonsense. They ran out of indulgences years ago. So expectations for Servais should be high, even with his lack of experience. He inherits three All-Star position players and two starting pitchers who have made All-Star teams (Felix Hernandez, Hisashi Iwaksuma).
Even if  Dipoto isn't lucky with Servais, at least he won't have another Maury Wills on his hands. No franchise can possibly make such an historic gaffe twice.