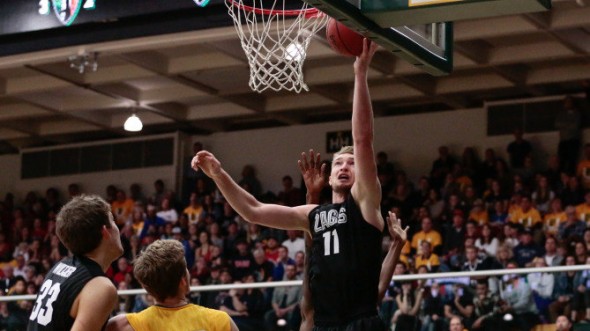 The exodus of basketball talent from Washington colleges continued Wednesday when multiple Gonzaga sources confirmed that sophomore power forward Domantas Sabonis is headed to the NBA. A Sportspressnw.com source said Sabonis plans to hire an agent, which will end his amateur eligibility.
Sabonis joins Washington freshmen Marquese Chriss and Dejounte Murray in leaving college early to enter the draft. In addition, the leading scorers at Washington, Gonzaga and Eastern Washington were seniors Andrew Andrews, Kyle Wiltjer and Austin McBroom, respectively.
Also, Gonzaga senior center Przemek Karnowski, who missed most of the season due to back surgery, has said he is not certain he will turn pro even if he receives a medical redshirt year of eligibility from the NCAA.
NBA draft expert Chad Ford of ESPN projects Chriss (ninth), Sabonis (15th) and Murray (21st) will be drafted in the first round. Ford does not list Andrews, Wiltjer and McBroom among the top 100 draft prospects. Sixty players will be drafted.
Sabonis, who averaged 17.6 points per game in his first year as a starter, finished sixth in NCAA Division I rebounding with an 11.8 average. His 23 double-doubles ranked fifth, and his field-goal shooting percentage of 61.1 ranked 17th.
Wiltjer wound up 24th in scoring (20.4). McBroom was 18th at 21.0, and Andrews finished 19th at 20.9. Andrews ranked second in free throws made (273) and attempted (321).
Washington's Malik Dime was 14th in blocked shots at 2.6. Washington State's Josh Hawkinson came in second in defensive rebounds (9.5), 11th in overall rebounds (11.1) and 12th in double-doubles (20).
In team statistics, Washington led in blocked shots with 6.6 per game. The Huskies were sixth in scoring (83.9) but 333rd in defense (80.8). Washington was third in free throws made (676) and sixth in free throws attempted (932) but just 71st in free-throw shooting percentage (72.5). The Huskies were eighth in turnovers forced (16.2) but next to last (344th) in personal fouls with 24.0 .
Gonzaga finished fifth in 3-point shooting percentage defense (29.8), 11th in field-goal shooting percentage (48.6) and 14th in free-throw shooting percentage (75.8). Eastern Washington was fifth in 3-pointers made (10.5), 15th in scoring (81.4) and 16th in field-goal shooting percentage (48.3).
Washington State's top showing in national team stats was 55th in blocked shots (4.5). Seattle University's highest ranking was 46th in field-goal shooting percentage defense (40.8).