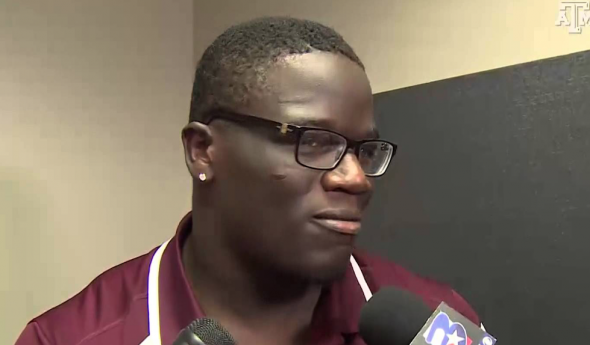 RENTON — The run-up to the NFL draft is a waterfall of measurables, metrics and mumbo-jumbo. Especially around offensive linemen, because easy stats are hard to come by on the big fellas. But Seahawks O-line coach Tom Cable had a crisp little measurable that explains why the Seahawks Thursday took Texas A&M tackle Germain Ifedi with the 31st pick in the first round.
"The distance he has to go to get where he has to be," said Cable, "is rather short."
At 6-foot-6 and 324 pounds with an arm length of 36 inches, Ifedi looks the part to fulfill Seahawks fans' yearnings for a serious investment in the line, the weakest leak for the longest time last season.
But O-linemen usually take time to make a dent in the NFL, especially one coming out after his junior season. Ifedi is urgently expected to be a quick study, because for the first time since 2012, the Seahawks actually used their first-round pick to acquire a college player, and not trade it for a veteran or later-round draft choices.

"He was taken in the first round for a reason," Cable said, suggesting the plan is for a fast, as in close-to-immediate, return, because the Seahawks for a change drafted to fill an urgent need.
The Seahawks could have taken him with their original pick at No. 26, but swapped it to Denver for the Broncos' 31st pick, plus the 94th choice in the third round.
Veteran watchers expected that the Seahawks would trade down again for more picks, but they have nine to expend in rounds two and three Friday and rounds four through seven Saturday. Besides Ifedi, the have four more in the first 100 choices — 56, 90, 94 and 97.
Apparently they stopped at Ifedi because they were struck by quality instead of volume.
He'd been on the scouting radar for most of the year, but matters grew intense when Cable tested him at Ifedi's pro day drills in Texas.
"What I tried to do in the workout was to press him, to see how far I can take him," Cable said. "He never backed down. He handled the workout beautifully."
What Ifedi remembered from the workout was Cable's bluntness about shortcomings that other scouts had seen, too, particularly his erratic pass-protection techniques.
"He told me I'm a good athlete, I have all the tools, but at times I can let my technique go awry," Ifedi said on a conference call from his home in Houston where he and his family gathered. "I can let my game go out of bounds. You want the truth. He's one of the first offensive line coaches that gave me an honest, no-BS assessment.
"I instantly had respect for him. he said, 'You're good. You have a lot of plays you play well, you have a lot of plays that make me scratch my head.' I want to agree with him. He said he doesn't know if it's a lack of focus or letting my technique go awry, but he was straight up with me."
Cable is as close to a Zen master as O-line coaches get, drawing praise for his teachings as well as skepticism. Both were in ample supply last season, when the O-line began as rubble and ended as a building.
Then he lost 40 percent of his personnel when LT Russell Okung and RG J.R. Sweezy left in free agency. The line will get almost completely reshuffled again. Apparently, general manager John Schneider and coach Pete Carroll took pity on Cable and gave him serious raw material.
"Tom can't wait to get his hands on him," Schneider said, then waxed sarcastic. "So this whole last couple months we knew exactly what we're doing. We've just been waiting to take Germain Ifedi.
"But no, he is a great dude. He's a three-year starter. Really tough, really competitive, gritty, smart. He's got his degree (construction management). Highly competitive. Just yearning for coaching, and really is going to bring an attitude and a toughness to this organization."
He played a little guard at A&M, a little left tackle, but in Seattle, he'll play where he did last season, right tackle. Already in the spot is a new hire, free agent J'Marcus Webb, a six-year vet who came relatively cheaply (two years, $5.75 million).
As always with Carroll, it's all about the competition.
"These guys are really similar — both very, very big guys, really gifted big men," Carroll said.  "We'll figure it out. It's a great situation for us. We got big really quickly here."
Seems likely that Webb will be the senior eminence to start the season. Depending on how soon Cable stops scratching his head over Ifedi's inconsistency, a challenge will be forthcoming.
But with first-round picks, there's a higher expectation of quicker delivery, as well as a longer duration. Cable sounded more certain of the latter.
"Long term," he said, "he's a guy that can be a cornerstone player for you."
It's that short distance for Ifedi that will be the fall drama. Some big guys have to start protecting the little fella behind them right away, because he's already missing his Beast.
From the 12thMan to the #12s

Congrats! Journey is just beginning & we can't wait to join it with you! #GoHawks @GermainX1

— Russell Wilson (@DangeRussWilson) April 29, 2016