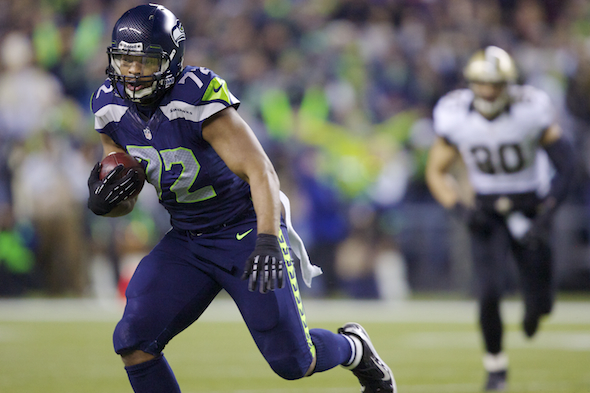 "I know I'm gonna get got, but I'm going to get mine more than I get got." Marshawn Lynch, December 2014
For a guy alleged to be shy about public speaking — unless you happen to be Conan O'Brien, Jimmy Fallon, Kenny Mayne, Deion Sanders or Beacon Plumbing — RB Marshawn Lynch leaves a trail covered thickly with casual wit and wisdom suitable for every occasion, persuasion and political dissertation.
The quote above, given to former teammate Michael Robinson during an NFL Network interview, was a response to a question about defining what Beast Mode was. Lynch was referring to what we have come to see as him ripping through tacklers in the manner of a thresher through wheat stalks.
But on another level, he explained the philosophical foundation of American capitalism better than John Kenneth Galbraith ever dreamed.
I once called Russell Wilson the The Human Hallmark Card. Lynch is the Oracle at Occidental.
His quote is worthy of a revisit today, not because it was the best thing he ever said, which it is, but because it applies to what DE Michael Bennett is attempting to do — get his before he gets got, a task fundamental to just about every labor activity upon the fruited plain.
In an interview Tuesday morning on ESPN 710 radio, Bennett, whose dismay over his contract has been on simmer for more than a year, was asked if he was considering holding out of training camp until his contract was improved.
"Why wouldn't I be at training camp?" Bennett said. "Of course, I'll be there. I'll see you there for sure."
That should be a relief to Seahawks fans who were preparing for another episode of Chancellor the Canceller, wherein a Seahawks star nearly zeroes himself out with a hopeless pursuit of a raise.
Bennett distanced himself from a similar error, then and now. Last season, he showed for the mandatory phase after his wife, he said, told him to get his butt in camp.
Tuesday, Bennett said he loved his situation in Seattle.
"Of course I want to be in Seattle as long as possible," he said. "Everything about Seattle: I love the city, I love the team, I love my teammates, love what was going on, love how we do things. I just love it here."
All of which doesn't guarantee he'll show up for the pending OTA sessions later this month.
Bennett is trying to play both sides — saying nice things about everything and everyone, while slyly conveying he's still pissed.
"As a good American, I'm going to go ahead and use, what's that, the Fifth Amendment," he said. "No matter what I say, it's going to come back and haunt me. Any American wants to get paid more at their job. I don't think there's anybody who goes to work who says, 'I'm happy with how much I'm getting paid, and I love it. Don't give me any more money.' That's how I feel, too."
Since no crime is being investigated, Bennett is not going to need protection from self-incrimination. He's searching for leverage, even trying sports-talk radio. But there isn't any leverage.
Team policy — not an NFL rule — is that no contract will be improved prior to its final year, even if the player out-performs it. Just as the team can't cut pay if a player under-performs his deal.
Bennett enters the third year of a four-year deal worth $28.5 million, $16 million guaranteed. In 2016, he has a salary of $5 million — a $4 million base with a $1 million roster bonus.
Teammate WR Doug Baldwin is entering the final year of a three-year extension, and he and the Seahawks anticipate negotiations for another extension as soon as this month. That is the custom.
Doesn't mean Bennett isn't grimacing at the marketplace.
According to spotrac.com, Bennett and teammate Cliff Avril are tied for 20th in average annual salary among defensive ends, at $7.125 million. Tops is Malik Jackson, who went to Jacksonville in free agency for $17.1 million, $100,000 ahead of another free agent signee, Olivier Vernon of the Giants. J.J. Watt of Houston is third at $16.7 million.
It's not hard to see why Bennett feels left at the station. He is among the most disruptive defenders in the league, making his first Pro Bowl after 10 sacks and 18 tackles for loss. But he'll also be 31 in November. The chances of him hitting a huge, multi-year payday after his contract ends are fairly small.
In Lynch's Oakland patois, Bennett, as with everyone, is gonna get got by age or health or both. Which he why he wants to be paid market value in his prime — now.
Bennett was a late bloomer, an undrafted free agent out of Texas A&M. He had cups of coffee with the Seahawks, Saints and Chiefs before sticking with the Bucs in Tampa. But his first 10 starts were in his age-26 season, and his first season starting 16 games was the following year in 2012.
He came to Seattle on a one-year, $5 million deal in 2013, and played behind Chris Clemons in the run to the Super Bowl. Then he signed, happily, a four-year deal that seemed spectacular.
Even though his out-sized personality has made him seem like he's been around Seattle since the Space Needle was a stub, he's been a full time starter for only the past two seasons.
Bennett could be an outlier, on the order of DE Reggie White. In the middle of what was a run of 13 Pro Bowls, White left Philadelphia for a free agent deal in Green Bay in his age-32 season that rocked the NFL in 1993. He helped get the Packers into two Super Bowls and played until he was 39.
But Bennett can't know that. What he does know is players lesser than him are making much greater sums.
He's on a track to not get nearly as much before he inevitably gets got.
I get it.
Wisely, he appears to be choosing to get on with it as well.