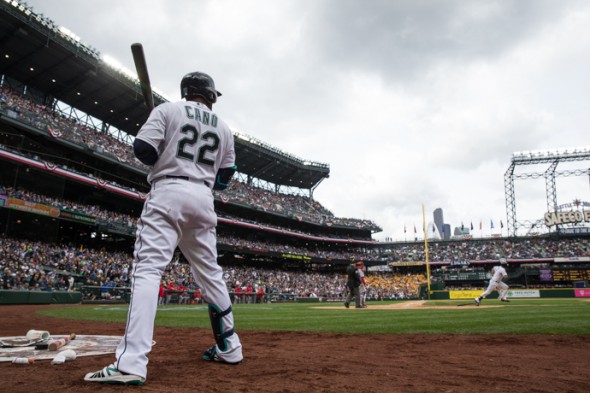 Robinson Cano now knows a little about how the Seahawks felt in their playoff game against Carolina. Before he entered the batter's box Monday at Petco Park in San Diego for the annual Home Run Derby, he was down 24-0 to Miami slugger Giancarlo Stanton.
Unfortunately for the Mariners' second baseman, his rally was far short of the Seahawks' 24-point comeback in the 31-24 defeat. Cano, the No. 4 seed, mustered only seven and was routed by No. 5 Stanton's amazing barrage.
Stanton won the exhibition among eight hitters by beating the defending champion, White Sox 3B Todd Frazier, 20-13 in the final round. Stanton hit 2o of the exhibition's 21 longest dingers. Seven traveled more than 480 feet. His 61 homers were the most in Derby history.
At least Cano was better than his 2012 appearance. After winning his debut at the 2011 Derby in Phoenix with a then-record 12 in the final round, the next year at Kauffman Stadium he didn't get a ball out of the yard.
He was the object of serious booing from Kansas City fans because of a pre-Derby controversy over Cano's failure to select hometown slugger Billy Butler for the exhibition.
Players no longer make the choices. Invites are based on homer totals on the Wednesday prior to the All-Star break. Cano, a five-time Silver Slugger award winner, hit 20 home runs by the deadline, and has 21 for the season.
Ex-Mariner Mark Trumbo of the Orioles beat Corey Seager, younger brother of Mariners 3B Kyle Seager,  in the first round but lost in the second round to Stanton.