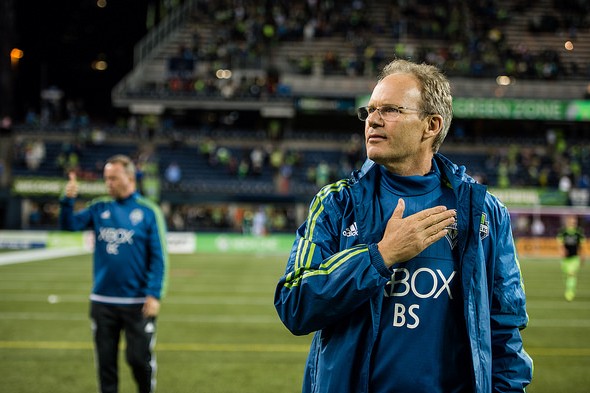 In the end, it was a sweltering Sunday in Kansas City that ended the tenure of Sigi Schmid, the all-time winningest head coach in Major League Soccer history and only skipper the club has known in the MLS era in Seattle. That Sunday gave way to a cloudy Tuesday, when news broke across the city: Schmid was out as the Sounders boss.
Schmid's tenure ends with one Supporter's Shield and four U.S. Open Cups, but the MLS Cup eluded his grasp here, combining with a lackluster half-season to inspire what the club described as a mutual decision to call it quits.
"I met with Sigi this morning and we agreed that it was a reasonable time to part ways," said majority owner Adrian Hanauer Tuesday. "That takes absolutely nothing away from what he's done for this club. He is a good friend, I respect him immensely, and he's helped us transform the sport in this country long before I was involved."
Schmid was part of the most impressive expansion franchise effort in American professional soccer, helping the Sounders to playoff appearances in each of its seven seasons, played in front of sellout crowds at an NFL stadium, helping markets reevaluate how popular professional soccer could become in the United States.
This season, though, the magic went away. Already weakened by a series of offseason cuts and trades, the Sounders were dealt a massive blow by the departure of star striker Obafemi Martins to the Chinese Super League's Shanghai Shenhua weeks before the season started. The front office scrambled to find a replacement, but the roster and tactics had been too heavily built around the stocky Nigerian's nose for the net and was unprepared to take the field without him.
The Sounders lost their first three games for the first time in club history. Sunday's loss to Sporting Kansas City, where the club suffered through a heat index of 106 and a relentless attack, was the final straw.
The parts were too disconnected; the Martins-sized hole up front could not be filled, even by young homegrown-player Jordan Morris, who has scored seven of Seattle's 20 goals.
General manager Garth Lagerway admitted that the front office was partially to blame for Seattle's ninth-place spot in the Western Conference that precipitated Schmid's departure.
"Any time we fire the coach, it's the front office's fault on some level, because it means that we didn't give the coach the tools or the weapons to succeed," Lagerway said Tuesday. "(After Martins left) it took us a long time to bring new players in. We worked a long time to get players in here to help. That is the responsibility of the front office."
After Hanauer and Lagerway announced that Schmid was leaving the club, the two all but confirmed at least one player would be joining before the transfer window closed Aug. 3.
While the contracts have not yet been signed, it appears that the Sounders are set to unveil Wednesday Uruguayan midfielder Nicolas Lodeiro — whom Hanauer admitted is in Seattle after he was photographed at the airport — as a designated player to fill the slot vacated by Martins, and implied that the club will also sign Uruguayan Alvaro Fernandez, who played for the Sounders from 2010-2012.
Woo! Sounders appear to be on verge of signing star midfielder Nicolas Lodeiro https://t.co/5XcNCoTkqx via @Q13FOX

— Tom Glanz (@tomglanz) July 26, 2016
For the front office to fire Schmid just before major new international signings suggests that the club's confidence in Schmid had completely eroded.
Lagerway made several statements that seemed to distance himself from the on-field failures of the club, saying that Schmid had been the primary engineer of the last few seasons, though he maintained the two of them had a good relationship.
"One of the things we're going to move forward with is establishing a playing style and establishing an identity," Lagerway said. "It's certainly one of the things that I look for when building a team . . . this team doesn't play like any team that I've ever built before, and I'm looking forward to a new beginning where we have some ability to work on that.
"I did my best to be deferential, if anything, over the past 18 months. (Schmid) deserved that, and he had earned that and I have nothing but respect for Sigi and the job he's done here for a long time."
Lagerway's vision for the club, which will rely on greater investment into its youth academies, may be a different reality than that to which Sounders fans have become accustomed.
"We're not going to be as reliant on one player," he said. "We're not going to have a strategy where we pass the ball to one or two guys and hope that they score occasionally. We're going to have systems and organizations and platforms for player progression . . . we're going to do it in a way that avoids a repeat of this scenario ever again."
In short, a big overhaul of how Seattle examines things is on the way, but those are long-term changes. Hanauer and Lagerway made it clear that the club hasn't given up on chasing MLS glory this season.
Brian Schmetzer takes over for Schmid in the interim. Schmetzer, a Seattle native, coached the USL Sounders for seven seasons, and has served as an assistant to Schmid since the latter joined the club.
Schmetzer is renowned for being a "hard work" coach who expects his players to put the team first. Asked what differences from Schmid's team and his would be, Schmetzer chose to respond philosophically.
"We're going to make sure that we hold people accountable," Schmetzer said. "We're going to have an attacking, scoring, tough-nosed defensive team that wins games."
That description may be about as useful as an assertion that whichever team scores more will probably win, but Schmetzer's response made it clear there was more to the plan than he was prepared to share.
Schmetzer has good reason to keep things under wraps. Seattle shost the LA Galaxy for the third meeting in a month between the clubs Sunday (12 p.m., ESPN). LA has won both meetings, and Seattle has failed to look particularly threatening in either match.
Sunday's contest will be the first round of auditions as players and coach look to earn their place. The front office made it clear that Schmetzer is in the running to become the permanent replacement for Schmid, but he is perhaps disadvantaged by having his audition be to turn around the worst start to a Sounders season.
For the players, there will be little time to adapt to Schmetzer's intensely team-first line of rationale. Some players will have an easier time of the adjustment than others, but if the implied message sent from Schmid's dismissal means anything, anyone who wants to remain will get on board with the new line of thinking.
The season for the Sounders is far from over. There is plenty of time left to push for an eighth consecutive playoff appearance. Regardless of fault or failures, Seattle must begin a new chapter face down in the middle of the season, with the weight of the table firmly on its back.