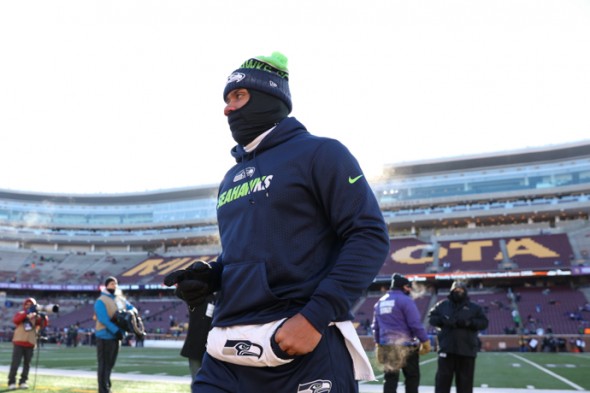 As Seahawks fans have come to learn, QB Russell Wilson never says a bad thing about anyone or anything. Not even if Malcolm Butler criticized Ciara's singing.
Wilson's world is like The Lego Movie song: "Everything is awesome!" Nevertheless, when he says that the current team is the most talented of his Seattle tenure that has included two Super Bowl appearances, a note shall deservedly be made. 
"We've had great teams before, and I can honestly say this is the most competitive, most talented team across the board," he said Wednesday after practice.
Now, that may not be particularly evident Thursday when the Seahawks play Minnesota Vikings, last season's first-round playoff opponent, in the second fake game of the preseason  (7 p.m., KCPQ Fox, Ch. 13). But his coach, Pete Carroll, wasn't offering any counter-proposals to Wilson's assessment.
"It feels like (2013) again," Carroll said, referring to the regular season after which the Seahawks won the Super Bowl. "It feels like there's a lot of guys that can play. (We are)  comfortable moving guys in and out of the lineup, which means we have a very competitive roster. I don't disagree with him. We feel like there's a lot of guys at the receiver spots, running backs and corners. Tight end is going to be better than it's been.We're going to have a rotation in the D-line we like.
"Those are really good signs."
For many coaches and players, preseason is usually a time for sand-baggery, the practice of poor-mouthing one's own prospects while inflating the rivals. But after the Seahawks' success, there is no room for Lou Holtz-style pretense.
"Making this 53-man roster is not going to be easy," Wilson said. "We're looking forward to that."
Which is not to say that everything is butterscotch smooth. The Seahawks at the moment are operating without their top two running backs from a year ago, as well as the top tight end, and have new players at all five offensive line positions.
In fact, the return of the tight end, Jimmy Graham, sounded for the first time a bit iffy Wednesday. Carroll came off his message that Graham, who had his torn right patellar tendon surgically repaired eight months ago, would be ready for the start of the season Sept. 11.
"Really, we're shooting for, 'Where is he at the start of the season?'" Carroll said. "We'll evaluate then to how much longer it may take, or he may be ready. We don't know that yet. But he feels good. He's confident that it's going along well."
Graham came off the physically unable to perform list last week and returned to practice, but has done only individual drills, not team drills.
"We don't have a timetable for this, that he has to meet any schedule at all," Carroll said. "We're just working him back. He's gaining confidence. It's really important that he not have any setbacks, so we're being careful."
If Graham can't go full-speed — neither he nor RB Thomas Rawls (broken ankle) are likely  to play in the preseason — by the opener, the Seahawks could opt to place him on the short-term, injured reserve list, meaning he would sit out eight games before being eligible to return.  Each team is allowed to use the short-term list once a season, which the Seahawks did the past season with LB Brock Coyle.
Absent Graham, Carroll says he likes his tight end group of starter Luke Willson, rookie third-round pick Nick Vannett of Ohio State and fourth-year free agent Brandon Williams out of Oregon. But without Graham and retired RB Marshawn Lynch, it's hard to see how the talent level on offense matches up from the previous season. Especially with the line yet to firm up.
Perhaps that assessment will change some Thursday, because Carroll has committed to going longer with the first units than the Seahawks did in the mostly mundane 17-16 win over the Chiefs Saturday in Kansas City.
They're going to get more play time," he said. "We're anxious to see them out there together playing against good personnel at Minnesota. It's kind of a messed-up week to come back in preseason with only a couple days to prepare. That's not what we want. We weren't able to take a lot out of the week."
Wilson's final play in KC was a first-quarter, goal-line interception that he admits was his fault.
So he is likely to be inspired to back up his words about the Seahawks' Super Bowl-worthy talent with some deeds. That's how everything gets to be awesome.