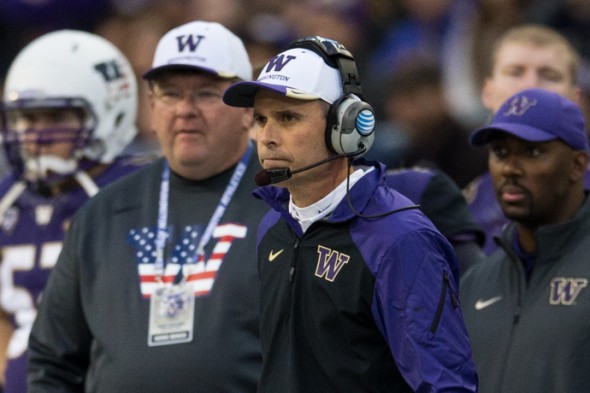 During the final session of Pac-12 Media Days  in Los Angeles, conference scribes/throats picked the Washington Huskies to finish second in the North Division. For the first time in 56 years, they also chose Stanford as the favorite to win the overall league title over projected South Division winner UCLA. The poll always provides time-filling talk-show fodder, but is wrong almost as often as it is right, especially lately.
While the media has correctly selected the conference champion in 29 of 55 previous polls, it has only done so twice in the past nine.
Even so, when the national coaches poll came out two weeks after the conference confab, it largely validated the media poll, ranking Washington 18th. The Associated Press then went the coaches poll four spots better, picking the Huskies 14th despite a 7-6 record last year that ended with a 44-31 victory over Southern Mississippi in the Heart of Dallas Bowl.
But on the basis of emerging QB Jake Browning and RB Myles Gaskin, both sophomores who started last season, and a defense considered the Pac-12's best, plus the fact that UW plays only three ranked teams, 10 wins seems plausible to many (Washington hasn't won 10 or more since the 2000 Huskies finished 11-1).
All this places coach Chris Petersen in an awkward spot: If his Huskies play according to preseason polls, they will only meet expectations. Anything less, and Petersen will be on the hook for a failure in his third year on the job.
Petersen's situation is reminiscent of the one Dan James faced 39 years ago.
James arrived at Washington in 1975 from Kent State, the football equivalent of a mid-major, where he had been spectacularly successful. James' first two UW teams (1975, 1976), went 6-5 and 5-6, leaving most observers of the day to suggest athletics director Joe Kearney committed a gaffe in filling the job with a guy from Kent State when he had several high-profile candidates from major schools apply for the job.
But with a senior-laden club in 1977 (a dozen players from that team spent time in the NFL, including QB Warren Moon and C Blair Bush, who combined for 34 years) widely expected to vie with USC for the conference title, the Huskies overcame a 1-3 start to finish 8-4 and win the Pac-8 title, capping the year with a victory over Michigan in the Rose Bowl (the Huskies lost to both Mississippi State and UCLA, but got victories back when those schools were forced to forfeit for using ineligible players).
As the chart shows, no Washington coach has had a better third year since the James breakthrough in 1977 (year=third year on the job):
| Year | Coach | Rec. | Bowl | Skinny |
| --- | --- | --- | --- | --- |
| 1977 | Don James | 10-2-0 | W Rose | Win launched best era in UW history |
| 1995 | Jim Lambright | 7-4-1 | L Sun | Lambo 9-3, 8-4, 6-6 next 3 years |
| 2001 | Rick Neuheisel | 8-4-0 | L Holiday | Neuheisel fired following 2002 season |
| 2007 | Ty Willingham | 4-9-0 | None | Next year (2008) a total flop — 0-12 |
| 2011 | Steve Sarkisian | 7-5-0 | L Alamo | Left UW in 2013 to coach USC |
The 1978 Rose Bowl, concluding James' third year, launched the greatest modern era in Washington football history. None of James' successors have come close to duplicating it.
Lambright's 1995 Huskies earned a share of the Pac-10 title with a 6-1-1 league record, but were dismantled 38-18 by Iowa in the Sun Bowl. None of Lambright's remaining teams finished higher than second in a conference race. He was fired following a 45-25 loss to Air Force in the 1998 Oahu Bowl after running afoul of AD Barbara Hedges.
Neuheisel posted a 7-5 record as Lambright's successor in 1999 and won the 2001 Rose Bowl with a nucleus of players largely recruited by Lambright. But in Neuheisel's third year, and with QB Marques Tuiasosopo having graduated, the Huskies dipped to 8-4 and blew the Holiday Bowl to Texas, squandering a 36-20 fourth-quarter lead. Neuheisel lasted only one more year, after a lying/gambling scandal got him fired and the Huskies in NCAA trouble.
After a 4-9 mark in his third year, Willingham nearly coached the Huskies into oblivion in 2008 (0-12) before he was dispatched into retirement, thrilling members of the disgruntled Tyees booster group. Remarkably, Sarkisian helped get the Huskies bowl eligible only two years later, but none of his final four teams finished higher than third in the Pac-12 North.
As with James, Petersen had enormous success in his coaching stop (Boise State) before Washington. Also like James, his first two Huskies teams were less than inspiring, despite featuring some remarkable individual talents such as LB Shaq Thompson, DT Danny Shelton and CB Marcus Peters, last year's AFC Rookie of the Year with the Kansas City Chiefs.
In Petersen's first two seasons, the Huskies failed to post a winning conference record (combined 8-10) or finish higher than third in the Pac-12 North (fourth last year).
From an achievement standpoint, Petersen is about where James stood at the outset of the 1977 season – interesting because when Petersen was hired at Washington, the collective thinking was that he, more than any other James successor, possessed the coaching skills and temperament to develop the kind of program James did.
If Petersen's Huskies, who open their 2016 season Saturday vs. Rutgers (11 a.m. PT, Pac-12 Networks), play to projections, and especially if Petersen pulls off a division title, that feat would be virtually equivalent to the one James pulled off 39 years ago.