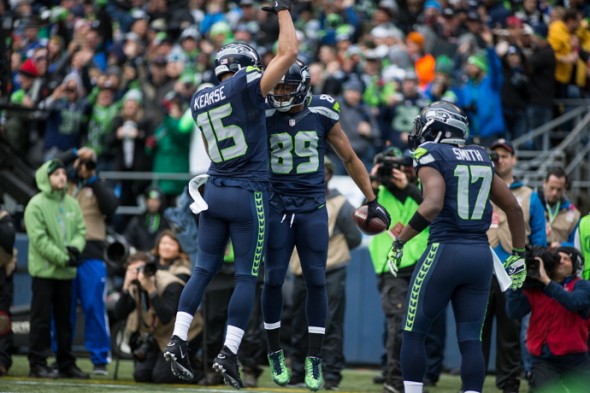 RENTON — A couple of  Seahawks players sounded as if Sunday will include more drama than merely the start of the 2016 season, for which they are among the favorites for another Super Bowl appearance. On Sept. 11, they may join teammate CB Jeremy Lane, who made a protest statement during the national anthem in Oakland.
"I have (considered it)," WR Doug Baldwin said Wednesday. "I want to make sure I get all of my ducks in a row before I do so.''
Teammate LB Bobby Wagner said he didn't know if he would sit down during the anthem, but he suggested something was up.
"Whatever we decide to do," he said, "it will be a big surprise."
Which could be nothing. But Wagner indicated they didn't think Lane was going to be left on his own.
"Anything we want to do, it's not going to be individual," he said. "It's going to be a team thing. That's what the world needs to see. The world needs to see people coming together versus being individuals."
Said Baldwin: "Our locker room has discussed it. So we'll see."
The Seahawks under coach Pete Carroll have been more tolerant than perhaps any NFL club regarding players' desires for independent thinking and speaking. After Lane's gesture, Carroll talked with him about it.
"He's pretty clear about what he did and what he is trying to express," Carroll said Wednesday. "I think it's very simple. We'll leave that up to him. He's understanding the responsibility of it and shouldering it."
A week ago at the Seahawks' final preseason game, Lane sat quietly during the anthem. Afterward, he said he was showing solidarity with San Francisco QB Colin Kaepernick, who sat during an anthem to protest oppression of minorities and social injustice. Before another game Friday, Kaepernick was joined in protest by teammate Eric Reid.
Lane told reporters Monday he planned to continue his protest.
"Just standing behind (Kaepernick) what he said," Lane said. "Just piggybacking what he said, for the justice."
Baldwin posted a series of tweets Friday in support of the notion of protest. He wrote: "We honor those who fight for our right to freedom of speech and then condemn those who exercise that right?"
Baldwin said among the social-media respondents were numerous veterans who supported Kaepernick's gesture.
"That's more heartening to me than anything," he said. "The veterans that have reached out and said that's what they fought for, that's what they sacrificed their lives for, is to give people back home under the flag, under this country, the opportunity to stand up or sit for what they believe in."
Baldwin said he's spoken with Kaepernick. They have a mutual friend in retired Seahawk Ricardo Lockette.
Wagner said any players' decision will be independent of the club and coaches, and was confident that no conflict would emerge if players disagreed.
"We have a very special group of guys in here," he said. "I think that's probably not going to be seen until way, way down the line. But the group of guys that are in here are second to none. You'll never see another team like this ever again, whenever it's done."
Said Baldwin: "It's different in our locker room. We kind of give each other a lot of slack, so whatever decisions you make, we understand we are all human beings. Some of us might not agree, some of us will agree."
Responding to a question, Baldwin said all were aware that the game is on the 15th anniversary of the 9/11 terror attacks.
"I think that anybody should be thinking about that," he said. "Even if it wasn't Sept. 11, the point of the protest is to get people to think. I think it's very ironic to me that 15 years ago on Sept. 11 was one of the most devastating times in U.S. history, and after that day we were probably the most unified that we have ever been.
"And today we struggle to see the unity. It's going to be a special day, a very significant day. But at the same time, I'm looking forward to the better changes we can make in our country."
Carroll said the calendar coincidence was not a factor in his approach to a protest.
"Not specifically to that," he said. "We have a concern that this date is coming up just because we are Americans and it's an important day."
Wagner said the discussion is far more an inspiration than a distraction.
"I enjoy having conversations because we're fortunate enough to have black people, white people, all type of people in this locker room," he said. "You get to see different backgrounds, different journeys. I think that's what separates the NFL — they're so many different cultures in here that you get to learn from.
"We don't live in a box. We understand that there's different type of views, different type of actions, and we have an open mind to listen to them."
As to whether he would engage in the same sit-down protest, he said, "As far as sitting down, me personally, I don't know if I would do that. I support Kap and what he's doing. I think sometimes everybody takes the message wrong.
"There's a lot of stuff that's going on, a lot of bad stuff that's going on that needs to be fixed. At some point you have to do whatever you need to do to get that fixed. I think what (Kaepernick) has done is opened up that conversation and made people talk about it."
The Seahawks have a league-wide reputation for being out front on many things. No reason to stop now that it's getting important.