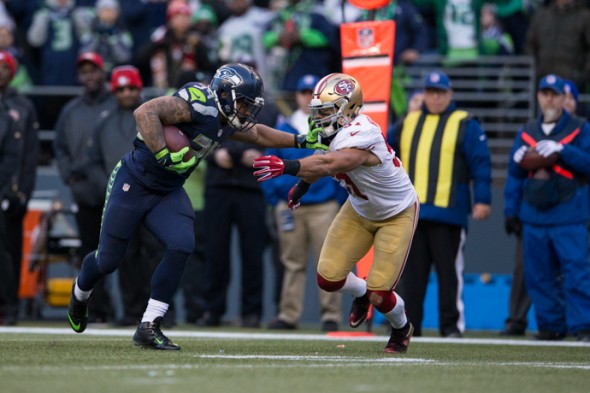 The new-look Seahawks offensive line is becoming newer — rookie first-round draft choice RG Germain Ifedi is out of Sunday's season opener after an ankle was twisted in practice Wednesday. Seven-year vet J'Marcus Webb, who started 13 games at right guard last season for Oakland, is the likely replacement, even though he spent all preseason at right tackle.
"I think he is ready to be the starter if we need him," Pete Carroll said of Webb after practice Friday, although the coach didn't commit directly to the change. But he said the position switch was not drastic.
"That's not a tough move for him," Carroll said. "He's been there, and if that's the way it goes, he has background. He's been at this spot.
"How could you lose a guy (Ifedi) that's 6-6, long arms and (330 pounds), and pick up another guy that's the same? We're very fortunate that, if that's the case, he jumps in for Germain. We're going to be solid there."
Webb worked with the first unit in practice and said he was ready.
"When your number is called, you have to step in and be just as confident anywhere on the line," Webb told reporters. "And that's exactly where I am, and there is not going to be an issue. It's going to be great to work with these guys."
The NFL Network reported Ifedi has a sprain that likely could keep him out three weeks or more.
Meanwhile, after sitting out practice Thursday with what he reported as a headache, RB Thomas Rawls said he was "ready to go" against the Miami Dolphins. Also likely to play is TE Jimmy Graham, who went full speed in practice drills all week, but is officially listed as questionable on the injury report.
Luke Willson is likely to start at tight end and Christine Michael will open at running back after an impressive preseason, when Rawls played only two snaps as he finished recovering from surgery to fix an ankle broken in December.
Rawls said his rehab has returned him to where he was physically when the undrafted free agent led the NFL in yards per carry (5.6 avg) before the injury.
"I've worked so hard for it," he said Friday. "I'm not sure if you all are out there when I practice, but I still feel the same. Nothing is different. I'm still running hard. I'm still pushing myself to get better and improve."
Noteworthy
The only Seahawk listed as out was rookie TE Nick Vannett, who has had a high ankle sprain for about three weeks . . . When asked about a report earlier in the week that RB Marshawn Lynch was thinking about coming out of retirement, Rawls, who said he's in touch regularly, said,  "As far as I know, he's retired. I feel like if he wanted to continue to play then he would've just stayed. I'm very confident that he's retired."  . . .  DT Jarran Reed, the Seahawks' second-round pick, has healed from a sore toe and will play Sunday. "No hesitation in him," Carroll said. "He's had a really good week."