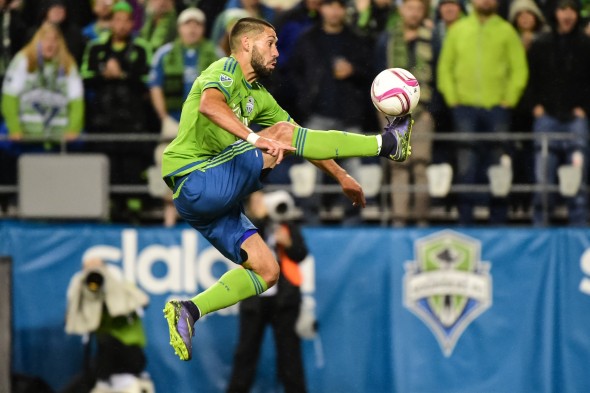 Seattle Sounders designated player Clint Dempsey returned to training at Starfire Sports Wednesday, two-and-a-half weeks after it was announced that the 33-year-old was undergoing medical evaluations for an irregular heartbeat. Dempsey has been cleared to practice, but not to play, and Sounders GM Garth Lagerway said that the club is "cautiously optimistic" that Dempsey might see action before the end of the season.
Lagerway said Dempsey underwent a procedure for his arrhythmia, an ailment that can range in severity and risk, but was unable to add anything more due to medical privacy laws.
"Clint has been undergoing evaluation for an irregular heartbeat," Lagerway told reporters Wednesday. "He has had a procedure to address some of the issues associated with that. We are not at liberty to disclose anything further from a medical perspective.
"I will add that we are cautiously optimistic that he will return to play this season But to be clear, he has been cleared to return to training, to exercise, but he has not been cleared to play yet. We don't have a timetable for that and we won't, because we're going to prioritize his health. When Clint feels better and the doctor says that it's safe, then we will consider his return to play."
When Dempsey's medical condition was announced, Seattle looked to be on the verge of a rally. The club was unbeaten in four matches, and starting to claw its way up the standings in search of a playoff spot. Days after the announcement, a 4-2 thrashing in Portland derailed most of that energy, as the club lost a great deal of its attacking versatility.
Dempsey underwent the procedure and returned from the East Coast Monday night. Now, Lagerway said, begins the process of increasing Dempsey's activity to see if he can be declared medically fit to play.
"We have a protocol to bring him back and allow him to begin exercising in a safe matter," Lagerway said. "We will follow the protocol, and adjust constantly and consult with the doctors and Clint. It will be a work in progress."
Lagerway cautioned, however, against placing too much pressure on Dempsey.
"When you have a medical problem like this, you don't want to put false pressure on a return," Lagerway said. "You don't want to just say Clint is important to us, you have to mean it. If you mean it, that means Clint's health comes first, because you have to wait and see if or when Clint is healthy and able to come back to a full return."
Beyond this season, Lagerway would said the club was "cautiously optimistic" that Dempsey would be able to play.
Dempsey's presence at practice, even if only running drills on the side, will help lift spirits.
"He's a big personality; he's a big part of our team," interim head coach Brian Schmetzer said Wednesday. "We love having all the guys around us. It lifts the mood. It's similar to (center back Román Torres's recovery from an ACL tear) coming back. The morale was higher. He's happy to be back here."
Dempsey was unavailable for comment Wednesday.
Morale boost aside, Seattle will have to press on without Dempsey when it faces the Vancouver Whitecaps at home Saturday (1 p.m., JoeTV). If the club is going to make a push for the playoffs with its final seven games, it may well have to find a way to do it without its marquee player.