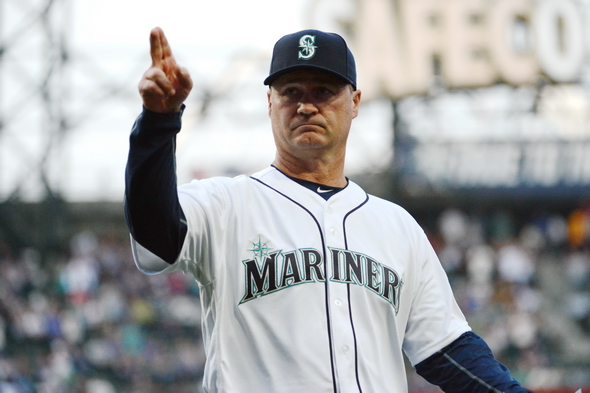 Despite a remarkable run – a season-high eight consecutive victories (longest since 2013) and nine in the past 10 games – to hoist themselves back into American League wild card contention, the Mariners are not considered much of a threat to reach the postseason. That's based on up-to-the minute calculations by both Baseball Prospectus and FanGraphs.
Long a leader in sabermetric analysis and advanced statistics, Baseball Prospectus gives the Mariners a 29.1 percent chance of claiming the second wild card spot (was 26 percent before Wednesday night's 2-1 win), a 14.3 percent chance of winning the wild card game and reaching the ALDS, but only a 1.3 percent chance of reaching the World Series.
FanGraphs, a numbers-oriented site in Arlington, VA., is even less bullish despite Seattle's recent surge. FanGraphs says the Mariners have a 26.3 percent shot to snag a wild card berth, a 12.5 percent chance to reach the ALDS, a 9.4 percent chance to win it, a 2.7 percent chance to reach the World Series, and a 1.2 percent shot to win it.
Maybe Baseball Prospectus and FanGraphs are taking into account the Mariners' historic ineptitude, including playoff whiffs every year since 42-year-old Ichiro was a mere 27.
Since MLB added the second wild card for the 2012 postseason, eight teams have reached the playoffs via that path. The widest disparity in regular-season records occurred last year when Houston represented the American League with an 86-76 mark and the Chicago Cubs the National at 97-65.
Four of the eight won 90 or more regular-season games and three others 88. The eight had an average combined record of 90-72. These are the eight and how they fared after reaching the postseason:
Year
2nd WC
Record
Postseason
2012
Texas
93-69
Dropped AL wild card game to Baltimore, 5-1
St. Louis
88-74
Defeated ATL, WA, lost to SF Giants in NLCS
2013
Tampa Bay
92-71
Beat CLE in WC card, lost to BOS 3-1 in ALDS
Cincinnati
90-72
Lost NL wild card game to Pittsburgh, 6-2
2014
Oakland
88-74
Lost AL wild card game to Kansas City, 9-8
San Francisco
88-74
Defeated Kansas City in World Series, 4-3
2015
Houston
86-76
Defeated NYY 3-0 in WC, lost to KC in ALDS, 3-2
Chi. Cubs
97-65
Beat PIT (WC), STL (NLDS), lost NLCS (NYM)
Avg.
90-72
To reach 90, all the Mariners (78-68) have to do is win 12 of their final 16, a .750 clip when their season mark is .534. Even the 116-46 Mariners of 2001 couldn't play .750 ball over their final 16, going 10-6 (.600). Only two editions of the Mariners (1995 and 2000) won as many as 11 of the final 16. Both reached the postseason, the 1995 team as division champion, the 2000 club as a wild card.
So reaching 90 wins  — and this year it could take more — will require the greatest final half-month in franchise history, on top of the current eight-game winning streak.
Such an unprecedented feat also will require the Detroit Tigers, tied at two games back with Seattle after Thursday's 5-1 loss to Minnesota, to falter as Seattle continues to surge.  The Mariners need to win 12 against their four opponents, Houston (six games), Toronto (three), Minnesota (three) and Oakland (four), against which they are a cumulative 17-17 this season.
AL standings with wild card here
At 80-66, Baltimore and Toronto are tied for the two wild card berths. The Mariners and Tigers are next, tied at 78-68. Fans of all four teams must also scoreboard-watch the Yankees (77-68), Astros (76-70) and Royals (74-71), all within range.
The Mariners are 2-1 against Toronto and a robust 10-5 against Oakland, but only 2-4 at Safeco Field. Fortunately for Seattle, the Athletics, swept by the Mariners the past weekend in the Bay Area, are largely auditioning players for next year.
The Mariners draw the Astros for a pair of three-game sets, the first commencing Friday night at Safeco Field. Seattle is 5-8 against Houston. Jose Altuve, an AL MVP candidate who is batting .438 with an absurd 1.229 OPS against the Mariners this season, injured his right oblique muscle Wednesday and is doubtful for at least the first game.
The key for the Mariners is flipping the season's narrative against Houston — without overlooking lowly Minnesota, which broomed Seattle at Safeco Field May 27-29.
To reach the second wild-card standard of 90 wins, the Mariners need a mostly flawless final two weeks, thus the percentages published by Baseball Prospectus and FanGraphs, which say, since we can't predict miracles, don't get your hopes too high.
30-100 Club, Seattle edition
One of the subplots of the final two weeks is whether Nelson Cruz, Robinson Cano and Kyle Seager can become the second trio of Mariners to each finish with 30 or more home runs and 100 or more RBIs. They are close: Cruz (36) and Cano (33) have exceeded 30 homers. Seager (29) needs one more.
Seager has 93 RBIs, Cruz 92 and Cano 87.
The Mariners have not had even two players in the 30-100 club since Richie Sexson and Raul Ibanez in 2006, nor a trio since 1996. Most players with 30-plus homers and 100-plus RBIs in a single season in franchise history (Cruz, Cano, Seager shown for comparison purposes):
| Year | No. | Hitters |
| --- | --- | --- |
| 1996 | 3 | K. Griffey (49-140), J. Buhner (44-138), A. Rodriguez (36-123) |
| 1995 | 2 | Jay Buhner (40-121), Tino Martinez (31-111) |
| 1997 | 2 | Ken Griffey Jr. (56-147), Jay Buhner (40-109) |
| 1998 | 2 | Ken Griffey Jr. (56-146), Alex Rodriguez (42-124) |
| 1999 | 2 | Ken Griffey Jr. (48-134), Alex Rodriguez (42-111) |
| 2000 | 2 | Alex Rodriguez (41-132), Edgar Martinez (37-145) |
| 2006 | 2 | Richie Sexson (34-107), Raul Ibanez (33-123) |
| 2015 | 2 | Nelson Cruz (37-92), Robinson Cano (33-87), Kyle Seager (29-93) |
Next
The Mariners, off Thursday, go at Houston Astros at 7:10 p.m. Friday. RHP Felix Hernandez (11-5, 3.58) will throw for Seattle opposite RHP Collin McHugh (10-10, 4.86).