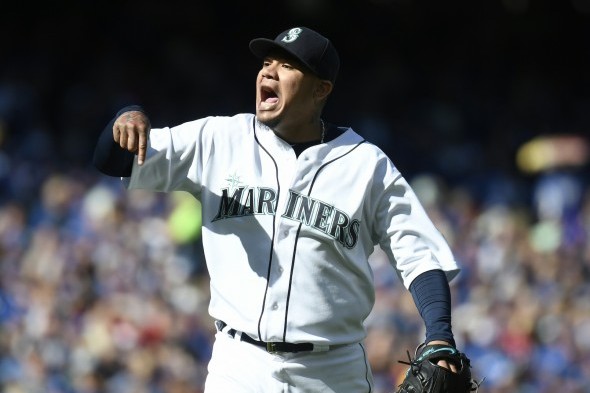 Takeaway
Robinson Cano ended a four-hour, 24-minute marathon in the 12th inning Wednesday afternoon with a sacrifice fly as the Mariners defeated the Toronto Blue Jays 2-1 to avoid a three-game sweep and avert a 1-5 home stand (box). The Mariners (80-72) snapped a two-game losing streak to maintain a faint pulse in the American League wild card race.
Seattle moved to within 2.5 games of the Baltimore Orioles for the second wild card spot and kept pace with the Houston Astros (two games ahead), a 6-5 winner at Oakland Wednesday.
Visibly irked at the throng of raucous Toronto fans among the 39,595 at Safeco Field, Hernandez yelled, "It's my house!  It's my house!" after disposing of the Blue Jays after the sixth and seventh innings. He departed with a two-hitter and a 1-0 lead, built on a third-inning, RBI double by LF Nori Aoki.
Seattle seemed on the verge of victory until the ninth when Jose Bautista belted a game-tying homer off rookie closer Edwin Diaz, in pursuit of a four-out save. The Mariners and Blue Jays then slogged along until the 12th — both teams had opportunities to win — when Cano delivered.
Essential moment
In the 12th, LF Guillermo Heredia reached on a ground ball against former Mariner knuckleballer R.A. Dickey and took second when 3B Josh Donaldson threw wide of first, an error. On a bunt by Ben Gamel, Heredia dashed to third and would have been out if Donaldson, the AL Most Valuable Player last season, hadn't dropped the ball while applying the tag. Cano made Donaldson pay with a his fly to left.
Hitters
The Mariners had six hits and went 1-for-8 with runners in scoring position while stranding 12 . . . C Jose Sucre enjoyed a 3-for-3 day and was the only Mariner with a multi-hit game . . . Aoki's third-inning double that plated Sucre was Seattle's only extra-base hit . . . Cano, Nelson Cruz and Kyle Seager went a combined 0-for-12 . . . Seattle used 15 position players.
Pitchers
Hernandez threw 112 pitches, 64 for strikes, over seven innings, recording four strikeouts and three walks. He lost a chance to win when Bautista homered. Diaz, seeking his 17th save in 18 chances, instead notched his second blown save. . . Evan Scribner threw a scoreless 10th, allowing one hit . . . Tom Wilhelmsen allowed two base runners in the 11th, but was pulled in favor of Nick Vincent, who induced an inning-ending double play. He allowed one hit over two innings . . . The Mariners (six) and Blue Jays (10) used a combined 16 pitchers.
Words
"You have to have this game if you want to remain in (wild card contention), and we were able to do that. Felix threw the ball really well. It says a lot about our guys that we hung in there. We got a couple of breaks and we took advantage of them. We are not dead yet. We are not six feet under. We'll keep hanging in there and hopefully we'll have a good road trip." — Mariners manager Scott Servais
"You just want to see something over the plate. I just wanted to put the ball in the air or get a ground ball anywhere. They came back (from a 1-0 deficit) and tied it, but we didn't give up. Great win." — Cano
"I want to be there so bad. We still have a chance at the playoffs. I'm going to do my best to make sure we get there. My show of emotion ("It's my house!") has been building since two days ago when I saw all those (Toronto) fans in here (Safeco Field). You know what, it's still my house!" — Hernandez
Noteworthy
The Mariners, 8-7 in extra inning games, went 2-4 on the home stand and finished the season 3-3 against the Blue Jays . . . The Mariners have won 10 of their past 14, are 19-13 against the AL East and 24-18-8 in overall series . . . The Mariners are 12-7 in September.
Next
The Mariners take Thursday off before starting a two-city, six-game road trip at Minnesota and Houston. LHP James Paxton (4-7, 3.86) will throw the opener 5:10 p.m. Friday vs. the Twins opposite RHP Kyle Gibson (6-10, 5.10).