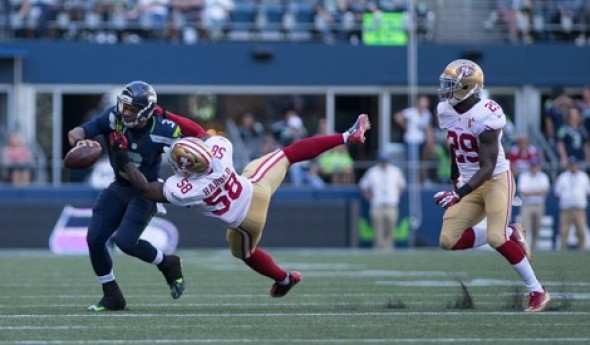 On an afternoon when just about everything went right for the Seahawks — you know, like, touchdowns — WR Doug Baldwin had an internal disorder shared with everyone wearing bird gear.
"My heart dropped," he said. "It was weird, because I hadn't felt like that in a long time."
As in, never. Because in Baldwin's time in Seattle, QB Russell Wilson has been Superman. Yet twice in the season's first three games, foes packed kryptonite.
On the way to a 37-18 pummeling of the breathtakingly hapless 49ers at the Clink (box),  Seahawks fans had an unwanted glimpse into a future without Wilson. Early in the third quarter, he laid in a heap near the Seahawks sideline, horse-collared to the ground in a sack by LB Eli Harold, who rolled over and contorted Wilson's left knee.
Wilson rose slowly, then grudgingly left the field for one play that introduced Trevone Boykin to his first NFL action. Surprisingly, Wilson walked back into the game. Of his own accord.
"He kind of did that on his own," said coach Pete Carroll, "and we had to kind of yank him after that."
It was as close to insubordination as Wilson has come in his time as Ultimate Team Guy. After three plays that led to a field goal for a 27-3 lead, Wilson came to the sideline as the coaches plotted to snatch his helmet, the football action that signals a player is done for the day.
"I told Pete to pull him out," Baldwin said. "I was really adamant about getting him out of the game."
Said Carroll: "I told Russ he better put that helmet down — he's not getting back. So we buckled it up."
Wilson, who walked without a limp to his media briefing, talked confidently about  moving well, being fortunate it wasn't worse, and artfully dodging the question of his independence.
"I don't know if I did it on my own," he said, smiling. "I told them. Maybe they didn't hear me. I said, 'Guys I'm going back out, see you there.'"
However it happened, Wilson is so hard-wired to compete that he can't he can't be trusted with self-diagnosis.
"I'm going to do everything I can," he said. "That's every play at all costs — and being smart too."
Actually, being smart means NOT every play at all costs.
Carroll said the diagnosis was a sprained knee, but an MRI awaits Monday. He recognized there was a complication.
"Probably the biggest issue is that he's still rehabbing his ankle too," he said. "His ankle looked terrific today."
The same adjective could be applied to much of the Seahawks' pre-injury, first-half attack. Behind a more cohesive  line, the Seahawks converted on five of six third downs, and saw RB Christine Michael's first two career touchdowns as part of 311 yards of offense. That included 233 in the air as a more fluid Wilson hit on 14 of 19 passes.
More encouraging for the Seahawks was the dramatic uptick from TE Jimmy Graham, who had six first-half catches for 100 yards and a touchdown.
"He wanted to have this kind of impact on the game," Carroll said. "He's looked great. It's thrilling to see him. I think you can see the benefits of Jimmy and Russell throwing (together)."
The Graham TD, an 18-yarder from Wilson to put Seattle up 21-3 halfway through the second period, was part of consecutive receptions that demonstrated the return of another temporarily lost art — explosive plays.
On a third-and-14 at the Seattle 23, Wilson dropped back behind a stout pocket, checked down twice, then heaved to Baldwin on a deep post route. The 59-yard bomb to the SF 18 was the season's longest scrimmage play. Before the Niners could gather their modest wits, Wilson struck with Graham.
Wilson also hit a 40-yard jump ball to Graham, who wrestled the prize away from a shorter defender in the best demonstration yet of why the Seahawks wanted him.
"He's like 6-9," Wilson said, grinning. "Just throw it up to him. Just tried to find somebody and there was this big guy running down the field. That was huge."
Boykin entered for the rest of game with six minutes left in the third period at the SF 20. That produced a field goal. On the next possession, he moved the Seahawks 58 yards in seven plays, the final 16 to Baldwin for Boykin's first NFL TD pass.
"It was great," he said. "You won't get that again. It was definitely one of the moments I will remember more than anything."
The break-in moments for Boykin were well-timed because the defense smothered QB Blaine Gabbert and coach Chip Kelly's allegedly up-tempo offense so thoroughly that the element of contest had been eliminated. A pair of garbage-time TD drives made the stat sheet a little more respectable, but there was little respect for any threat.
"There is no challenge — he threw for (119) yards," DE Michael Bennett said of Gabbert. "It's like, aw, man, this is going to be one of those games where we just keep stopping them, stopping them and stopping them. It's just fun."
Near the end, an ominous sign appeared when Boykin misread the defense and threw a poor ball intercepted by LB Nick Bellore that nearly became a pick-six.
Rookie mistake — the kind that inevitably will be part of his game should he need to start Sunday in New York against the Jets.
As always, Wilson was quick to put on on his his Superman cape.
"Yeah, I'll take an MRI," he said. "But I'll be good to go."
As he established, he may not be the best judge. His helmet is under 24-hour watch.